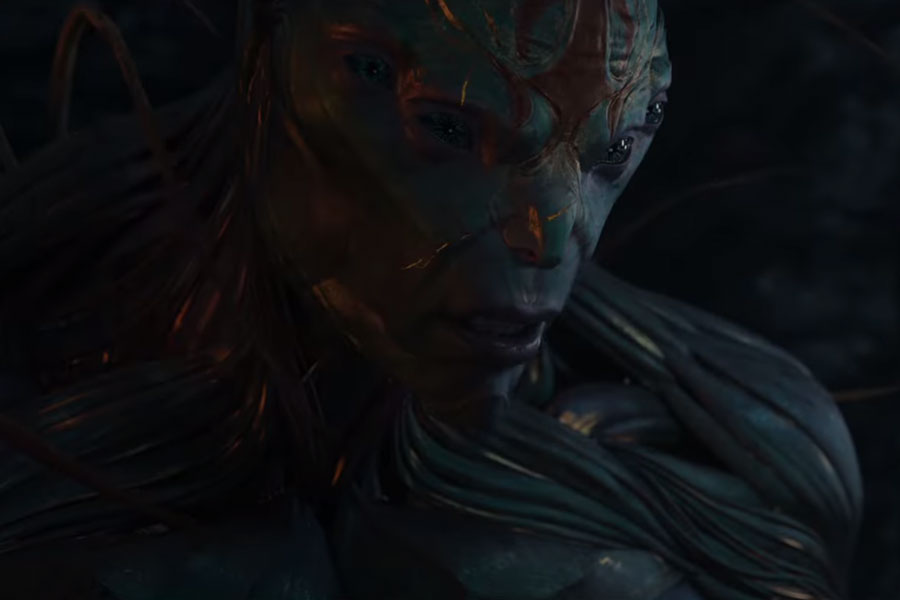 The Eternals trailer revealed the main villain of the film: Kro, the warlord Desviant, we tell you the basics about his origin.
As the Eternals trailer confirms, the Deviants have arrived in the MCU led by Kro, and only the return of the group of ancient heroes will be able to stop them. Since their origin in the comics, these two camps of Jack Kirby creations have clashed since time immemorial.
According to the mythology established by The King in for Marvel, in the comics it is said that "the Earth had been visited millennia ago by a race of 'space gods' known as the Celestials, and that these had created two evolutionary branches of humanity : the Eternals and the Deviants. These two races engaged in a never-ending war, in which the Deviants strove to dominate humanity and the Eternals to protect it. The Celestials returned numerous times to judge the world, and the Deviants – driven by a toxic combination of wounded pride and lust for power – made various attempts to somehow reclaim the power of the Celestials for themselves. "
The comics also state that no two Deviants are alike, each possessing a unique mutation with abilities that no other of their species shares. One of these characters is Kro, who will soon make his film debut with Eternals.
Who is Kro, the villain of Eternals, and what are his powers?
Kro belongs to the race of Deviants, an evolutionary branch of humanity that is cursed with an unstable genetic code that causes random characteristics to emerge in each generation. Kro was born with a number of traits that are extremely rare among his kind and beneficial by nature. Chief among these mutations is Kro's longevity. While the lifespan of most Deviants is about 1,000 years, Kro has already lived three times as long.
In that time, he has studied and practiced the arts of warfare among humanity and has frequently returned to the Deviants to lead their armies. At some point in his career, he even had a brief affair with an Eternal (Thena, daughter of Zuras), perhaps the only such link between the two divergent human races. Kro has carefully kept the secret of his longevity by periodically taking sabbaticals from his relatives, for fear of being subjected to genetic experiments by those who wished to possess this mutant trait themselves.
Kro's longevity comes from his ability to psychic control over his own body that allows him to regenerate his cells at high speed, which also makes him resistant to injury. His very psychic control allows him to partially change his appearance, with limited morph powers, without being able to change his skeletal form.
As has also been made clear in the Eternals trailer, Kro's appearance will change dramatically in the cinema, although his evil plans will undoubtedly follow.
Kro debuted in Eternals # 1 (July, 1976).
Sources: Marvel.com and Screen rant
It is now available in our online store:
Marvel Basics – Daredevil: No Devils, Only God
The Fearless Man disappeared!
Daredevil disappeared from Hell's Kitchen and in his absence the real devils came out to play. Detective Cole North believes he stopped the masked vigilante, however, he will have to face bigger problems!
Matt Murdock, on the other hand, came out of his recent adventures a renewed man, but was the change for the better or for the worse? As he confronts his decisions, Matt comes into conflict with who he is and who he wants to be. Can you really live without your suit?
Collect Daredevil (2019) # 6-10

Also being read:
Deadpool and Spider-Man make fun of Batman and Superman!
Spider-Man will have a new love interest in the MCU
Kids get stung by a black widow for wanting to be Spider-Man
Controversy over the new Spider-Man
Benicio del Toro and Zoe Saldana inaugurate the new Disney attraction