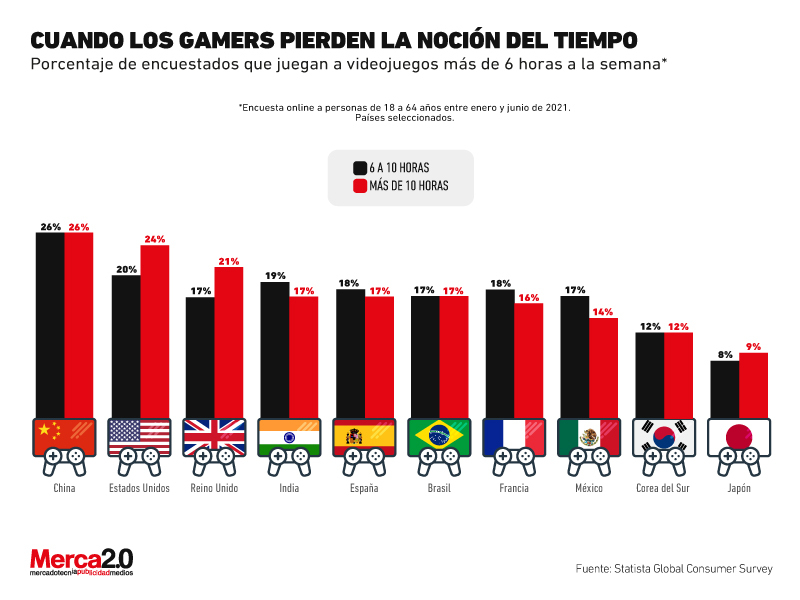 In today's graph we see how gamers spend so many hours playing video games to such a degree that, apparently, they lose track of time, playing up to more than 10 hours a week.
A few days ago, China announced that, as of September 1 (last Wednesday), minors could only play video games online for three hours a week.
This harsh measure takes place in a framework in which it seeks to stop the increasingly growing addiction that underage users have developed to this practice, which has been described by the media as "spiritual opium".
Smartphones, as we have seen, have become a kind of extension of our own body and our daily lives. Today, more than a telephone, they are a very useful work tool; it is our classroom and our meeting and conference room.
Likewise, every day its sophistication is much greater thanks to the advancement of technology, which has resulted in the video game industry adapting more and more to the format of smartphones, launching very attractive titles for users.
Given this and as a measure to protect the physical and mental health of minors, China is implementing very severe measures regarding the use of online video games.
Based on this, the new regulations of the National Administration of Press and Publications of China contemplate that minors under 18 years of age can only play a period of three hours a week, from 8:00 p.m. to 9:00 p.m. , from Friday to Sunday.
In other words, from Friday to Sunday, minors can only allocate one hour, from 8:00 p.m. to 9:00 p.m., to play, although they can also do so on holidays.
As a result of this, the Global Consumer Survey de Statista has published a survey that shows us the time that gamers spend a week playing video games.
As shown in the graph of deposited above, 52 percent of respondents (all adults) report that they play video games more than six hours a week, while in the United States, 44 percent of respondents also allocate, at least six hours a week to play video games.
Regarding the Latin American region, Brazil and Mexico are the countries where users spend more than six hours a week playing their video games: in Brazil it marks 34 percent, while in Mexico it marks 31 percent.