Already announced as one of its most ambitious projects for months, the new restaurant in Daniel Garcia takes the Andalusian chef to the heart of France. And he does it neither more nor less than in the heart of Paris, inside the renovated hotel Maison Delano, in one of the most luxurious streets of the gala capital. baptized as The Blue Roomthe chef's new gastronomy is inspired by the Picasso's avant-garde creativity and its Malaga roots.
Clearly conceived with a vocation for haute cuisine not suitable for all budgetsthe new venue aims to offer the Parisian client a connection with the cuisine of Malaga and Andalusia, where the sea and the produce will play a leading role, "but without losing our touch", in the words of García.
The name of The Blue Room honors Pablo Picasso precisely on the 50th anniversary of his death, replicating the name of one of his most famous cubist paintings, without losing sight of the career of the controversial artist in France itself, where he developed much of his most avant-garde work.
Mediterranean spirit in the heart of French luxury
It doesn't stop working out contradictory that the new restaurant intends to bring the essence of Spanish gastronomy, and, more specifically, Malaga, to one of the most luxurious and exclusive neighborhoods from Paris. Thus, dishes with humble and popular roots such as fried seafood can be tasted almost between cotton wool, with exclusive elegant tableware that undoubtedly also pays homage to the artist who revolutionized the world of art.
The new space aims to be "a refuge for lovers of authentic Spanish gastronomy", with a large presence of rice, fish and shellfish. Oysters, anchovies, sardines and croquettes stand out, with a large presence of Red tuna and without forgetting the obligatory acorn-fed Iberian ham and other Spanish products such as T-bone steaks, as well as wines selected for the winery.
The restaurant The Blue Room will open its doors next 23 of March on the ground floor of the historic building where the new Maison Delano Paris hotel opens, designed by the Spanish studio Lazaro Rosa Violan. It is situated in the Rue D'Anjouin full district VIII, very close to the Plaza de la Concordia. With a capacity for about 170 dinerswill also offer breakfast, snacks and cocktails, as is usual in hotel spaces.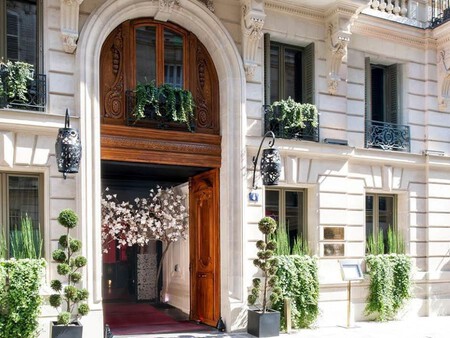 This is the inaugural landing of the Dani García Group in France, which plans to continue its international expansion with upcoming openings in other world luxury capitals such as Miami or Dubai. One of his latest projects had less luck, Babettewhich in less than a year had to give up to his project to bring French cuisine to Malaga.
Paris 8 (Lonely Planet City Guides)
Photos | Dani Garcia Group
In DAP | Dani García's tricks to make the best crispy, juicy and not oily fried chicken
In DAP | Dani García presents a menu of the day with some of his iconic dishes, but at 45 euros, without counting service or garnish