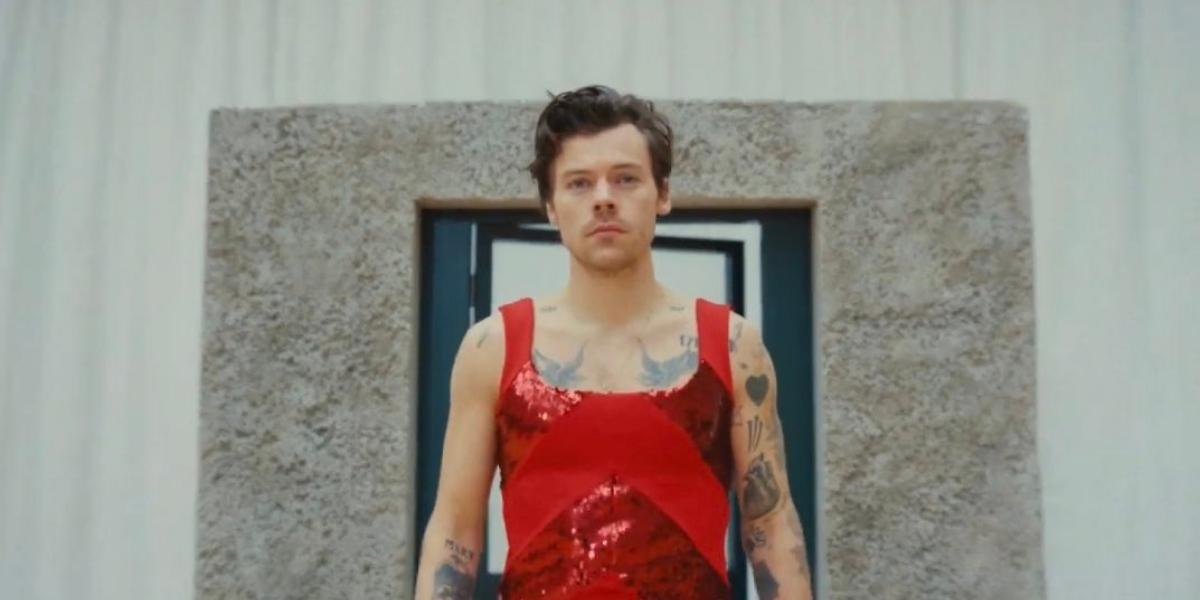 The new Harry Styles is finally here! It is the first single from his third album, Harry's Home, as a solo artist: 'As it was'. A song expected by all and that is already becoming one of the most listened to at the moment.
Even several theories have already been generated regarding the meaning of the video, have you seen it? Check it out first and then we move on to commenting and analyzing the theories, okay?
All right, did you pay attention to all the details? So let's go with the theories…
Theory 1, the longest: He talks about his "coming out" and love for Louis Tomlinson.
In the video, Harry is seen going into the past, behind a glass door where there is a giant circle that moves and in which there is a girl dressed just like him, but in blue.
Fans believe that it is about how Harry was in "the closet", in love with Louis Hamilton, his former One Direction partner, because the girl who appears in the circle is dressed just like him but in blue, and that is why that first we see them hand in hand walking in the same direction, although then they separate and Louis tries to go to Harry and does not reach him and then the other way around, leaving them both very sad.
The other reason why fans believe that it is Louis is because of the hug that Harry gives the model, which is the same as the one he gave his former One Direction partner and that a photo immortalized him.
In fact, they mention another detail, which is when Harry brushes his hand with the model, which is a moment that he also experienced with Harry. Did you notice the moment in the video we talked about?
Later, we see the image of five people who begin to undress, which would refer to how One Direction was exploited and how Harry and Louis supported each other throughout that process.
Although, later they are separated again and our beloved Harry goes through a stage of deep sadness, until he manages to "come out of the closet" and that is when we go to the part of the video where he is seen opening his arms and being much happier.
So his fans conclude that both the song and the video talk about how Harry suffered when he was in One Direction not being able to love Louis freely, but finally found his own way, and although he is no longer with our beloved Louis, he is happy now.
Theory 2: The divorce of his parents and what he suffered.
This theory says that Harry is revealing to us the saddest moments he experienced when his parents separated. This is because a part of the lyrics of the song says that his father already lives alone and that he just wants to know that he, Harry, is okay.
It also talks about how two children leave America to follow a woman, so it is thought that it is talking about him and his sister Gemma, moving from the United States to England with their mother. In fact, they think Gemma is the girl in blue and Harry is the one in red.
And that is why the song is very nostalgic and talks about how nothing is like before. 😞
Theory 3: Harry talks about himself, his toughest times and
the happiest ones.
This is a much simpler and shorter theory, fans say that the video and the song tell us about Harry's life, the moments when he suffered the most, how he flowed through them and how he is now happy.
Harry, due to different circumstances, has had many moments of suffering in his life, but he was always happy before others, that's why the image where he is seen behind the glass door, because it is seen that he is there, but it looks blurry, because he really wasn't happy, it didn't show who he really was.
The fact that there are two colors, red and blue, is because Harry's soul was divided into two, in the part with the most pain and in the part that only seeks to be free and happy.
The red part was always afraid to emerge and that's why Harry clung to the blue part for a long time, even if it didn't make him happy, but it was what he knew.
Finally, Harry decides to take a risk and be the red one, but without leaving behind the blue part that finally taught him many things and will always be part of him, that's why we see him with the red suit but blue shoes.
This is a very nice theory, because it tells us about self-love, about loving yourself no matter what and daring to be who you are. Definitely, we stay with this one!
And more so now that Harry said this for US radio:
"The song is about metamorphosis, embracing change and the old self, changing perspective and that kind of thing. It just felt like what she wanted to say, what she wanted to do, and the kind of music she wanted to do back."
Even with these words, many fans can say that any of the theories fits within what he describes, but the reality is that only he knows what the true meaning of the song is, what we do know is that it is definitely something very personal, as we are entering Harry's Home. 💗