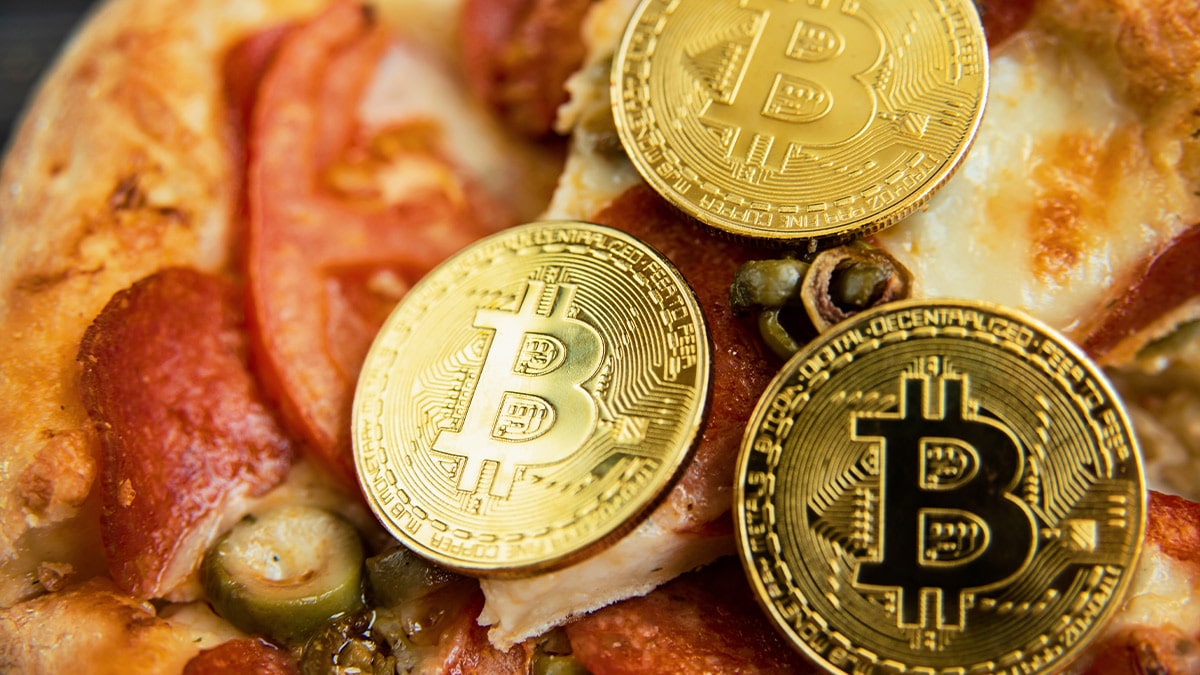 The story of what happened on May 22, 2010 has already been told from various angles. That was the day that the American programmer Laszlo Hanyecz bought two pizzas for 10,000 bitcoins (BTC) to complete the first transaction in the history of a cryptocurrency, in exchange for a real-world good or service.
today is fulfilled the 12th anniversary of that historic day we know as Bitcoin Pizza Day. A date that the community celebrates with enthusiasm, sharing, enjoying the delicious Italian delicacy, paying with BTC and integrating others with little knowledge of the ecosystem.
But what does Bitcoin Pizza Day mean for Latino bitcoiners? Why is the date celebrated with such enthusiasm if the day was not initially accepted as a holiday?
The truth is Bitcoin Pizza Day was not a special date until 2014. At that time, the New York Times published an article about the first historical transaction with BTC, after which the event went around the world and it was then that it became a commemorative date, marked as special on everyone's agenda. planet bitcoiner.
To commemorate the date, CriptoNoticias approached several Latin American bitcoiners to find out what Bitcoin Pizza Day means to them, and this is what they responded.
Pizzas and Bitcoin, part of the historical cultural heritage of our community
The conversations about what happened in 2010 can be read at bitcoin talk. This was a forum in which the bitcoiners, of that time, used to talk and discuss about the protocol and the advances in the development of the first of the cryptocurrencies.
So meeting to share views is one of the most valuable elements for the bitcoiner community. That is precisely what Rodolfo Andragnes highlights, creator of the first bitcoin non-profit organization in Latin America and one of the best known and respected people in the ecosystem.
"For me, Pizza like the Honney Badger, and other elements of our space are part of our history and cultural heritage. Celebrating this day is talking about where we come from. But for me it is not just a day of community celebration, but the day in which the crypto community gives back a little of how well it has been helping others. That is why since 2015 I proposed during Consensus, in New York, to turn Pizza Day into a social activity and, since then, every year in Argentina our NGO organizes an activity that ends with donations around this day".

Rodolfo Andragnes, president of the NGO Bitcoin Argentina.
With his words Andragnes invites the other bitcoiners in the world to celebrate remembering the collaborative work already do not forget to give, because bitcoin is a demonstration that it is possible to transform a reality with everyone's commitment.
For this reason, this year each pizza requested through the delivery platform Orders Now, and paid with cryptocurrency cards, will automatically donate plates of food to the Fundación Sí, which promotes the social inclusion of the most vulnerable sectors of Argentina. .
"We also bring meals to dining rooms or distribute pizzas on the street, among other activities, and from LABITCONF we launched a pizza and bitcoin game, closely associated with our cultural heritage," added Andragnes.
"We celebrate one of the best marketing strategies of humanity"
Meanwhile, the NGO Bitcoin Chile has called for a meeting at the Palacio Al Kssr restaurant, where they will receive payments in bitcoin. However, its celebration begins several days before May 22, as a way to honor the entire procedure performed by Laszlo Hanyecz who had to wait four days before getting their pizzas. The official message from him dates from May 18.
So, as part of this week's activities, the Chilean organization held a TwitterSpacewhere several members of the community gathered to talk about Bitcoin Pizza Day.
In the virtual meeting, José Gatica, a member of the Chilean bitcoin community, highlighted the fact that on May 22, 2010, a milestone occurred that is worth celebrating. He sees it as the most ingenious and successful marketing strategy in the history of mankindmade by a man who offered something that was not tangible and that he had mined with GPUs (graphics processing units) in exchange for 2 pizzas, which is a product that you can get anywhere in the world.
"You have to understand that the currency is worth nothing if it is not used, if it is not useful, then the moment in which we use it for a final product such as a pizza, it is very valuable. Without that first valuable and successful transaction today we would have nothing. That is why it is important to celebrate that Laszlo paid with 10,000 bitcoins for two pizzas. After that he made a series of other movements repeating the operation and everything grew like a snowball. Even after that first trade, a few months later, bitcoin went from being worth $0.0008 to being worth $0.08, which is a significant increase in value, especially for a digital asset like bitcoin."

José Miguel Gatica, member of the Chilean Bitcoin community.
The price of Bitcoin is equal to the weight and value of its community
For his part, Miguel Klagges, president of the NGO Bitcoin Chile, believes that on Pizza Day it is important to highlight the weight of the community, since he believes that this is what gives value to an asset like BTC.
He adds that this was precisely Satoshi Nakamoto's request when Lazslo told him that he had found a way to mine Bitcoin with GPUs. It was then that the creator of the pioneering cryptocurrency told him: "very good, but wait a bit because we still have to create more community".
It was at this point that Laszlo said he was willing to part with what he had mined and posted an announcement on the bitcointalk forum that read:
"I pay 10,000 bitcoins for some pizzas, maybe 2 large ones, so I have something left for the next day. I love having leftover pizza for the day after…let me know if you're interested and we can work out a deal."
Then on the other side was Jeremy Sturdivant (also known as Jercos) who was the counterparty in the first bitcoin transaction for real product. He received the 10,000 BTC sent by Laszlo Hanyecz and arranged the fiat payment with the pizzeria. Then it turned out that he sold or used all this bitcoin pretty quickly.
He, Jercos, understood very well the role he played as part of a historic operation and shortly after mentioned:
"Of course, there will always be people hoarding bitcoin, trying to get rich. But that would not have been possible without the economic growth of bitcoin. Bitcoin is meant to look like a PayPal." And behind all that movement there always was and is a community supporting and promoting its growthas highlighted by Chilean bitcoiners.
Bitcoin Pizza Day validates the genius of the creator of the cryptocurrency
In Colombia, the Bitcoin community will not only eat pizza, but also organized meet up Y happy hour to commemorate the milestone achieved by Laszlo Hanyecz.
A member of this community, like Mauricio Tovar, believes that there is much to celebrate on Bitcoin Pizza Day, but he especially highlights the fact that bitcoin was used for the first time to buy a real-world good or service.
An event that, in addition, established the price of the cryptocurrency, since the two pizzas were around $41, which means one BTC was about $0.0041.
"May 22, 2010 is the moment when bitcoin goes from being just a prototype, a technology, to becoming money. It is the moment when someone creates a market and validates that it has a value. From then on, more and more trading begins and that leads us to what we have today and the possibilities that are presented to us today with bitcoin. In addition, that day validates the genius of the creator of the cryptocurrency.

Mauricio Tovar, member of the Colombian bitcoin community.
Tovar adds that on Bitcoin Pizza Day it is also necessary to recognize Jercos for being that risky person and in some "crazy" way, who appeared so that bitcoin went from being a technology, to being a whole movement that continues to grow today.
A date to analyze the past, present and future of bitcoin
The Bitcoin community in Venezuela will meet at the Nonna Bella restaurant in Caracas, although they also carried out other activities during the week, including a Twitter space which was attended by several Latino bitcoiners.
In the appointment they talked about the past, present and future of the first cryptocurrency and about the present. Venezuelan bitcoiner Javier Bastardo highlighted the importance of review anecdotal data from the history of bitcoin to understand why it is different from other projects.
"It is curious that on May 22, 2010, bitcoin proved to be functional and useful as a means of payment, but today, 12 years later, the world is again questioning whether it works or not. What I am saying is that of course it is used to make payments, but the States are not going to agree that Argentina, Venezuela, Turkey, Cuba or the whole world unite through a monetary network, because what the State wants it is that the model it offers is the accepted one because it is the one that perpetuates it over time".

Javier Bastardo, Venezuelan bitcoiner and organizer of Satoshi in Venezuela.
During the talk, other bitcoiners look at the future of bitcoin with greater optimism. From Guatemala, Juan Fonseca said he was convinced that "bitcoin will become the world reference currency as soon as the dollar collapses and it doesn't seem to be long before that happens."
For his part, the user Andrés was also optimistic about a possible bitcoinization. From his point of view, that will be what will happen because states tend to make bad decisions. "The bitcoin pattern will come, though it won't come tomorrow," he said.
On the other hand, fellow Venezuelan bitcoiner Daniel Arráez told CriptoNoticias that take advantage of Bitcoin Pizza Day as a day to reflect on what has happened with Bitcoin, how it has progressed and how the outlook for the future is presented.
Arráez adds that on a day like today, 12 years ago, bitcoin was used to prove that it is a means of exchange, which allowed an experiment to be born, to take the step to establish itself on a global scale.
In addition to this, he highlights that looking back today it is possible to see how much BTC has appreciated over time, so much so that "today we can say that Laszlo bought the most expensive pizzas in history," he said.