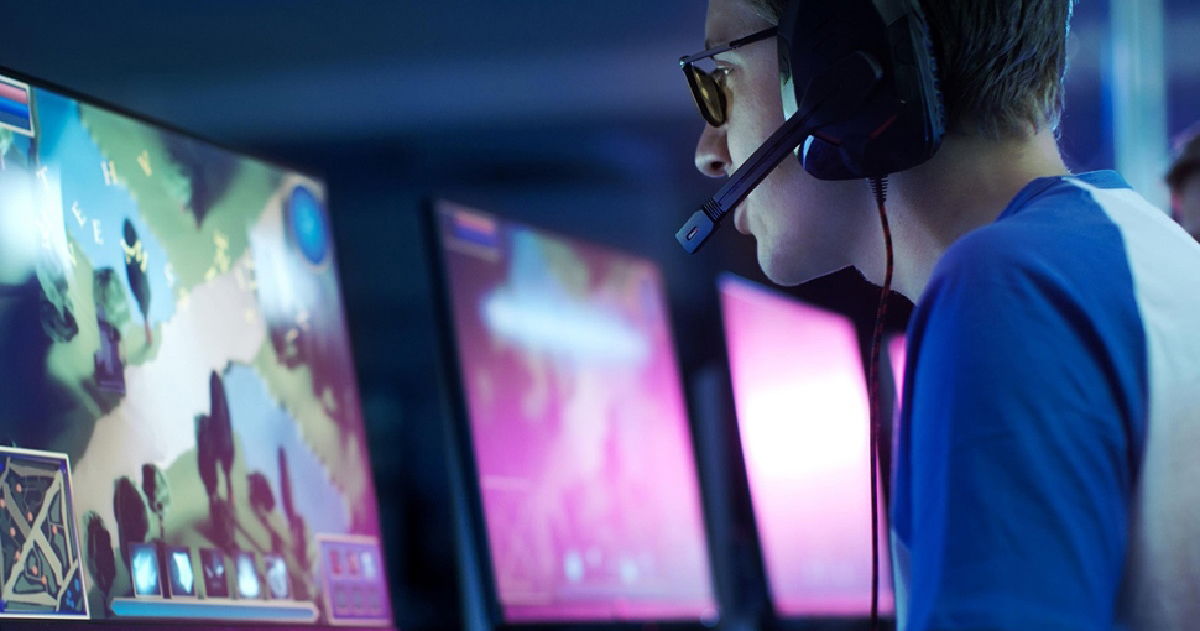 Share
All the information about gaming glasses, how they work and where to buy them.
Nowadays we spend a lot of time in front of the computer for one thing or another. Video game fans are not spared, as they often do long gaming sessions and sometimes more than recommended. This has a direct impact on people because the screen brightness can cause eye fatigue, itching, redness, or headache. Also known as Computer Visual Syndrome (VIS) and to mitigate these effects several accessories were launched such as gaming glasses.
In this buying guide we tell you everything you need to know about the gaming glasses And if they are worth buying. Gaming glasses are protective glasses designed expressly for minimize negative effects of the screens on the eyes that can lead to other problems such as myopia. This is due to the long time exposure of the backlight that the cameras have. computer or tablet screens. It is a blue light that can easily penetrate our eyes in a similar to UVA rays.
How do gaming glasses work?
Now that you know the negative effects on the eyes, it is important to know how do gaming glasses work to understand its purpose. This way you can buy glasses without fear of making a mistake. As you can imagine, these glasses act in a way similar to sunglasses They protect from ultraviolet light (UVA). To do this, they incorporate special anti blue light filters that protect the eyes from this continuous exposure that can damage the maculaan eye tissue that does not regenerate.
Some monitors also have a similar technology known as Low Blue Light that add imperceptible filters for the human eye with the intention of avoiding the radiation that emit screens. Instead, you can clearly see that gaming glasses have a yellow glass that is noticeable when playing and slightly modifies the color of the images. Although manufacturers insist that the eye can get used to it quickly to this filter, you need to know it before buying gaming glasses.
Gaming glasses: are they worth it?
The operation of the gaming glasses is very simple and helps to prevent irreversible damage over our eyes. Due to exposure to blue light, any user can lose sight progressively over the years, so eventually you will have to wear prescription glasses. In the market there are some solutions to improve the health of our eyes and avoid these discomforts including eye drops for tired eyes.
On the other hand, with gaming glasses completely reduces that damage in the eyes from spending so much time in front of the screen. So they are recommended for any user who work with the computer daily or spend many hours playing video games. Gaming glasses are very light and cheap, since for 30 euros you can have good quality ones. You can see below that most have a yellow-tinted crystal that helps improve sharpnessreducing screen glare and reflections, so it can be an advantage in online multiplayer games.
The best gaming glasses
Horus X. One of the most popular models on Amazon and that has very good ratings. Horus goggles effectively protect the eyes from the harmful rays of blue light. The crystals have a 100% blue light filtering at 400 nm, with European certificate by an independent laboratory. This gives guarantees of its reliability, in addition to having very light design of only 27 grams. The glasses are made with a polycarbonate frame, a very resistant and light at once. The package includes a pair of gaming glasses with anti-UV and anti-glare treatment; a neoprene carrying case; and a microfiber cloth to clean them.
Top Life Gaming Glasses. Again we are before a model of glasses that blocks 100% of UV rays which are harmful to the eyes, as well as the 70% of blue light between 380 and 460nm. It has a CE certificate issued in France, so it has gone through all the controls in a laboratory. Instead, they boast of having the most transparent glass (95%) and the amber protective filter is hardly noticeable. They are very comfortable and avoid eye pain, eye strain or headache, among other effects caused by screens.
KLIM computer glasses. Until now you have been able to see gaming glasses with a full frame. Instead, KLIM glasses have a very different design at first sight. The mount only holds the glass at the top and everything weighs 20 grams in total, being a very comfortable and light accessory. the pins and nasal platelets They have a smooth finish and avoid any type of irritation. They are made with Grilamid TR90, a thermoplastic material very flexible and unbreakable. Provides filter protection 92% blue light (400nm), although the yellow filter may slightly change colors.
Razer Gunnar. It is possibly the most expensive option available, but Razer is a brand that gives much trust to any gamer. They have released FPS glasses specially designed for video game players. Have a flexible mount Made with ultra light aluminum and magnesium materials, with hidden spring hinges and with 35 grams of weight. According to the product description, these lenses block blue light, minimize reflections, reduces eyestrain and prevents dry eyes.
Marsgaming MGL 1 Glasses. Finally, it is also worth mentioning this so cheap model of MarsGaming so that you contemplate all the options. These special lenses have a transparent crystal and polycarbonate lenses with blue light filter. According to the product sheet, MGL 1 glasses reduce the negative impact and improve the eyestrain feeling. Being transparent, they maintain a real and clear vision of the screen because does not change the colors at all. They weigh 30 grams and the box contains your own case and cloth to clean the lenses.
Related topics: Buying Guides
Share
This article suggests objective and independent products and services that may be of interest to readers. When the user makes a purchase through the specific links that appear in this news, Alfa Beta Juega receives a commission. join up to the channel of bargains of Alpha Beta Play to find out about the best deals before anyone else.
Sign up for Disney + for 8.99 euros and without permanence Subscribe to Disney+!