It is such a novel service that it does not even have a clear name. We can call them ghost supermarkets, because like the controversial dark kitchen they operate in warehouses scattered throughout the cities that are not always seen at street level; but also ultra-fast online supermarkets, because there are already stores for purchases on-line made in conventional operators, but they do not deliver orders with minutes of margin.
What companies like Dija, Getir and Gorillas have in common is that promise to deliver your purchase in just 10 minutes, through mobile applications.
All are foreign companies that have landed in Spain in a matter of months – to which we should add Glovo, which is gradually offering a similar service as part of its offer – and they are already revolutionizing the way we do the shopping and even the urban landscape.
And your order is not the only thing that goes fast. Is this a emerging market, in which the companies are not more than a couple of years old, and where there is a never-before-seen race of financing rounds, mergers and acquisitions to see who gets the bulk of the clientele.
Tell it to Hunab Moreno, General Manager for Spain of Getir, which began operating in Barcelona in March with its own company, named Blok, only to be taken over by the Turkish company four months later.
"I come from two sectors that I thought were going very fast, that of home delivery of food and sustainable micromobility, and what of this sector is frenetic, many things are happening and very fast, "he explained in statements to EfeAgro.
Leaving aside Glovo, a more veteran company with a slightly different business model, we have placed orders with Gorillas, Getir and Dija, to assess the strengths and weaknesses of each company. This has been our experience.
Gorillas
Gorillas is the ghost supermarket that already operates in more cities of Spain. Specifically, Alicante, Barcelona, ​​Madrid, Malaga, Palma de Mallorca, Marbella and Valencia.
Founded in Berlin in 2020, it already has an estimated valuation of € 1 billion. According to Business Insider, it's the fastest German startup to achieve "unicorn" status since these things have been looked at, in just nine months.
App
The Gorillas application is fast and intuitive, although it is surprising that The entire text has not yet been translated into Spanish: the top menus appear in English, at least in the Android version. Registration is the fastest, since the connections via Facebook or Google are very well integrated.
One of the positive aspects of the app is that it is the one that offers a more information on the price of the products at a glance, always indicating the weight per kilogram, which is appreciated.
Gorillas is also the application that has the most payment facilities. In addition to being able to pay by card and Google and Apple Play can be paid with Paypal.
Assortment
The assortment of Gorillas is, in prices and variety, similar to that of its competitors: complete in drinks and snacks, fair in pantry and mass consumption products, and meager in fresh.
An interesting feature of the assortment, which Dija and Getir do not share in the same way, is the local produce section. In Madrid we find craft beers from La Cibeles, La Quince and Peninsula, wines from Cuvée 3000, dairy products from La Colmenareña or coffee beans from Hola Coffee.
Service
Gorillas is the only application that has no minimum order. Only a fee of 1.80 euros of shipping costs. Like all these companies, it promises to arrive in 10 minutes and this time is almost fulfilled: the telephone rings exactly 11 minutes and 48 seconds after placing the order.
Since there was no minimum order, we bought only a can of sardines, a can of oregano and soy sauce. Everything arrives in perfect condition, in a paper bag with the company logo and a card in which the order is appreciated.
Say
The startup British, founded at the end of 2020 by two former leaders of Deliveroo, was the first ultra-fast supermarket to land in Spain. It began operating last spring, with six initial distribution centers to serve 90% of the capital's metropolitan area. At the moment it does not operate in more cities.
App
The Dija app it's the one I like the most of the three analyzed. It is fast, intuitive and, in short, it is very well designed.
The operation is similar that of your competitors: you have to register, enter an address, the card and you can place the order in a matter of minutes. They also accept Apple or Google Pay, not Paypal.
Assortment
The Dija Assortment is the most bulky of the three companies analyzed. Although the products are similar, there is quite a bit more gender in the section of fruits and vegetables, which is sold by weight, meat (chicken from Coren and beef from La Finca) and pantry products. The one for drinks is very similar, although it has fewer beers and not too many wines.
Service
Although technically Dija does not have a minimum order, in purchases of less than € 10 a supplement of € 2 is charged, to be added to the € 1.79 shipping.
The promise of this company is that all your orders arrive in 10 minutes. The application does not show an arrival time before placing the order, but after paying it, we receive an SMS that ensures that the order will arrive in 8 minutes. Not so, but almost: the delivery man takes exactly 12 minutes to call the telephone.
The order arrives in a paper bag, in perfect condition, and, in another package, a bag of Fritos is delivered which, we understand, is a gift.
Getir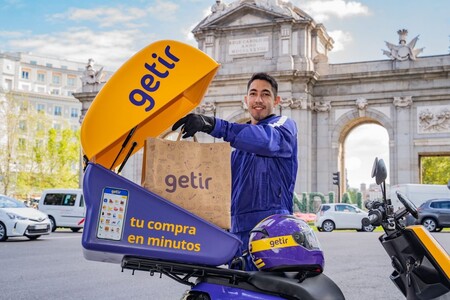 The last of the three ultra-fast supermarkets to arrive in Spain, which has been operating since this week in Madrid and Barcelona, ​​is actually the most veteran company. Founded in Turkey in 2015, this startup It is already valued at $ 7.5 billion.
Due to its recent landing, shipping costs are free for the moment (later, 1.78 euros will have to be paid), although You can only order from 10 euros.
App
Getir's application is similar to that of its competitors, although we have found a bug when inserting the floor of the house (which we assume is because it has just been launched). As in other supermarkets, we have to register, enter our address and credit card and we can complete the order in a matter of minutes.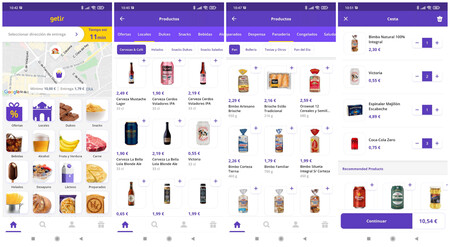 Assortment
The assortment, for the moment, is the smallest of the three applications, but the price is very similar. Some lack of basic products such as milk are surprising, of which it only has lactose-free varieties. The assortment of fruits and vegetables is very limited and they are only sold by units, not by weight. Nor does it have, at the moment, fresh meat.
Among its strengths we find a very wide assortment of alcohols, with a greater variety of beers than that of its competitors (not so much wines, although they have something interesting). A section of local products appears on the menu, but it has nothing to do with Gorillas, which responds much better to what is expected of it. Here we find, for example, Victoria beer, which is from Malaga; or Espinaler preserves, which are Catalan. It is a fairly broad concept of the local.
Service
A positive feature of Getir is that it calculates an estimated time in which the order will be delivered, which has been more than fulfilled. I was aiming for 11 minutes and it took a long time to arrive 10 minutes and 22 seconds. The products are delivered in a paper bag and are in perfect condition. The drinks, in addition, they have arrived very cold.
Conclusions
Once the three new supermarkets have been tested, we can see that we are facing very similar servicesBoth in assortment –the three have practically the same suppliers– and in prices and times.
The promise to deliver the purchase in 10 minutes is real. There have only been minute differences between them and, really, they arrive around that time (at least in the morning of a daily day).
Ultimately, the choice of one or the other service lies in the details. And, after all, you can always choose one or the other depending on what you need on a specific day. If we had to choose one of the services, yes, we would stay with gorillas For two reasons: it does not have a minimum order – after all, you use this service for an urgent need, not to do the weekly shopping – and it has a section of local products, at the correct price, which can make a difference.
A separate issue is the reflection on the concept itself. It is clear that these companies do not seek to replace the supermarket to the food stores, if they do not cover their service at times when they are not operating or on urgent occasions, in which we urgently need something
But is it really necessary to set up a whole network of warehouses and delivery men in the cities to be able to offer the purchase in 10 minutes? Is it worth paying more for products that, for the most part, are already offered by convenience stores at similar prices just because you don't leave home? Only time and consumers will tell. Nor does it seem likely that three companies (four if we count Glovo) will compete for a long time doing the same without, sooner rather than later, there are takeovers.
Directly to the Palate | The pandemic gives the final push to the home container: it does not stop growing and threatens the daily menu
Directly to the Palate | The largest ghost kitchens in Madrid suffer a fire before even starting to operate