Having the basic kitchen utensils and that these are of quality is essential to make our dishes shine on their own (and they are delicious, of course).
The pans are a very important part of almost any preparation, so we must not skimp when choosing the right one, adjusting to our budget and our daily routine. For example, if we are to prepare grilled meats we do not need the same pan as to fry an egg or prepare some noodles with vegetables, for the latter, without a doubt, the best thing is to sign a good one wok pan.
In Amazon we find a variety of this type of pans for all budgets and we have selected the five best rated to facilitate as much as possible the choice of this utensil:
AMAZON GO We visit the store of the FUTURE
The most sold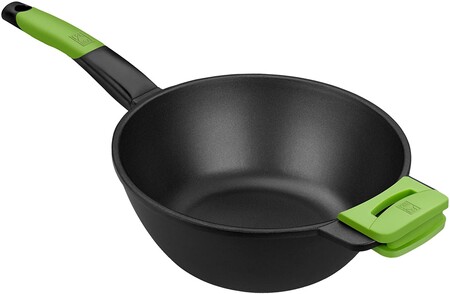 We start with the best-selling skillet on Amazon, the Bra Prior, a wok with a handle that makes it easier for those less experienced in this type of kitchen that is made of non-stick cast aluminum (to prevent food from sticking and it is easier to clean).
It is a frying pan type wok that has an average rating of 4.6 stars among more than 600 buyers and that we also find today at a very good price on Amazon for only 42.13 27.27 euros (although there is a smaller model somewhat cheaper).
BRA PRIOR – Wok with handle, cast aluminum with non-stick, suitable for induction, Top diameter 28 cm, Base diameter 15 cm
Recommended by Amazon
In second place we have this Magefesa Dolomiti, a 28 cm Wok made of 820º vitrified enamelled steel that promises to save us up to 50% energy compared to other materials. It is a non-stick frying pan with a marble effect finish that prevents food from sticking while cooking.
It is a valid pan for all types of cookers (also induction) that has the recommendation label Amazon's Choices, in addition to an average score of 4.3 stars among more than 500 buyers. We find it for sale for 15.34 euros.
Magefesa Dolomiti – Wok 28cm in charcoal gray exterior vitrified steel. Two-layer non-stick Reinforced marble effect. Suitable for all types of kitchens, especially induction. 50% energy saving.
Also highly valued
Amazon Basics
Amazon also has its own kitchen utensils and under the Amazon Basics brand it offers us such interesting products as this 28 cm diameter wok pan, made of stainless steel, with a rubber handle to prevent burns.
A triple-layer base design compatible with all types of cookers, including induction cookers, which also allows for up to 175 ° C in the oven. Although it is dishwasher safe, the brand recommends washing it by hand. We find it on sale today for 33.19 29.77 euros.
Amazon Basics 28cm Wok Skillet
Craft Wok
If what we are looking for is a wok manufactured in the traditional way, this Craft is the ideal choice; Made of carbon steel forged by hand and with a wooden and steel handle (to avoid burns) it is the most faithful option to the traditional style, it has a diameter of 35.6 centimeters and is forged by Chinese professionals in Guangzhou.
It has an average Amazon rating of 4.5 stars and has been rated by more than 5,000 previous buyers. Of course, it is not the cheapest, we have it for sale for 49.99 euros.
Craft Wok Traditional Hand Forged Carbon Steel Wok, with Wood and Steel Auxiliary Handle (14 " diameter, Round Bottom) / 731W88
Tefal
Finally, this Wok-type pan with 28 centimeters, from the hand of one of the most recognizable brands, Tefal. It is a non-stick, stainless steel pan that prevents food from sticking and is easy to clean.
It has patented Thermo-Signal technology that indicates the optimal temperature to start cooking and guarantee the texture, color and flavor of the ingredients. We find it for sale on Amazon (where it has an average rating of 4.5 stars) for 29.99 euros.
Tefal B56419AZ Wok by Day On, 28 cm, 18/10 Steel
Shipping & Returns
Shipping on Amazon is free as long as your order reaches the minimum amount of 29 euros or you are subscribed to Prime (you can try it for free for a month)
Some of the links posted here are from affiliates. Despite this, none of the articles mentioned have been proposed by either the brands or the stores, their introduction being a unique decision of the team of editors.
Directly to the Palate | 15 healthy recipes with the wok, a utensil that you cannot miss in your kitchen
Directly to the Palate | Wok of noodles, prawns and vegetables with teriyaki sauce. Recipe