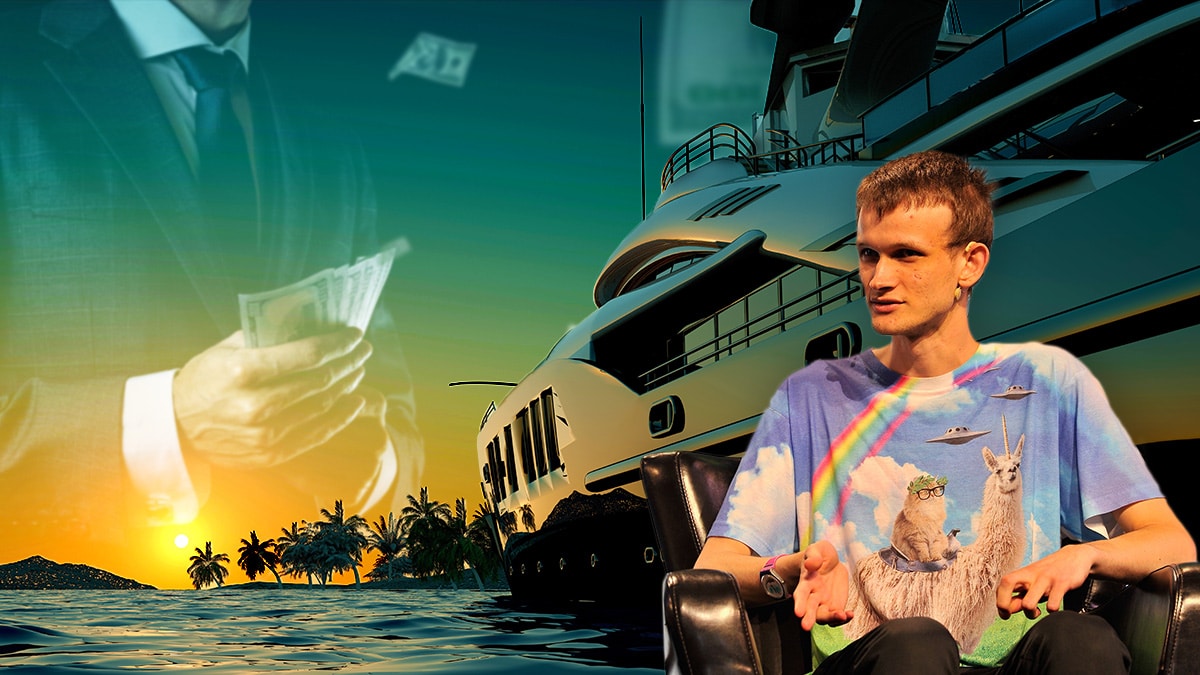 Key facts:
Buterin believes that people with a lot of money can use it to support public goods like the internet.

In his view, people replicate 20th century behaviors but with themselves at the top.
"There are much more honorable ways to burn $50 million than buying a superyacht to impress people." With that phrase, the co-creator of Ethereum Vitalik Buterin encouraged his more than four million followers on Twitter to donate to various public projects through Gitcoin grants.
The renowned developer and popularizer of Ethereum said in a publication in that social network his intention is to make the world more like Dath Ilan, a fictional world invented by the writer Eliezer Yudkowsky, who usually expresses himself about topics related to artificial intelligence. In Dath Ilan, society is more advanced in terms of public policy, education and progress without having more technology than the world today.
Vitalik Buterin's reference to this world relates to "a utopia where, instead of showing off their money by wasting it on worthless crap, rich people want to use it to support public goods."
For this developer, society should "try to execute visions like this, and not just repeat unimaginative crap from the 20th century, except with us at the top."
Vitalik Buterin's support for the initiative was eloquentto the point that the co-creator of Ethereum went so far as to say that, in his opinion, "all Gitcoin pool donors deserve beautiful and large statues in the metaverse to honor their contributions."
Other projects that Vitalik Buterin has supported
But it is not the first time that Vitalik Buterin has communicated his support for projects that aim to improve the internet we use today. As CriptoNoticias reported, the developer recently expressed that web3 proposes an internet model that solves the problems of centralization, privacy and security that concern its users today.
There are also other Ethereum projects that have had Vitalik Buterin's go-ahead before the public. One of his favorites is UBI, the token that fulfills the function of providing a universal basic income to those who validate their identity in the Proof of Humanity protocol.
What is Gitcoin and what is its function
Gitcoin is a platform for collecting donations for different projects related to technology and, more precisely, to "an open source, collaborative and economically empowering internet". On this platform, developers of protocols, infrastructure and tools can obtain the financing they need to carry out the projects they present.
This financial aid can be given through prize-winning hackathons, rewarded research programs, or community grants.
According to official data of the site, USD 64.8 million has been distributed to more than 2,800 projects created on Gitcoin, which has 312,000 active developers. The platform has a section that offers work and educational material for programmers. In addition, there is a networking space and it has a decentralized autonomous organization (DAO) for the governance of the protocol.
In the current round of donations, it is possible to collaborate with projects such as Coinbase, Polygon, Graph Protocol, Unlock Protocol, Chainlink, ENS Domains and Aave, among several others that the developer tagged in his post. At the time of writing this article, there are still 13 hours left to contribute with these projects.