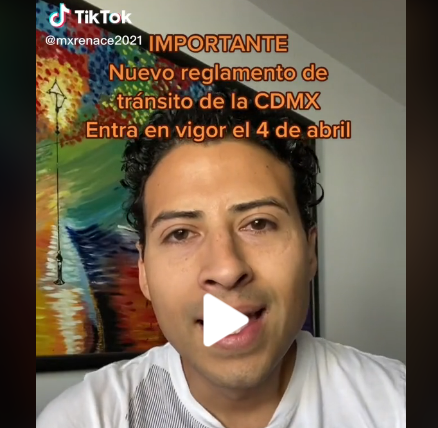 This is done through the use of an app that is available for both iPhone and Android.
The new Traffic Regulations will enter into force tomorrow, April 4, and for this reason, some doubts have appeared in Internet users; However, this user of the TikTok social network has shared a tip to learn more about this topic and thus avoid abuse by the authorities.
CDMX is one of the states of the Republic with the most inhabitants, since according to data from the Government of Mexico,
The State of Mexico represents 13.51 percent of the total population in the country and, therefore, is the most populous federal entity with 16 million 992 thousand 418 inhabitants, while Mexico City ranks second in the ranking with 9,209,944 people.
Therefore, understanding what it is about and how the new Traffic Regulations It is essential, not only due to the fact that there is great distrust of Mexicans towards traffic policemen, because on many occasions some narrate that they have been bribed by policemen who, even, seem not to belong to that designated sector. In fact, according to a survey conducted two years ago by a national newspaper, 76 percent of Mexicans do not trust the police, while 80 percent indicated that police abuse of citizens has been normalized.
The user recommends downloading the "My police" application available in all mobile virtual stores. This with the aim of showing citizens what their rights and obligations are as part of the new Traffic Regulations that will enter effective on April 4. In the video, the user shares a brief tour of the page of Citizen Security and the app, where it shares the function of each one.
"Upon downloading it, the application will begin to display what the quadrants are, where we are located, the emergency button also for when we are in a pressing situation, citizen assistance, also accompaniment to account holders", he also adds that, "something The most important thing is the vehicle depot, where they took our car, and, fundamentally, the authorities, the police officers who are authorized to commit violations."
At the end of the video, the user shares a glimpse of the Citizen Security page, where he shares a spread that shows the names of all the police officers authorized to commit violations in case at any time you are suspicious about whether the police officer is authorized to do so.
This is the video shared by the user where he gives a tip so that you do not allow yourself to be unfairly violated:
As is customary in this kind of videos, users appreciated the gesture and time of the tiktoker to share this tip about the new CDMX Traffic Regulations. This video has had a positive impact on the content creator's audience, since it already has more than 40,000 views in just 2 hours and is expected to far exceed these numbers at any time.
Now read:
CDMX removes the use of face masks in open spaces; will be voluntary
Chumel Torres criticizes distribution of quilts with AMLO's slogan
How much creativity! AMLO mocks the "LEGO Casa Gris" and makes the brand trend