Toyota has renewed the offer of its iconic sports car. The Toyota GR Supra debuts the 2023 range made up, among other versions, of the long-awaited variant with manual gearbox and the new limited edition Limited Edition that offers a high level of exclusivity. Only one unit will be available in Spain.
The Toyota GR Supra is ready to face the last months of the year. The popular Toyota sports car has premiered the new range 2023. The offer has been adjusted and incorporates important novelties. Some novelties that will be decisive for the GR Supra to be back in the spotlight and, therefore, to be able to give a boost to sales that have not yet started in our market.
The arrival on the scene of the 2023 range of the GR Supra consolidates the arrival at dealerships of the new variant with manual gearbox. After a long wait, the first global model of Toyota Gazoo Racing expanded its mechanical offer with a type of transmission aimed at the most purist public. A change associated with 340 hp 3.0-litre petrol engine.
Toyota renews the GR Supra range with three different versions

The Order book for the new GR Supra 2023 is now open in Spain. Toyota has structured the new range into three well-differentiated versions to attract the widest possible audience. However, the mechanical options with two engines remain intact. A 258 hp 2.0-litre petrol engine associated with an eight-speed automatic gearbox and, one step above, the aforementioned 340 hp 3.0 model and manual transmission.
Access motorization is associated with the level of Pure finish with Touring Pack
including sporty active rear differential lock, Adaptive Variable Suspension (AVS) and red brake calipers, plus upholstery that combines leather and Alcantara.
The most powerful engine with manual transmission is associated with the performance finish. Among its most outstanding standard equipment we have 19-inch forged wheels, seats with leather upholstery, heating and electrical adjustments, browser, Toyota Safety + security package, connected services and carbon inserts in the cabin.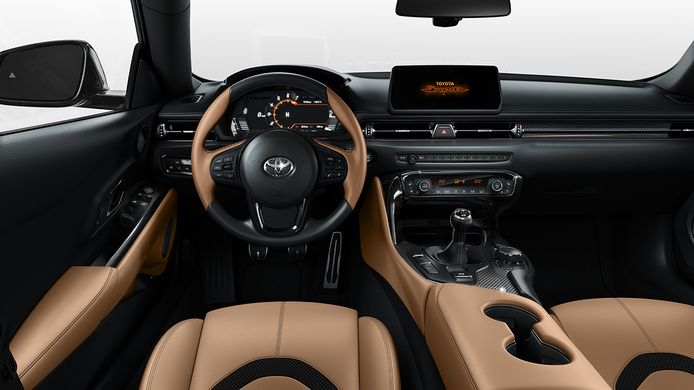 The limited edition Limited Edition of the Toyota GR Supra

Also incorporated is the limited edition limited edition. An exclusive version associated with the 340 hp engine and manual gearbox. It differs from the rest of the variants by sporting an exclusive Matte White exterior and a Camel-colored leather interior. Only two units will arrive in Spain, of which only one will be for sale in the official dealer network.
Toyota GR Supra 2023 prices in Spain
Prices valid from September / 2022 without including discounts or other promotions
Last but not least, three new exterior body colors have been added. In addition to Matte White, there are Carbon Gray and Portimao Blue tones.
Font:
Toyota