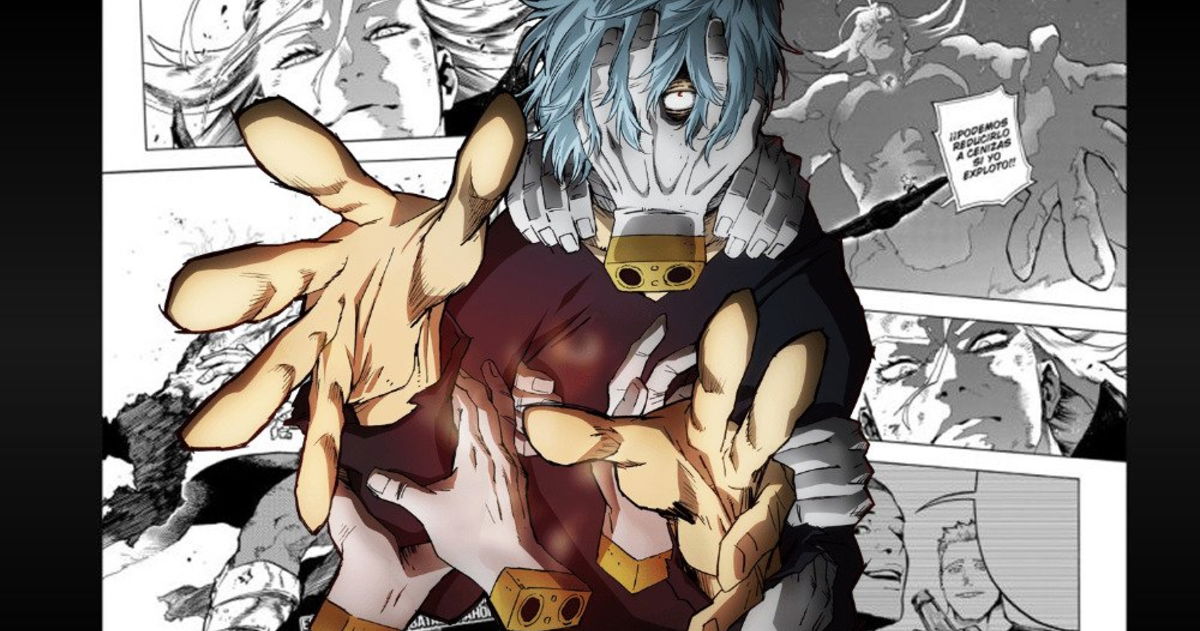 This is the start of the final offensive of the League of Villains
Tomura Shigaraki is one of the strongest villains in the entire franchise and as we saw in My Hero Academia chapter 341, he is much stronger than we thought., but at what cost? What consequences will the amount of physical and moral effort you are having have on your health? Some clues about it finally arrive in this episode in which we see the damage that his fight against Star & Stripes, the American heroine and one of the most powerful in the world, has had on him and the League of Villains. To the surprise of his companions, the villain is alive, recovering slowly and painfully.
If you are fans of the Kohei Horikoshi franchise, you surely remember the great fight in chapter 333 between Tomura Shigaraki and Star & Stripes, in which this villain almost lost his life and the heroine gave everything to stop the progress of his Machiavellian plan. .
This heroine from My Hero Academia used one of the most powerful techniques we have ever known, a power that is similar to that of a nuclear explosion, her State-of-the-Art Hypersonic Inter – Continental Cruise Punch. Apparently, this villain was able to dodge this attack by hiding in the middle of the ground.
In the final scene of My Hero Academia chapter 332, it seemed like he might have absorbed his ability and was about to finish off Star & Stripe.. Tomura Shigaraki manages to touch the face of the heroine who could steal the "New Order", the Gift of Star & Stripe that allows him to establish a rule in her environment, to manipulate and grant new properties to herself and her surroundings. .
when Tomura Shigaraki starts stealing Star & Stripe's gift, his body convulses and explodes Why? Before this villain's ability took effect, she changed her New Order: Now, her ability will deny all gifts.
In this way, the heroine manages to fight all the gifts that the villain has stolen during his life, since Shigaraki is unable to erase his own gifts. He is only capable of stealing or using them and is completely defenseless to this technique..
But, not the full power of an atomic bomb or the New Order, the quirk strongest known to date, were enough to defeat him.
One Piece: Who is Luffy's father and what is his place in history?
Tomura Shigaraki is still alive in My Hero Academia 341
In My Hero Academia 341, we see how Spinner, the most beloved villain in the "mutant" community, hears his voice deep within the League of Villains' mysterious hideout and runs to see what his current status is. But, from the expression he has when he sees it, it's not what he expected. Spinner encounters Tomura Shigaraki's body very different from how he remembered it.a figure barely recognizable as a human is seen before his eyes, his body has now had to survive the internal fight, constantly recover and be reborn, now he is an amorphous figure that hardly resembles the villain.
Fortunately, his fans can rest another chapter. This villain has not been the victim of further experiments by the organization's scientists nor has he lost his consciousness, All For One announces in My Hero Academia 341 that his recovery is going well (in fact, we see for a moment Shigaraki approaching spinner). But, from the looks of it, it seems that Star & Stripes managed to hurt her like no other heroine or hero before. Her skin segments are still hanging off and parts of her body seem to be about to collapse.
Despite what was mentioned by All For One, Spinner receives the news that Tomura shigaraki has not lost consciousness or life with skepticism. In fact, he holds one of her gangrenous hands with it, which opens the question, "What will happen to Tomura Shigaraki now?" We still don't know the actual damage Star & Stripes had to his body or which Quirks his New Order defeated and which he didn't or if All For One has really kept his successor's conscience clean.
Finally, My Hero Academia 341 gives rise to the beginning of the villains' offensive against the heroes in which Himiko, Spinner and even Dabi will have their moment in the spotlight, it seems that this saga is still far from over. We highly doubt that the end will come in 2022 as your comment had mentioned. Author.
Related topics: My Hero Academia
Sign up for Disney + for 8.99 euros and without permanence Subscribe to Disney+!