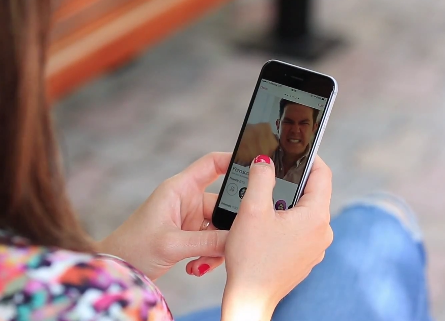 Tinder has launched a new feature for users to research the past of their matches.

It is a collaboration with the Garbo platform, which allows you to check personal data for only $2.50.

Currently, Tinder is one of the most popular dating apps; in 2021, it managed to accumulate more than 78 million downloads
Tinder has a new function ready with which users will finally be able to know the past of their matches before deciding to make an appointment.
In recent weeks, Tinder became a trend in various parts of the world thanks to the release of the Netflix documentary, The Tinder Swindler (El Escador de Tinder), which caused a great conversation in the digital pulse and placed the dating platform of new on the map.
Tinder was launched in the year 2012 and just last year, the dating platform managed to accumulate more than 78 million downloadsis according to information from App Magic.
In times of digitization and an increasingly connected society, applications like Tinder and others that have emerged in recent years are undoubtedly important platforms for those looking to add more friends to their circle.
In this context, data from Statistical confirm that dating apps could exceed 400 million users by 2022, with Tinder leading the list.
However, despite being platforms or applications that, in some way, have facilitated the way some users interact, there is a problem that, since last year, Tinder began to try to solve.
For this, according to information published in Masable, Tinder has teamed up with Garboplatform that allows you to check personal data for only $2.50 each search.
With this alliance, Tinder has been given the task of performing a function to check the background of users. So any user of the platform will have the possibility to investigate the past of their matches through its Policy and Security Center.
At the moment, this new function is already available to users in the United States, although it is not ruled out that it will reach more countries where Tinder has a large influx, such as Mexico.
Information of Masable mentions that "Garbo hopes to democratize that information for the sake of public safety, mitigating obstacles such as cost and jurisdictional regulations. He works with experts and advocates, from the National Center for Victims of Crime to EndTAB (Ending Technology-Enabled Abuse)."
How does it work?
As we mentioned, this function is only available, for now, in the United States, and it seems that the method to carry out the investigation is very simple.
The app will include a blue button, which users must touch and this will redirect them to the Policy and Security Center where the link will be that will take the Internet user to Garbo's site.
Once inside, the platform will ask you to fill in a series of information about your match, such as your phone number and your first name.
"We want to protect those most vulnerable to harm, both online and offline; and this is just the first step in fulfilling our mission to help proactively prevent harm in the digital age," explained Kathryn Kosmides, founder of Garbo.
Similarly, Match Group has also partnered with the US National Domestic Violence Hotline in order to offer a line of communication 24/7 to those who have suffered some type of harassment or violence.
Undoubtedly, the security of social network users is very sensitive in these times when it is very easy to fall for cyber scammers, who seek to steal the personal data of Internet users.
Given this, various platforms, such as WhatsApp, TikTok, Instagram, among others, have developed functions in order to safeguard the privacy and integrity of their users.
Now read: