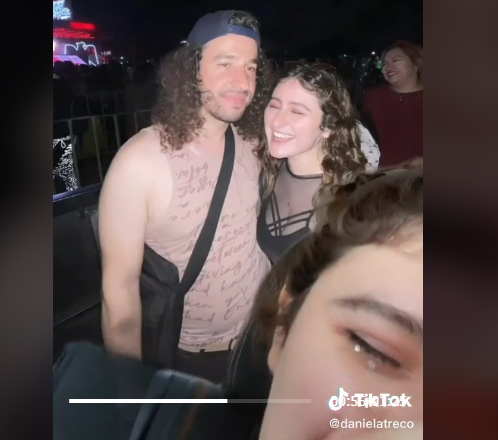 Tecate Pa'l Norte took place on Friday, April 1 and Saturday, April 2, with bands like The Libertines, The Strokes and Maroon 5.

The young woman's video already has more than 200,000 views and 40,000 "likes".
Luisito Comunica is undoubtedly one of the best-known influencers of recent times, for its content where it shows what it sees on each of its trips; therefore, it would not be unreasonable to think of meeting him at an event like the Tecate Pa'l Norte. However, this young woman found the wrong Luisito Comunica and it went viral.
Luisito Comunica is a youtuber who started making videos in Coyoacán and small places in Mexico City, where he interviewed passers-by. Fame did not take long to arrive and today he is among the most successful youtubers in Mexico and Latin America, becoming an entrepreneur with his own themed restaurants, his brand of tequila and even becoming the image of the cover of Playboy.
Because of its content class. It is also not unreasonable to think that you can find him at a concert like the Vive Latino, the Corona Capital or the Tecate Pa'l Northand. In fact, this was what happened to a TikTok user.
The young woman known as @danielatreco He shared a video on his TikTok account where he narrated his experience. According to her comments, she was drunk waiting for the surprise artists to appear on stage (some of these were Danna Paola, Moderatto and Edén Muñoz), when at some point she managed to see "Luisito Comunica". The tiktoker said that he went to ask this alleged Luisito Comunica for a photo and went to sleep thinking that he had gotten a photo with the celebrity, however, when he woke up and wanted to show off that photo, he realized that he was not the real youtuber.
This is the video shared by the TikTok user:
"What is the probability of running into Luisito Comunica among so many people?"
After that, the young woman shared a few seconds of the video shortly after taking a photo with what was supposed to be "Luisito Comunica".
Some of the users added funny comments on the video:
"If we all agree, YES IT IS".
"Luisito Comunica and the Chule of alternate realities".
"The worst thing is that Luisito Comunica is in South Korea."
"And the man did not deny it."
For now, the youtuber has not commented on this video, although we do not know if he has already seen it. For now, we can talk about this experience as one of those moments where alcohol and social networks prove not always to be the best allies, although something did leave this tiktoker to have made a mistake because of the drink, it was many likes and many views on your video.
Now read:
They narrate experience in Luisito Comunica's ramen restaurant
Now the brand promotes the influencer: Rappi is criticized for announcing Luisito Comunica's restaurant
Tecate Pa'l Norte moves to the metaverse and prepares for the "Tecateverse" festival in March