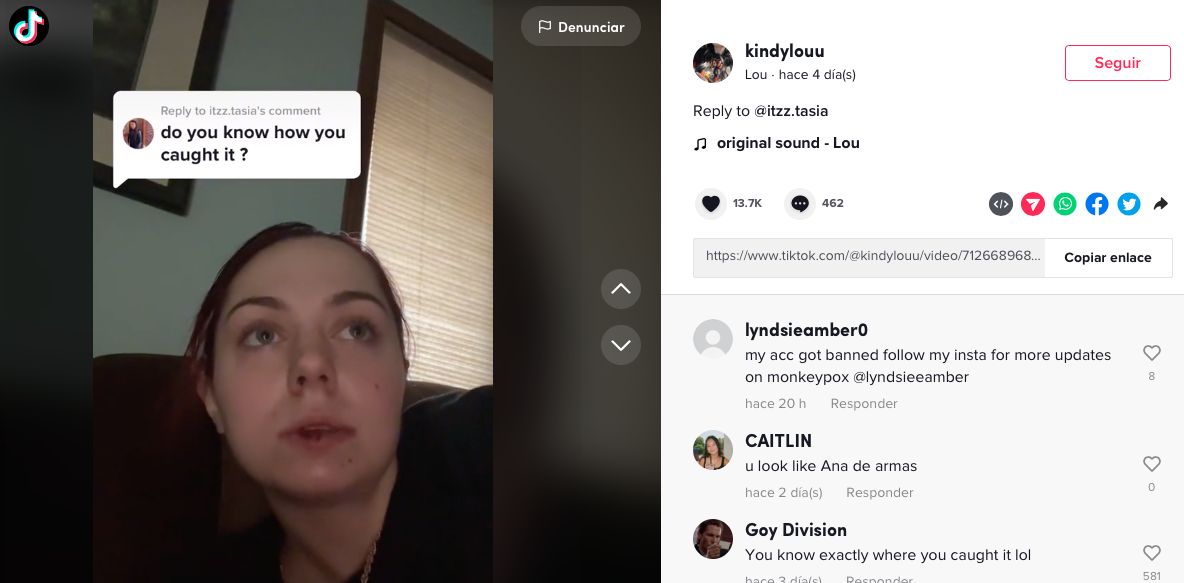 The WHO has so far reported more than 16,000 cases in 75 countries.

In the United States, 6,600 active cases have already been confirmed.

According to the WHO, 85% of monkeypox patients are from Europe.
Social networks have become a very powerful tool to publicize information or problems throughout the world. This is the case of a tiktoker who has documented her entire experience as a person infected with the new monkeypox on the social network.
Although it seems like something out of an apocalyptic movie, in recent months a new health problem has set off alerts, without leaving the Covid-19 pandemic behind. Last July 2 the World Health Organization (WHO) declared monkeypox a global health emergency. after an increase in cases worldwide, where more than 16,000 cases have been reported in 75 countries so far.
Likewise, this Thursday, August 4, the health department declared monkeypox a public health emergency, for which it is estimated that there are more than 6,600 cases between suspected and confirmed in the North American country.
Although it is a disease that has already been declared a global health emergency, many people do not know what the symptoms are and how it is spread. Given this, as happened with the coronavirus, social networks and the digital world have played a very important role throughout the world to inform people.
Now, a woman is documenting her days with this disease and on her TikTok account she talks about the symptoms, treatments and even how she presumes she got it.
The New York TikToker, who goes by the username @kindylouu, has more than 340,000 followers and announced her contagion on July 27, achieving a million views on this first video.
Also, Lou explains that she didn't know how she got the virus, but she noticed the rash while she was at the beach. Two days later, on July 29, he made a more detailed video explaining his exact symptoms and showed the injuries to both the mouth and fingers.
In the same video, the tiktoker expressed her pain to the point of saying that he could only drink "protein drinks" and that he had trouble speaking.

"I can not eat. I can't brush my teeth. I can barely speak." said in the recording shared in the digital world, that according to a study carried out by We Are Social and Hootsuitehas 4.62 billion users worldwide, representing a year-over-year growth of more than 10 percent.
The tiktoker also said she was ready to start giving away her stuff because she wasn't sure she could get over the illness. "My uncle died for something like this", he added.
In another video, the woman updated her health status on August 1, explaining that she had been prescribed lidocaine to numb her mouth, in addition to another medication to help with the rash, and that she was still only able to drink her food.
As part of her explanation, Lou clarified that she did not contract monkeypox through sex, as one of the main ways it is spread, and that she has not yet received her monkeypox test results after getting tested. weeks ago.
The next day experienced a new symptom: abdominal pains; she added that his stomach was "on fire". His latest update hasn't revealed much improvement in his condition, as all of his symptoms are still present.
It is not the first time that a person uses their social networks to document some problems or illnesses. But also to inform people, this happened with Covid-19, when even the President of France, Emmanuel Macron, used social networks to provide information about the disease and invite people to get vaccinated.
In that sense, social networks continue to be one of the best options for many things thanks to the scope they currently have.
Now read:
Tiktoker Khaby Lame recruits Zlatan Ibrahimovic to create content
Soriana trolls an "alien" tiktoker and that's how she promotes
Tiktoker shows how Bad Bunny's "Me porto bonito" would sound in classical music