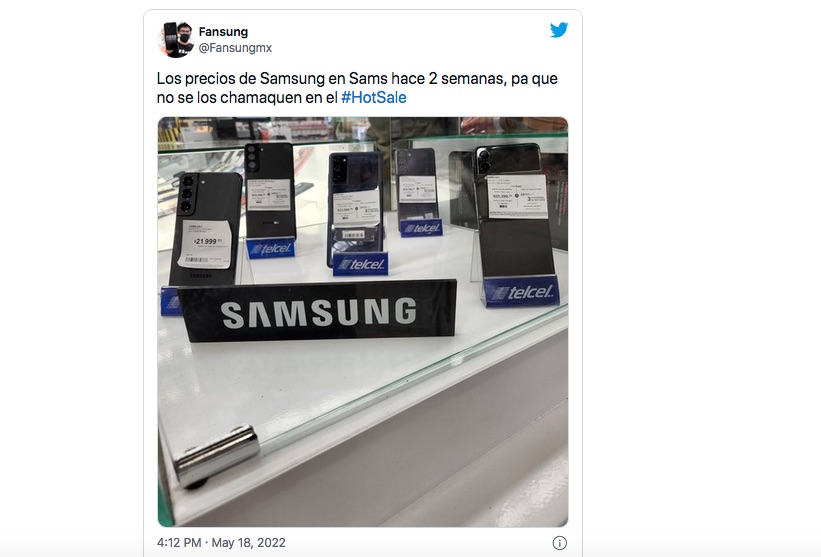 Samsung phones and their prices inside a Sam's store are the best example of how important the digital medium becomes.
To hold down smartphone prices Samsung in a shop Sam'sprior to Hot Sale and avoid bad promotions, a consumer had the idea of ​​publishing an image where the products appear with their respective prices.
The exercise was revealed by Fansungmx, who through his Twitter account explained that the price witness from two weeks ago (prior to May 18), published them so that consumers had a reference of how much they lowered the labels. of these products and the convenience in acquiring them.
The exercise seems to avoid practices, where many stores are accused of increasing the original price of the products, to give the false sensation of discount by submitting them to the Hotsale.
Samsung prices in Sams 2 weeks ago, so they don't get beaten up in the #HotSale pic.twitter.com/QetHv9LMp5

— Fansung (@Fansungmx) May 18, 2022
The consumer and their complaints on networks
Reporting or evidencing both good and bad consumer practices has become part of a clear culture in social networks, where brands committed to their image invest heavily in managing their accounts on these channels, with community managers and social media marketing strategies. , which have streamlined the traditional customer service activity into a true experience.
In this context, it is interesting to add cases such as Raúl Escolano, a marketer who decided to launch a campaign in 2016 within social networks, where he said he was interested in buying a car only from the brand that managed to convince him to buy a new vehicle through social networks. At the end of the day Nissan conquered it.
The promotion of hot sale has found in social networks an interesting scheme that has helped all kinds of practices, especially those that have to do with the way in which brands end up getting involved in mentions that consumers make of them both to report bad promotions, and to advance discounts that stand out for the savings in their prices.
There are very clear calls from entities such as Profeco, which takes advantage of social networks to stipulate relevant practices during seasons such as the Hot Sale, which alert us to an issue and that is the value of being empathic with the market through good practices and not only that, in being able to identify activities where the closeness between brands and consumers is strengthened.
Hotsale and forecast from networks
The cautious consumer is a profile that has been formed by promotional events, which guarantee, at least that is what they promise, the best price-quality ratio of the products on sale.
We have the case of a man who exhibits the prices of smartphones Samsung to compare your by the hotsale, Sam's Club really applies discounts on them, but we also have other practices like a marketer determined to buy his new car exclusively through social networks. In both cases, the consumer's decision to communicate their shopping experience online is a convincing fact.
---
Social networks have become a key platform where, through witnesses, activities of great value have been developed to study consumption and understand why a price witness of Samsung smartphones for sale in a Sam's store is relevant.
---
Social networks have risen strongly as means of sale and this has allowed social media marketing to join trends such as social commerce, which has come to be studied by Grand View Research and Statista.
In a study published by both platforms, it was found that during 2022, social commerce revenues will add 751 billion dollars and by 2028 this figure will skyrocket to 3 thousand 370 billion dollars.
Now read: