In a country as sunny and warm as Spain, a car that spends most of its life parked on the street will end up seeing its paint age prematurely. We tell you the causes and how you can avoid it if you do not have a garage.
We would all like to have our own covered garage, whether private or community. But not everyone can access one and, in addition to having to search for free parking every day, your car will be condemned to suffer inclement weather.
Last winter we already told you some tricks to start the car cold without your vehicle's mechanics suffering and, incidentally, we warned you of how much history can change depending on where we park.
Prolonged exposure to ultraviolet rays will cause the paint varnish to lose its properties.
Something similar happens with summer, especially with regard to car paint regards. And it is that, in a certain way, the bodywork is like the skin of our body. And painting, our epidermis.
We know it very well, the more time we spend in the sun, the more our skin will suffer and the more we will have to work hard to protect it. The same thing happens with the car, as much as it seems to us that it is not. And there is a difference: our skin begins to burn in a short time. Instead, the painting exhibits side effects of the sun years later.
Why is car paint damaged by the sun?
Modern cars are painted with several layers. The last one is the varnishwhich in addition to protecting gives that final shine that looks so good on any new car.
However, prolonged exposure to the sun, specifically to ultraviolet rays, it will cause that varnish to lose its properties, weaken and end up leaving the paint bare. As a result, the painting loses its intensity and nuances, losing color and appearing more and more dull.
Checking this is as simple as walking through an area with many parked cars and compare the appearance of the roof and hood paint, the areas that receive the sun's rays the longest and most directly. You will see that the color of some of the cars with several years behind them is duller in these areas.
Even in some it is clearly seen how they are losing layers of varnish and paint. It is because they have spent almost their entire lives enduring the extreme temperatures of winter and summer.
How to prevent the sun from damaging the car paint?
The obvious first answer is to park the car in the garage. But of course, that is often not a choice.
But if you are one of those who have a covered garage because, for example, you live in a single-family home, but you park it at the door of the house because you're too lazy to put it in and take it out dailyyou should know that you are doing the hell to your car and that in a few years it will be quite ugly.
MOTOR COUNCIL.ES
If you live near the sea, it is important that you know how to protect your car from corrosion caused by saltpeter and humidity.
If you are one of those who has no choice but to park on the street, then you can protect it with a cover that covers it or with protective waxes They are usually applied at least twice a year. These fences create a protective layer that allows the varnish and paint to better resist ultraviolet rays.
This as prevention. But if the damage is done, the only thing we can do is polish or repaint. Of course, polishing is only a good option for minor or localized damage in a specific area. Otherwise, the only alternative is to repaint the car.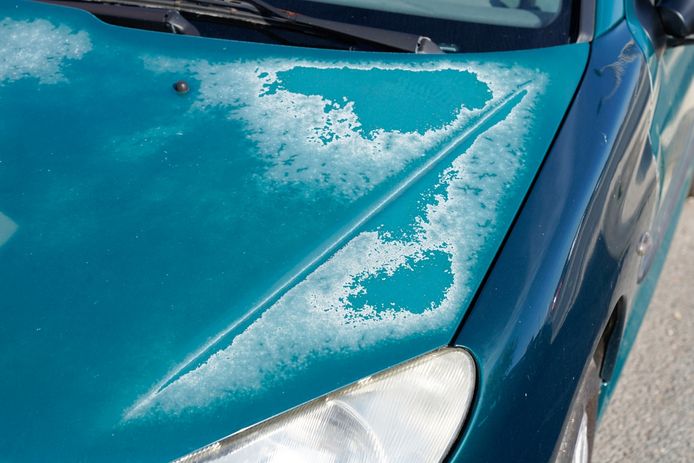 Does bird droppings damage car paint?
Yes, bird droppings damage the car paint and also very intensely. This is because they are especially acidic and corrosive.
If we don't remove them soon, the action of temperature changes that contracts and expands the metal of the bodywork and the paint will make them penetrate more and more, so they will be deeply adhered.
This can mean that washing the car leaves a discolored stain in that specific area. In that case, there are some products that can correct the defect, but this will depend on its severity.
As we told you in our advice on how to clean cars that live in coastal areas, the best thing when it comes to remove solid waste such as dirt or excrement is to wash with pressurized water to remove them completely before rubbing. Otherwise, we will most likely be scratching the paint.
Photos: Freepik