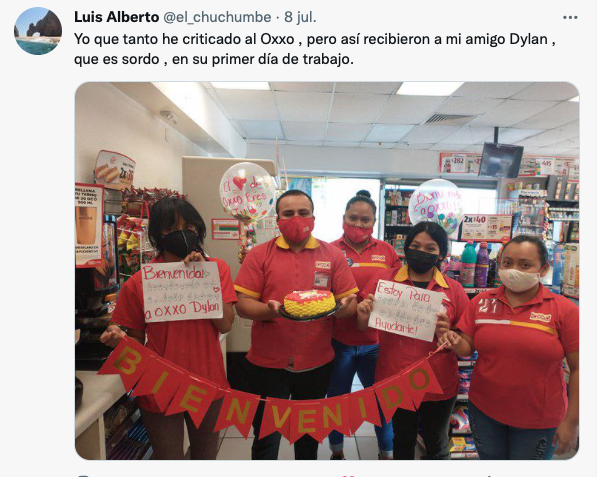 In Mexico there are around 21 million people with a limitation or disability.

One billion people in the world experience some type of disability.

19 percent of Mexican workers with disabilities have a formal job.
Inclusion and diversity are two terms that over the years have become more entrenched in the world. Especially in the workplace where more and more companies have an inclusive culture and hire people from these communities to become their collaborators as a clear example is Oxxo, the convenience store brand that won the hearts of its consumers after it became known how they received a deaf employee on his first day of work with them.
This culture of inclusion and adding disabled people to the workforce is applied in almost every country in the world, where only in Mexico, article 4 of the Federal Labor Law, highlights that "no worker may be discriminated against on the basis of race, sex, age, religion, political doctrine or social condition. No person may be prevented from working or engaging in the profession, industry or trade that suits him or her, being lawful."
Given this, according to data from the National Institute of Statistics and Geography (Inegi)in our country there are about 21 million people with a limitation or disability. Where only 19 percent of workers with disabilities have a formal job and their average monthly income tends to be lower among the labor force with some limitation, according to a diagnosis made by the National Council for the Development and Inclusion of Persons with Disabilities (Conadis) and the former Secretariat of Social Development (Sedesol).
This data also reflects the World Bank, that according to their extractions, 15 percent of the world's population, or one billion inhabitants, experience some form of disability, and the prevalence of disability is higher in developing countries, where they experience adverse socioeconomic outcomes than people without disabilities.
The culture of inclusion
Oxxo, one of the most powerful Mexican brands in the country and in some Latin American countries, has its culture of inclusion is clear, which it applies to both its employees and its consumers.
The company that is owned by FEMSA that according to a study carried out by the statistics platform latinometricsin the Mexican territory there are 20 thousand Oxxo stores, highlight on your website which has a "Labor Inclusion Program" instituted since 2001.
That culture was shared on Twitter by a consumer of the brand, who was proud of them after a branch of the Mexican brand, they welcomed one of their hearing-impaired employees in a very friendly manner.
According to the publication made by the user @el_chuchumbe, and what he recounted in his tweet, a friend of his began working at said branch of the firm He belongs to the hearing impaired community and his co-workers welcomed him with signs, balloons and even a cake, showing their support.
"Welcome to Oxxo Dylan", It can be read on one of the posters, which is held by one of the Oxxo employees. Also, your co-workers they translated the writings into sign language so that their new partner would feel included.
I who have criticized the Oxxo so much, but that's how they received my friend Dylan, who is deaf, on his first day of work. pic.twitter.com/MTzThkVCNi

– Luis Alberto (@el_chuchumbe) July 8, 2022
Without a doubt, the publication of the tweeter obtained a positive response from the digital pulse, who identify themselves as consumers of the brand.
It is good to know that we still have a lot of solidarity and love for those who are different from us but wanting to continue in this competitive world, congratulations to those at the Oxxo store, my greatest admiration.🥳🫂

— Roberto Loretto. (@sergioloret) July 9, 2022
Although it may seem like an action far removed from the reality we live in, there are other brands that also have a culture of inclusion and diversity. An example is Walmart, which It has, according to its digital portal, 1,539 associates with disabilities in Mexico.
#inclusion good for @WalmartMexico pic.twitter.com/Vhp41akStd

—Tely Cordova (@TelyCordova) February 5, 2022
As another example, we have Bodega Aurrerá, which details that the work, according to the company's positioning, should not discriminate against no one for their conditions or influence the final choice when hiring a worker.
In this sense, today companies have the challenge of identifying with society, its values ​​and diversity. Incorporating people with disabilities into teams strengthens that identity and has a positive return for the company, making it connect better with a growing potential public, increasing its competitiveness.
Now read:
She was going to buy in Oxxo and ended up as a brand promoter
"There will already be Oxxo in Europe"; FEMSA announces investment of 1,200 million dollars
Oxxo reinforces its bet on the apparel market: these clothes are sold in stores