Last May the team of Google play announced that next year a new privacy and security section will arrive in its application store, following in the footsteps of Apple, whose users for a few months now can consult the data used by apps to track them from the App Store.
Two months later, Google Play announces new additional details of your future new section 'Privacy & Security', offering a preview of the news that users will begin to see from the first quarter of 2022.
This is what the new security section might look like
The new privacy and security section will come to the Play Store for oblige developers to inform the user of the data to be collected and shared by the applications before downloading them along with their security practices. For this they will show this information in the applications tab.
There in the tab of each application users will see a summary with the privacy and security of our data. Here the developer will have to share an explanation about what data an app collects or shares, highlighting security details as if you have data encryption, if it follows the Google Play family policy, or if the application has been independently validated against a global security standard.
Users will be able to touch this privacy and security summary to see more details, to see the full list with all types of data are collected and shared, such as location, contacts, personal information (name, email address, telephone number) or financial information, among others. In addition they will also have to report how the data is used and if data collection is optional or necessary to use the application.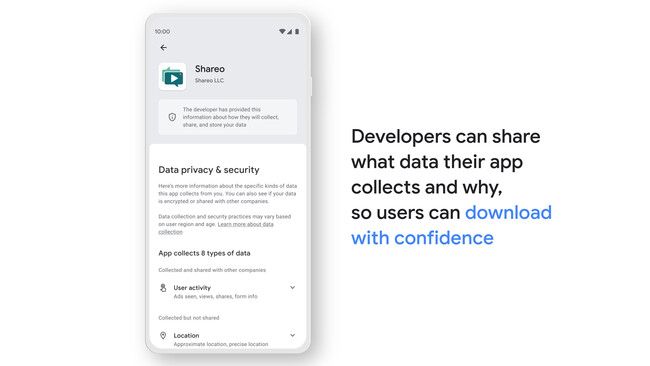 Google has created a series of privacy and security labels in which the user can deploy for context and developer explanation to access each permission or personal information. Thus Google Play will force all developers to be transparent with the data they collect from their users.
More information | Google
In Engadget Android | Privacy Dashboard brings you Android 12 privacy dashboard to older versions of Android