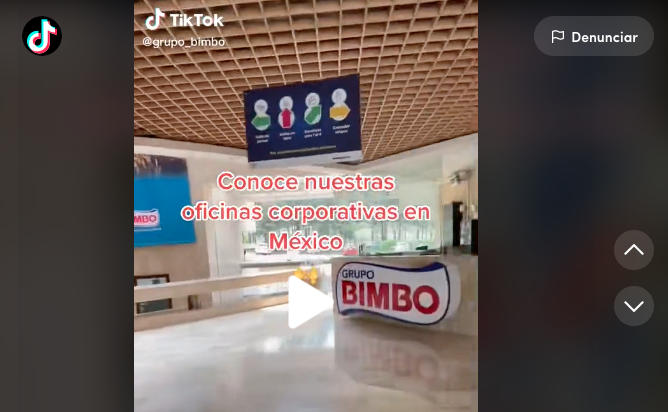 A video on TikTok shows what Grupo Bimbo's corporate offices are like in Mexico.

The @grupo_bimbo account was activated not long ago and, so far, it has just over three thousand followers.

The video in question has collected more than 150 thousand views so far.
It is through TikTok that, through a video, it shows what the corporate offices of Grupo Bimbo are like, which have surprised Internet users.
Not long ago the @grupo_bimbo account was activated on the fashion social network, one of the most important content platforms in recent years.
TikTok, as we have seen, has become a great space to share practically all kinds of ideas and where creativity, in many cases, comes to the fore.
Founded in 2016 by ByteDance, the Chinese social network already has more than a billion users globally and according to a recent report by Clouflare it is even the most searched website todayabove giants like Google, Amazon, Facebook, among many others.
The last two years in particular, 2020 and 2021, have been, by far, the most fruitful for TikTok, managing to position itself in the taste and preference of users, especially the younger ones -the so-called Generation Z-, who, Somehow, they have fueled the growth of the Chinese platform.
With all this data and background, it is not surprising that companies like any other content creator see TikTok as a way to reach audiences in order to position their brand or even to connect with a new consumer niche.
Bimbo shows what its corporate offices are like in Mexico
This is perhaps the case of Grupo Bimbo, who, according to what we can see on their profile, not long ago entered the wide universe of the ByteDance platform.
Until now, The @grupo_bimbo account has just over 3,800 followers and a cumulative 10,000 likes. among his five videos that, for now, he has shared with users.
Grupo Bimbos is, in some way, a kind of national symbol; To speak of Bimbo is to speak of the Mexican itself, a characteristic that it shares with brands such as Corona, Pemex, Victoria, among others that are located in the Statista ranking of the most valuable Mexican brands.
In this context, in 2021, Grupo Bimbo was the company with the highest sales value in the country, registering 331.05 billion pesosleaving behind Grupo Lala with 80.83 billion, Bachoco with 68.79 billion, Nestlé with 67.5 billion and Alpura with 24.4 billion, among other brands related to the market.
Now, on TikTok, the brand's presence has not gone unnoticed, as proven by one of its most recent content in which it reveals what its corporate offices in Mexico are like.
The clip of just 19 seconds has surprised Internet users in such a way that there are those who say they want to work for that companyasking for reports through the comments.
"And to apply for one of your many vacancies, where can you enter?"; "Woah! What a father it would be to work there."; "I'm going to work there when I graduate"; "How I want to work there"; "How do I get in?"; are some of the comments that can be read in the publication.
The video, at the moment, has collected more than 156 thousand reproductions and more than eight thousand likes, being the content of greater interaction with which the profile of @Bimbo group.
Now read: