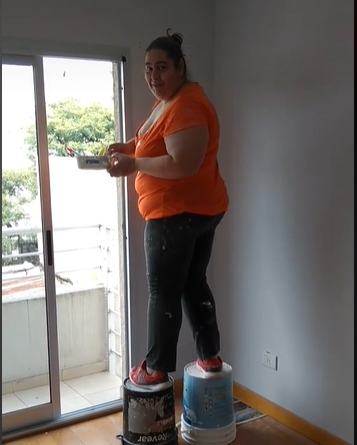 "Mamá Construye" helps other women to grow in the construction sector without taboos.

The woman left the profession of journalism to dedicate herself to painting, repairing and remodeling houses.

Now he is an influencer and wants to teach the trade through tutorials and a promising plan.
A woman from Argentina has made an impact on social networks for her success as a bricklayer, where she seeks to break the barriers and stereotypes of the construction sector and support vulnerable people to learn the trade.
María Gabriela, "MaGa" Tomassoni, He is a journalist by profession, but after suffering an acute depressive period he decided to change his life. Now, in addition to adding successes in the work, she is so active in social networks that she has become an internationally known influencer, since He usually shares the work he does, processes and construction tips to his more than 20 thousand followers.
Last week, the woman launched an offer that few people would refuse. Through Twitter he generated a revolution with the idea of ​​teaching the trade of remodeling, repairing and building for free, but with a very peculiar characteristic:
"I am looking for an owner in CABA who has an empty house and be willing to trade fair. That allows me to occupy it indefinitely to use as a canvas to teach, making all the necessary repairs to make it look like new ". "Is very crazy?"

"The idea is to teach in a real house, with real problems and to be able to solve them. In the process, many people will be able to learn to repair and remodel spaces common to all houses, "Maga wrote.
I am looking for an owner in CABA who has an empty house and who is willing to make a fair exchange. That it allows me to occupy it for a certain time to use it as a canvas to teach, making all the necessary repairs so that it is like new in the process. Is very crazy?

– Mom Builds (@mama builds) December 29, 2021
The creator of the account "Mamá Construye" did not expect the reaction she would receive from her followers, as she had not yet finished shaping the plan when she already had a dozen offers from homeowners looking to remodel their property for free.
"Today making an arrangement costs a lot of money, not everyone is in a position to meet those expenses", exposed to local media.
The construction influencer admits that she still has many aspects to define, but has a huge willingness to teach and work, especially since she needs to be an example for other women and contribute to their mental health and well-being.
"The goal now is to find a way around that idea so that it can 'shut down' all parties. Nor do I know the legal details so that it could be carried out without problems ".

"The idea of ​​teaching was there, but the truth is that I don't have a very large team to do it either, and at the same time I work and live from this, so I can't dedicate myself fully to recording. He did not know how this idea is going to end, but let's see ", he is excited.
The project seeks to be altruistic and educational, but above all feminist. The construction company clarifies that it wants to pay special attention to women who are outside the labor market, in a state of vulnerability and, in many cases, in situations of gender or family violence.
"When I need for a job, I take women or recommend them whenever I can."

"Some time ago the idea of help the who need to get out of that circle of violence, or that they have no way to support their children".

"This is something that allows me to work when, where and how I want. Then you can articulate with a boy's school and maintain your routine. Everything while you have a decent job and do not depend on anyone"Says Tomassoni.
You want is you have it. From today, on Instagram, you can search in stories, #HouseMomBuild
A guide to learn in a simple way and that will teach you to repair, recycle, reuse, remodel and restore houses and things. pic.twitter.com/Hy1w11BD4E

– Mom Builds (@mama builds) January 1, 2022
"Mom Builds"
Maga is 50 years old, a journalist specializing in technology, a proud mother of five and grandmother, but she is also a social activist and successful construction influencer.
In 2015, after living a completely stressful environment every day from morning to night, the woman reached a breaking point where she could no longer or wanted to write and ended up full of frustration and depression, to the point of not being able to leave home .
"I ended up with a major depression and I did not leave my house for a year. I didn't leave my room first and then my bed ", he says.
However, her outlook changed in 2018 with the insistence of a friend to help her make arrangements at her new home.
"I went for 15 days and I stayed 6 months. I realized that I was happy with it I I woke up in the morning wanting to finish what I had started. I quit all the jobs I had at that time, "he says.
Maga got up from depression thanks to that trade and began taking various courses and workshops on construction materials, techniques and processes to perfect her new activity, which was growing by recommendations. Today she dedicates her time and patience to social networks, where "Mamá Construye" shares and shows details of her restorations, paintings and works.
"Twitter it's like my main social network. There I get angry, I do catharsis and I also throw out these ideas that come to mind ", he says.
Now read:
My Joy is still present on Three Kings Day: they give a fun "toy" for adults
Now Google could delete your files in Drive or delete your storage account if the content is "inappropriate"
Pakistani launches campaign to find a girlfriend and its billboards go viral