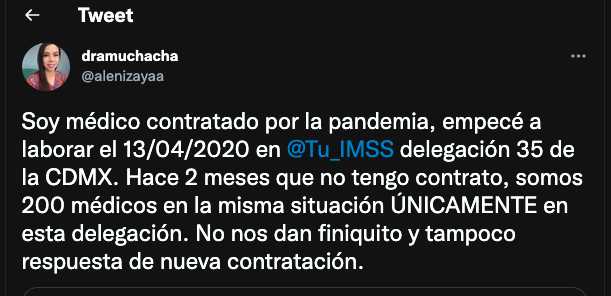 During the pandemic, more than 40,000 health professionals were hired, but many did not receive a definitive employment contract.
Despite risking his life during the months of greatest danger, the promise of granting a place was not fulfilled.
Due to the above, in a matter of months they went from being heroes to unemployed.
Social networks are an important tool that attracts more and more people. While many use them as a form of entertainment, others give them other uses. One of its greatest advantages is the freedom of expression. With this in mind, a doctor published a strong complaint against the Mexican Social Security Institute (IMSS). Although the most worrying thing is that his case may not be the only one.
Story of what happened
In the first instance, it should be remembered that during the Covid-19 pandemic, a massive campaign to hire medical personnel began. Everything was generated from the exponential increase in hospital occupation in most units in the country.
To avoid leaving patients unattended, the IMSS hired more than 40 thousand elements. In addition, programs such as the Covid Bonus were also implemented to offer economic incentives to health professionals.
The Miguel Hidalgo decoration was also applied to recognize the doctors who treated and saved more patients during the pandemic. Various economic awards and diplomas were awarded through various categories.
The biggest problem is that most of the workers were hired for a limited time. As hospital occupancy decreased, many did not receive an extension of their contracts. In this way, in a matter of months they went from heroes to unemployed.
Doctors out of a job after risking their lives
As an example, In Zacatecas, it was reported that more than fifty elements were fired "because they were no longer needed." Based on what was reported, in recent months there has been a decrease in the number of people infected with Covid-19 in the entity.
Due to this situation, the state authorities did not renew the contract of the doctors and nurses who, during the moments of greatest crisis of the pandemic, joined to support their colleagues. Although at the beginning they were promised that there would be a permanent contract, in the end it was not.
This same situation was repeated in the rest of the country without offering an explanation to the doctors and nurses who risked their lives in the moments of greatest danger. In addition, the promise of the president, who had said that everyone would be hired permanently, was not fulfilled.
As the months go by, instead of offering a solution, the problem has increased. Now it was a doctor who used her social networks to file a complaint against the IMSS.
I am a doctor hired by the pandemic, I started working on 04/13/2020 in @Your_IMSS CDMX delegation 35. I haven't had a contract for 2 months, we are 200 doctors in the same situation ONLY in this delegation. They don't give us a settlement and they don't give us a response from a new hire. https://t.co/wD5DOn1IlM

– dramuchacha (@alenizayaa) May 12, 2022
through your account @alenizayaa He reports that at the beginning of the pandemic he joined the 35th Social Security delegation in Mexico City. For months he worked tirelessly and put his integrity at risk in the hope of obtaining a permanent position.
In the end, she did not receive an extension to her contract and was simply fired. If that wasn't too serious, she also accuses her that now they don't want to give her a settlement either. That is why her disappointment towards the authorities is even greater.