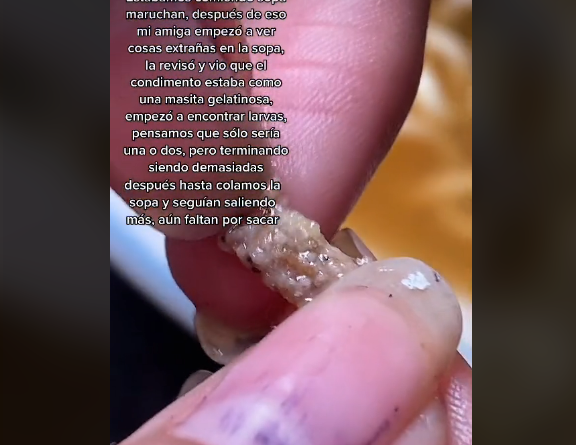 TikTok users reported finding larvae in their Maruchan after eating the product.

Comments affirm that this could be something recurring on the part of the brand and point out taking action on the matter.
Maruchan customers found larvae in their product and decided to share it on the TikTok social network.
So far, the brand has not commented on the matter, although it seems that the video is gaining more and more strength, because just one day after being shared, it already has a large number of views and, not only that, with testimonials who claim to have found something similar in their soups.
They find new Maruchan soup, "flavor" larva
In the first video, the account points out that while they were eating their Maruchan, they noticed that there was something strange in the product and, when they began to look more closely, they realized that the soup was infested with larvae.
In the images, you can see how the nails of the woman in question separate a large number of larvae from the soup.
"We were eating Maruchan soup, after that my friend began to see strange things in the soup, she checked it and saw that the seasoning was like a gelatinous mass. It started finding larvae, we thought it would only be one or two, but it ended up being too many. Then we even strained the soup and more kept coming out."
The video has so far more than 6 million views in a single day and more than 600 thousand reactions. Likewise, the person who recorded the video stated that he had reported the unpleasant incident to the account of Maruchan in Mexico.
This is the first video shared by the account:
In an update to this first video, the account pointed out that it had much more evidence of larval contamination in its product and, in addition, mentioned that Maruchan did not respond to its messages on Facebook.
This was the second shared video where the larvae are appreciated in more detail:
On the other hand, users of the platform commented that it is essential to continue sending messages, because as a consumer, the responsibility is to assert their rights and report any failure of a prestigious brand.
These were some of the comments he received on his two videos:
"It's not fly larva, I think it's mealworms, most likely it's not because of the company but because of the place where you bought it", mimin

"The same thing happened to me and other times they even had live insects," scares dudes

"They have the quality sector for a reason, so that doesn't happen," alexaluz310

"And now what will they say, which is the store where he bought it? It is the company that does not have the hygiene measures", and Loki

"I don't think it's the soup itself, maybe when they bought it it was already broken from some little place and it got worms in it," 𝑪𝒊𝒕𝒍𝒂𝒍𝒊 🌻

"I believe them because me and my sister bought one and it did have worms and we threw it away and they never ate that at home again," .

"It has already happened to me about twice, but since I love them I only prepare them in a pot because I am forced to open the glass and see the seasoning hahaha Mayaken
What do you think? Do you usually eat this type of food?
Now read:
How much will Mbappé earn after his renewal with PSG?; this we know
This is how Dior benefits from the trial between Johnny Depp and Amber Heard
"Come with me to resign"; the new trend that motivates you to undertake
Farm boy wins the love of users for a tutorial to take care of your farm