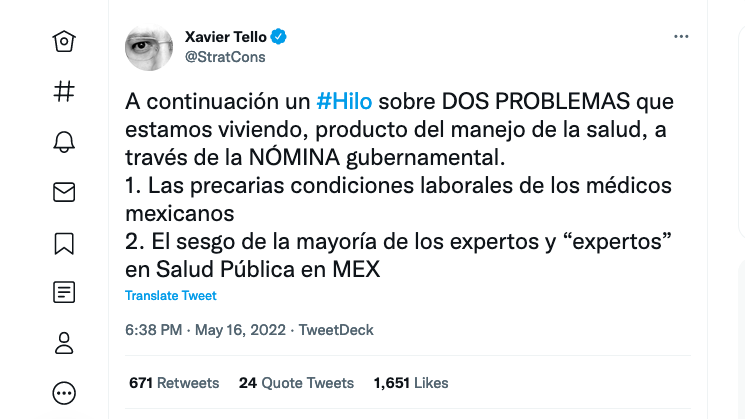 As a result of the hiring of Cuban doctors, different debates have taken place since then. Above all, the injustices and precariousness that surround the medical profession in our country.
However, a plot that has been highlighted is Xavier Tellowhich, we show you below.
below a #Thread about TWO PROBLEMS that we are experiencing, product of health management, through the government PAYROLL.
1. The precarious working conditions of Mexican doctors
2. The bias of most of the experts and "experts" in Public Health in MEX

— Xavier Tello (@StratCons) May 16, 2022
Expert exposes the 2 PROBLEMS that live by health management through the government PAYROLL
As the author mentions, in Mexico there are TWO PROBLEMS about the health management product, through the government PAYROLL.
1. The precarious working conditions of Mexican doctors.
2. The bias of the majority of experts and "experts" in Public Health in Mexico.
"As I have been commenting for months, there is a serious problem when the right to health is confused with free health; and another bigger problem, when gratuity means: delivering goods and services to the people physically and by hand"…
He continues his argument saying that:
… The right to health (enshrined in article 4 of the Constitution) it is then distorted (or prostituted), by becoming a gift from the government. There is, thus, something to thank the regime. The government is a GIVER of health…
… It is in this context that it is assumed that Physicians must be EMPLOYEES on the Health Sector payroll. It is not conceivable, for example, that they work in their office and pass the bill to the government as it happens… in the Nordic countries…
… After 70 years of employing doctors, the Health Sector (in any of its variants) has become the largest employer of doctors.
This has brutally distorted the market…
… That is to say: Graduate and postgraduate doctors seek employment in the Health Sector almost as the only option and the government has put the salary tabulators it wants (or can)…
… In addition, being the Health sector the only one that has third-level infrastructure, research centers and the National Institutes of Health, there are very few non-governmental options for a scientific career… poorly paid, by the way…
… In the end, we have a underfunded health system. The lowest in the OECD. With Doctors earning miserable wages. The government gives and the government takes away. Doctors don't have. where to go. There are 70 years of tradition (ie: "El Seguro, es Seguro)…
AND YOU, THINK THE SAME?
Related Notes:
Anatomy of a doctor after a "toxic medical call"
Predict the next pandemic? This computer will make it possible
French fries and almonds are equally fattening, according to this Harvard expert