On December 30 of last year, when restoration work continued at the Metropolitan Cathedral, to compensate for the damage caused by the 2017 earthquakes, specialists from the National Institute of Anthropology and History (INAH), they accidentally discovered religious relics more than two centuries old.
While flattening work was being done on the building's central dome, a tile that covered a niche fell off and inside it, a restorer found a rectangular lead box.
Relics in the Cathedral, a treasure uncovered
In the following hours, the existence of more niches was verified, where a total of 23 boxes of this heavy metal were found.
Likewise, on some of the covers of these boxes, religious inscriptions in Latin were found, alluding to saints, such as Gabriel and Rafael; or to divine beings, such as archangels.
Paintings on parchment of biblical scenes were also found, possibly made with the tempera technique; in addition to wooden and palm crosses; and fragments of what were possibly clay and wax medallions.
It seems that all these boxes functioned as reliquaries, cases to keep memories of the saints, which allowed the faithful to venerate them and receive divine protection.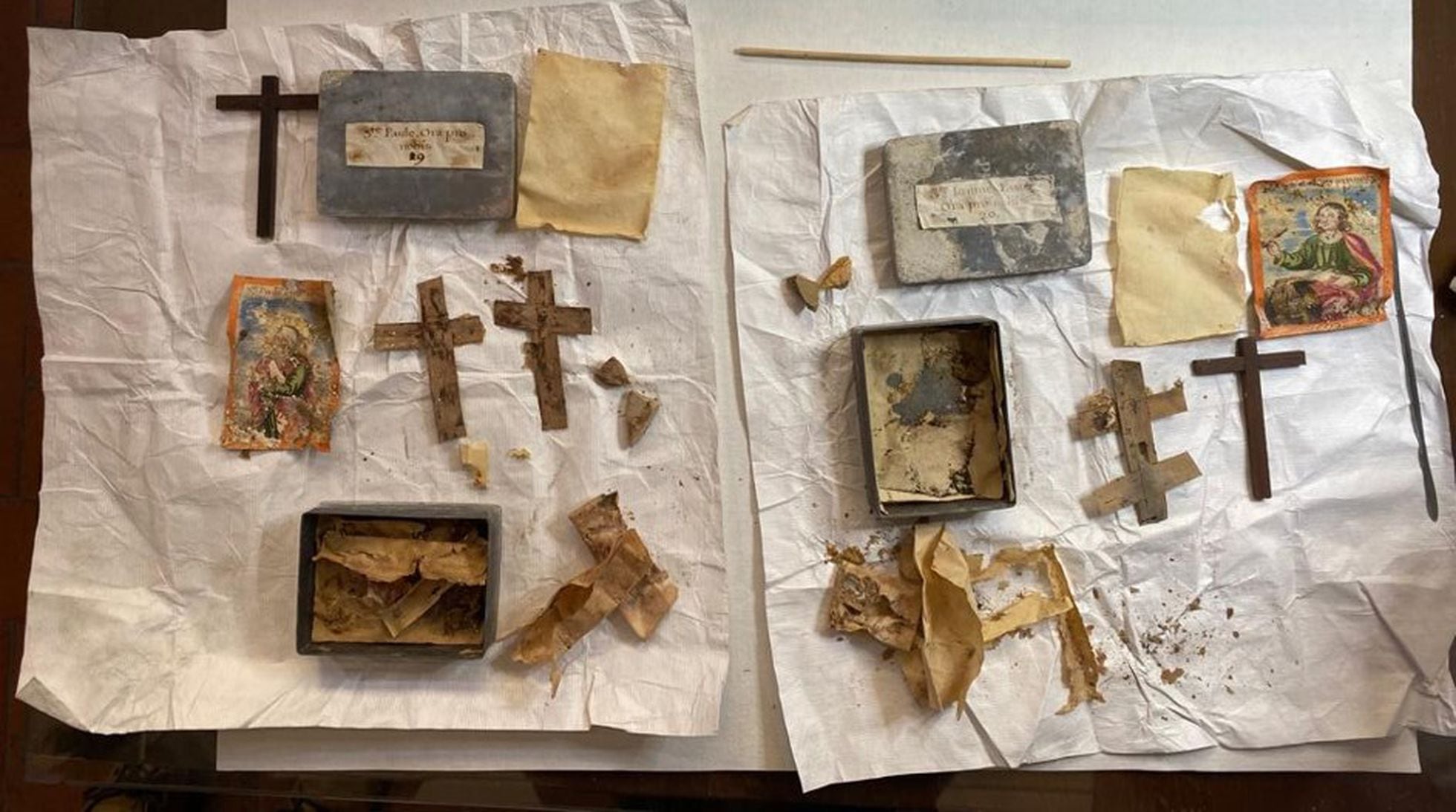 The box of Saint John the Baptist
Inside this box, a note was found referring to the discovery that various painters and masons made of said reliquary in 1810, three years before the construction of the Metropolitan Cathedral was completed.
It is believed that these artisans were part of the team of the architect Manuel Tolsá and together with the relics they found in the box, they added a note with their names and professions, in addition to the following inscription:
When this dome was painted, in the year 1810, they found these relics of His Holiness John the Baptist. Pray to God for their souls for God's sake."
Relics that are windows in time
INAH personnel verified the contents of the boxes, made a thorough search and also carried out conservation work on these relics, which are, without a doubt, national heritage.
The boxes with their contents are expected to return to their original niches at the end of January of this year.
Finally, the ecclesiastical authorities of the Metropolitan Cathedral reported that they will add a note to the boxes as a testimony of the discovery at this time, for those who find the relics in the future.