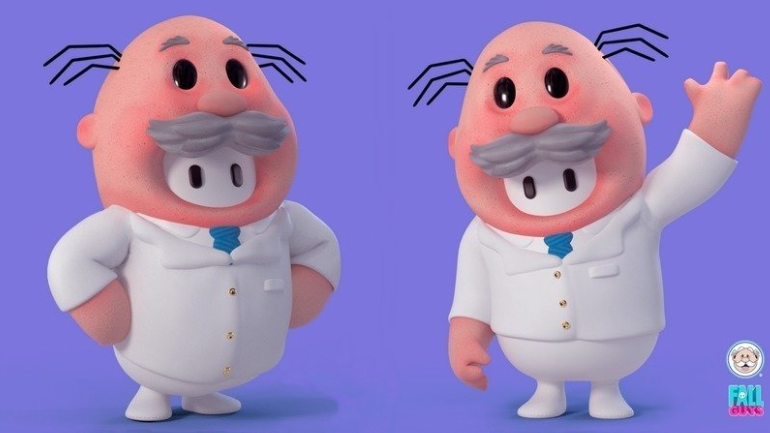 Fall Guys has more than 20 million concurrent users, being one of the most popular video games today.

Fans launch petition on Change.org for a Dr. Simi skin to be added to the popular "free to game" video game.

Change.org generates more than 3,000 petitions a month from around the world for various online consumer concerns.
A petition was launched on Change.org in order to gather signatures so that the Dr. Simi skin reaches the Fall Guys video game.
Some days ago, Change.org's name came to light after Netflix's announcement to remove one of its most popular products of recent years: 'I am Betty, the Ugly'.
Throughout its history, the site has even served as a space for online denunciation, trying to collect signatures for various purposes, which range from events that directly affect a community to cases that can reach the absurd.
Let us remember that we live in an era in which the internet has become more than just a platform; today we are talking about a more than essential tool to face various daily activities.
According to data revealed by We Are Social and Hootsuite in their most recent Digital 2022 report, users spend around 6 hours and 54 minutes on the internet, either through a computer, a smartphone or any other device.
Similarly, it is known that there are currently about 5 billion connected users worldwide, of which, about 4.6 billion are adhered to social networksa figure that reflects a growth of 4 percent compared to last year.
Petition launched to add Dr. Simi skin to Fall Guys
What is clear is that the arrival of the pandemic accelerated a digitization process that had been in the making for years, and the use of various platforms, such as Change.org, were already part of people's daily lives.
In this way, a new request arrived at said site, where fans of the video game Fall Guys ask that a "skin" from Dr. Simi, the mascot of Farmacias Similares.
The last few years, since it was set up as a video game"free to play", the popularity of Fall Guys began to skyrocket. According to data from the video game itself, to date there are already more than 20 million concurrent users, as announced through its social networks on June 25.
MASSIVE THANK YOU TO ALL WHO HAVE STUMBLED

We reached an incredible 20 million players in the first 48 hours of Free For All! ?

…see you this weekend my beans! pic.twitter.com/uCUN8Kx5wt

— Fall Guys… FREE FOR ALL! ? (@FallGuysGame) June 25, 2022
In this way, it is clear that the video game is now one of the favorites by the community, which is why they are now asking for a Dr. Simi skin to be added. This is what part of the petition launched through Change.org says. It should be noted that, so far, more than 3,500 signatures have been collected.
"The Latin American Fall Guys community would love to be able to enjoy the game dressing our bean with the skin of Doctor Simi, the character that represents Similar Pharmacies in various Latin American countries. Therefore, we are collecting signatures to ask Mediatonic to add Dr. Simi's costume design to Fall Guys and we can acquire it with Kudos or Beans ".
Change.org It was launched in 2007 and is currently based in more than 18 countries. In addition, although it is not known exactly how much money it generates, information reveals that, in 2017 alone, it obtained an income of 843 thousand euros in Spain, more than 17 million Mexican pesos.
As we have seen, today, social networks and various digital platforms are changing the way people interact around the world.
Now read: