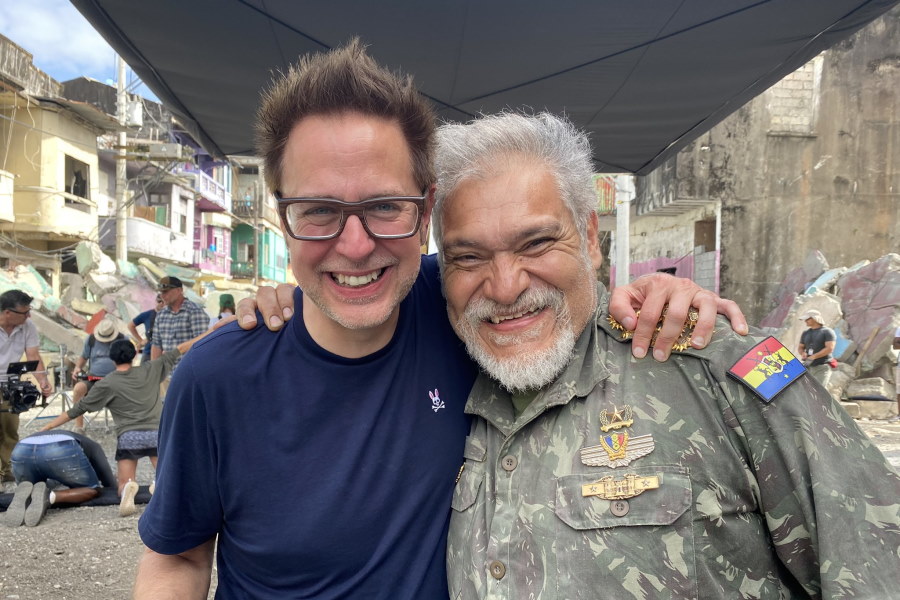 General Mateo Suárez will be one of the great villains of The Suicide Squad, but his interpreter, Joaquín Cosío, won the admiration and friendship of director James Gunn
With James Gunn at the helm, The Suicide Squad became one of the most acclaimed films of DC Comics in recent times, and in its cast included the Mexican actor Joaquín Cosío, of whom the filmmaker raves about praise.
Do not miss: [EXCLUSIVA] General Mateo Suárez in the perspective of Joaquín Cosío
On his twitter account, James Gunn shared an unpublished photograph from the set of The Suicide Squad, next to Joaquín Cosío, who played General Mateo Suárez, part of the military junta that Corto Maltese ruled.
I don't know why it's so often true that the guys who play villains best are so often the nicest off screen. Sees it @cosio_joaquin. #TheSuicideSquad #SquadrãoSuicida #cochiloco pic.twitter.com/pnYD67hhfz

– James Gunn (@JamesGunn) September 14, 2021
"I don't know why it tends to be true that the guys who play villains the best are usually the nicest off-screen. "
Long live the Cochiloco!
In an exclusive interview with SMASH, James Gunn did not hesitate to praise the work of Joaquín Cosío, since the role of General Mateo Suárez was created with the Mexican actor in mind
"Joaquín is my favorite boy in the world… I never met Joaquín (before), I wrote that role for Joaquín, because I saw him on a program, Narcos, I love his character in Narcos (Ernesto Fonseca Carrillo), it was very funny…. I'm going to say this, because the guy who produces Narcos is my friend, Eric Newman; 'I'll take that character, put him in Corto Maltes, and he'll fight these superheroes.'".
Gunn managed to contact Cosío thanks to a mutual friend, and from the first contact that both had, the cordiality and professionalism were demonstrated
"I love Joaquín, he auditioned for the role that I wrote (Mateo Suárez), the audition was great, I wrote to my friend, Eric Newman, I always do the background with these guys, I don't want to start (working) with idiots, that It happened before, and how much I hate him… I wrote to him (Eric Newman), I told him that (Joaquín) is my favorite person in the world, and he is one of my favorite people that I met in this movie; so happy, so different from the kind of scum that was the 'Cochiloco' (in the movie Hell), but I love him, he was great ".
This is how James Gunn chose Joaquín Cosío
While Joaquín Cosío revealed, in an exclusive interview for SMASH, how was his audition to join the new version of The Suicide Squad, by James Gunn.
"Suddenly they told me that they were looking for me for a movie, one of the producers contacted and later I had a zoom with James Gunn, obviously he wanted to see me, we talked very briefly, and I was the one who was more surprised than anyone … I just I said yes to everything, my English is not wonderful either, however we understood each other and suddenly everything was a reality. You had to travel and prepare because General Mateo Suárez in the Suicide Squad was something quite serious and concrete, it was hilarious. "
The Suicide Squad is available in movie theaters and in Mexico and Latin America is already available through the HBO Max digital platform.
You may also be interested in: [EXCLUSIVA] This is how James Gunn built the Suicide Squad
Source: Twitter
Do you accept the new mission of the Suicide Squad? Meet her at SMASH and DC Comics México
When the Suicide Squad is assigned to neutralize a group of international super terrorists known as The Revolutionaries, the last thing they expect is for the survivors to join the team!
Harley Quinn and Deadshot are veterans of the squad, and it will be difficult for them to trust their new companions – the very targets they sent to kill. Maybe this new team will survive the mission … but it is very likely that they will kill each other, so do not get attached to any of them.
SMASH and DC Comics Mexico bring you DC Comics Deluxe – Suicide Squad: Bad Blood, a story by Tom Taylor and the lines of Bruno Redondo, which you cannot miss.

Also being read:
Margot Robbie takes off her clothes… and something goes wrong!
Batgirl: Daisy Ridley and Katherine Langford could play her
This is how Margot Robbie found out about her Oscar nomination
Lindsay Lohan disguises herself as the Joker 's girlfriend