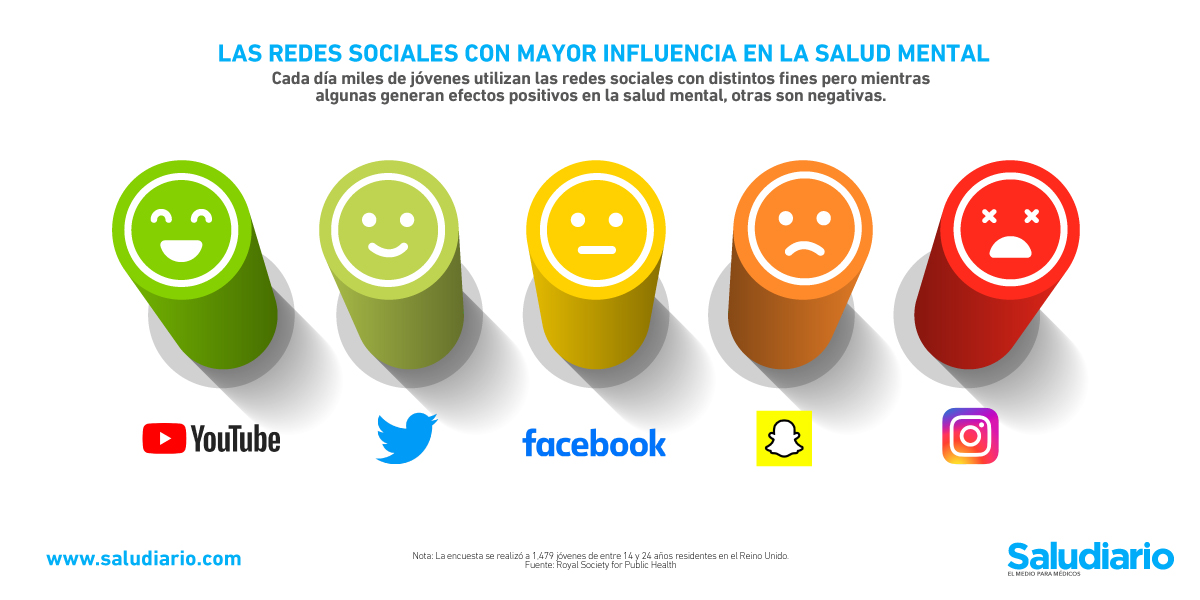 Among the social networks that generate positive effects on mental health, YouTube stands out.
While at the opposite extreme, the one that affects the most is Instagram.
Every June 30th, World Social Media Day is commemorated.
The interaction between people is transformed every day. Until a few years ago the only form of communication was face-to-face, but now everything is different. The era of digitization has brought about the heyday of social networks and although they offer many benefits they also have a direct relationship with mental health.
Although some consider that it is just a form of entertainment, it is actually much more than that. It has even generated new forms for the transmission of information such as emojis, which are a new graphic form that has become popular.
In this sense, as of the Covid-19 pandemic, an increase in the time spent on the internet by the population was observed. It was a natural consequence considering that millions of people had to do all their academic and professional activities online.
In its simplest definition, it is a social structure composed of a set of actors and one or more defined ties or relationships between them. Although to adapt to the new times, now everything is done remotely.
Currently, social networks represent one of the major paradigms of contemporary sociology and organizational behavior. Its creation online has resulted in complex networks, which are the object of study of network science.
the best and worst
On the other hand, social networks have a profound relationship with mental healthboth positive and negative aspects. Some can completely change a person's self-esteem. Extreme cases have even been reported in which they lead to a drastic decision such as suicide.
To know those that generate a positive and negative impact, the Royal Society for Public Health conducted a study. It consisted of a survey applied to 1,479 young people between the ages of 14 and 24 residing in the United Kingdom.
What was obtained is that within the current social networks YouTube is the one that offers the best results for mental health. Especially because through its content it achieves the enjoyment of users.
While in second position appears Twitter because it is a perfect way to stay informed at the moment of what is happening anywhere in the world. But one of the negative aspects is that it encourages virtual discussions and is a medium in which multiple disputes are generated due to differences of opinion.
Now, at the opposite end of the social networks that most harm mental health appears Instagram. Its main characteristic is that it encourages vanity and in some cases affects people's self-esteem. As a consequence, the feeling of loneliness increases and can lead to the development of depression.