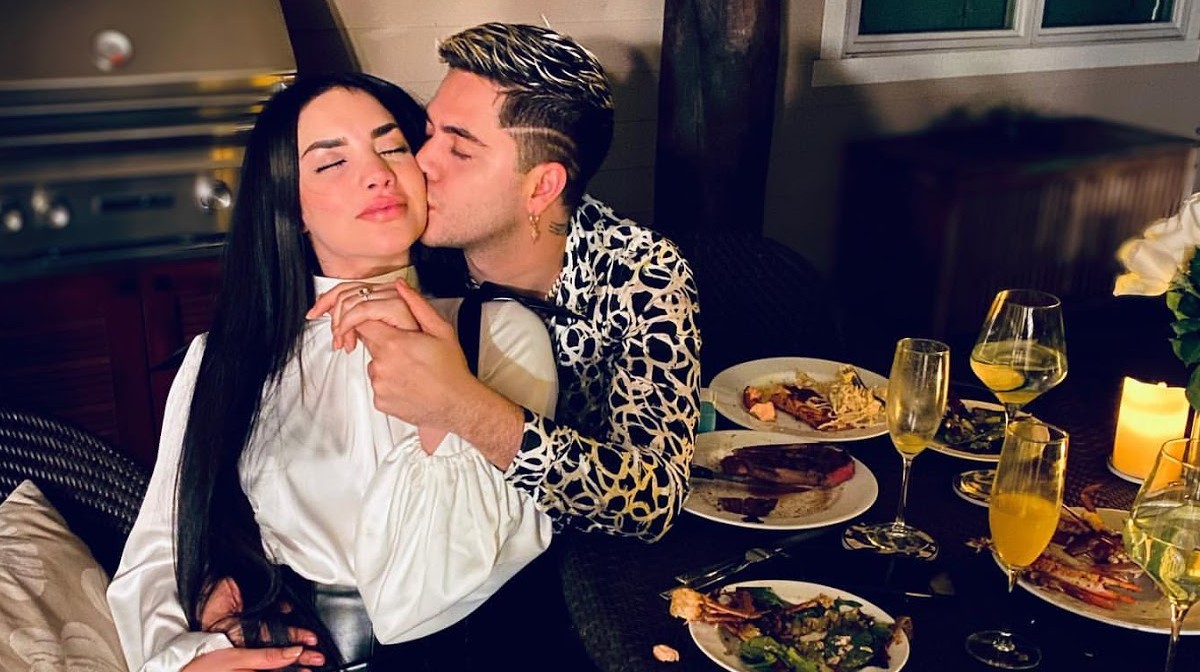 Follow the advice of Kimberly Loaiza, Evaluna, Camilo, Jean Carlo León, Darian Rojas, Lele Pons and Guaynaa to have the best courtship
Yes, yes, everyone wants their courtship to be the best, the coolest, the most instagrammable and beautiful in 2022, like that of the couples on the networks. However, it takes more than a wish: we must work for that love! Do it like this…
By Karina M. Soto
Evaluna and Camilo
They fill social networks with honey and make us believe in true love (sigh). They met in 2014 at an event and, although at that moment they did not hit it off, it did mark the beginning of an exchange of messages, calls and songs. It was a year later when Evaluna, taking advantage of a family trip to Colombia, invited the singer to the cinema… and the rest is history! Visits to exotic places, photos with super amorous dedications, surprise visits and the marriage proposal in 2019. The ceremony took place on August 2, 2020 (check the details in the video For the first time, which has more than 444 million views). reproductions). As if that were not enough, today they are expecting their first baby, Indigo.
It may interest you: 7 Signs that he dies for you
Secret password
In an interview, Camilo defined Evaluna as his muse, the inspiration for his songs and his life: "The day that divided my career into a before and after was the day I met Evaluna. My music started to revolve around her in a very honest way. She knows it and she doesn't take it so seriously that she makes it very easy for me." Best of all, she pushes him, tells him how proud she is of him and how blessed she is to have him in her life…and vice versa.
Lele and Guayna
Legend has it that they met at a photo shoot and from there came an invitation to go out dancing salsa. After several months of "stretching
and loosen up", flirtations and snaps, today they are one of the most followed lovebirds on the internet: they are seen walking around Venice or attending parties, on red carpets… and showing off their great bodies! The couple surprised us in June 2021 when they showed the result of the diet and exercise of the "couple transformation" that they had started months ago.
Lele admitted that it was hard to commit and stop eating pasta, chocolates and soft drinks every day, as well as dairy and meat, but the effort was worth it! Now both have marked abs and a waist. The Venezuelan has shown in several videos how much it cost her to do lunges with weights and squats; For his part, Guaynaa confessed that he had to exercise twice a day and do yoga to lose several kilos. handsome!
Secret key: activate
Practicing a sport as a couple is motivating, since you will have a powerful reason to get up early on Saturdays and go running: to see it. Forget about cool outfits and being super-produced, just put on your tennis shoes, put on a ponytail and go for it! Find what activity they like and see in the results the incentive to go for more.
Make challenges to break bad habits, for example, to eat less junk or to see who manages to drink two liters of water a day, not bite their nails, walk more, etc. Believe me, the anecdotes and the laughs will not be lacking.
Kimberly Loaiza and Juan De Dios
You know they met and fell in love in Maza as teenagers, when he was working putting on dances for quinceañeras and Kim had to run away from home to see him. They got married very young, they started making content for YouTube… and the rest is to blow your mind!: together they have more than 50 million followers on Insta, Kim is one of the most followed women on TikTok with her 56 million fans and he with more than 24 million followers. In addition, they are always trending with their statements, videos, songs and festivals! Honestly, we are all moved by the birth of your children and your professional triumphs. What keeps this couple together after so many years? The answer: they adore each other, they trust each other and they are not afraid of doing new things, as they demonstrated by participating in the program Así se baila, where they taught rhythm and fluency.
Secret key: do something different
"And if we make a fool of ourselves?", "And if we are not so good?", "And if we fail?". These phrases haunt the minds of many couples who do not dare to break the mold and learn to skate, paint or play an instrument. Forget preconceptions and start a band, write a song, start a YouTube channel, or sign up for baking classes.
Stay with someone who learns with you and feeds your spirit. JD shared this message on Kim's birthday: "The person I trust the most in this world, the girl who has been with me through thick and thin."
Darian and Jean Carlo Leon
These tiktokers make us know envy: handsome, talented, super-famous… and in love! Recently, she told us that they started dating in 2019 not so officially, but their courtship was revealed in 2020 when Jean Carlo's sister (@malexaleon) uploaded a tiktok asking "Why aren't we dating?", to which Darien replied:
"Why be girlfriends if we can be sisters-in-law?" OMG! Later, they both made a video for Darian's channel, in which Jean said that when they were at the Privé house they had a "very nice friendship, with a lot of trust, respect and love. Afterwards, everything started to flow" (you have to see Darian's face in the video, when he hears this statement from his beau). In addition, he assured that their relationship does not have the objective of creating content or gaining views, but that they do it because they like to be together and work with someone they trust and with whom they have a lot of fun.
Secret key: Be friends
From friendship to love there is only one step. In fact, Darian confessed that what prevented them from dating was the fear of losing that bond of trust you have with your BAE. "He has given me understanding, affection and love. Jean has helped me get ahead. When I doubt myself – if I want to do something – he tells me: 'Yes, yes you can'. Your support is very important."
Subscribe to the Magazine You: https://www.tususcripcion.com/product/n-tu/
Follow us on Instagram: @revistatumexico