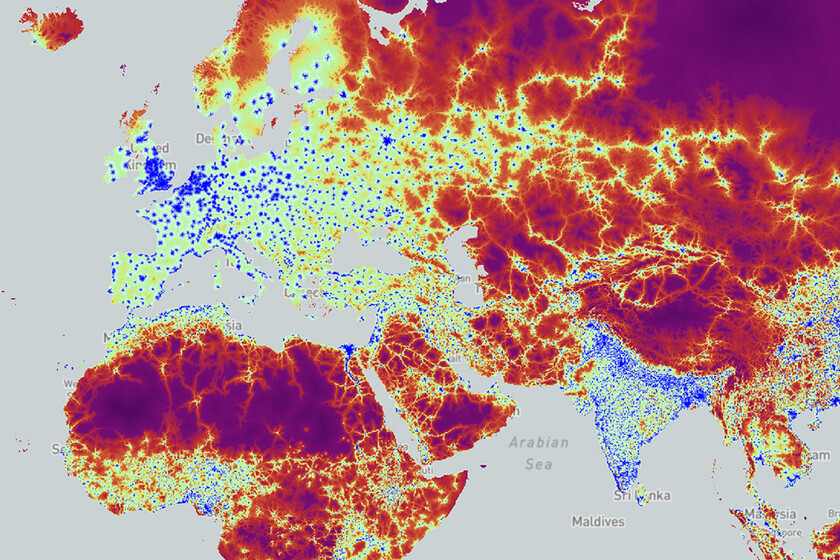 An earlier version of this post was published in January 2018.
The future of humanity is urbanWhether we like it or not: Forced urbanization in developing countries means that, in a few decades, there will be more people living in concrete jungles than in the countryside. To this day, however, many, many countries (and with them, millions of people) remain rural.
This can sometimes be a trouble. What happens when the closest hospital is more than a day away? Or when you don't have a fire service within five hours by road? Or when a postman takes more than a week to pick up your local mail? In the first world these questions sound outlandish. In Africa, Asia and some parts of South America, they are the daily bread.
Hence, a group of researchers from the University of Oxford, enrolled in the MAP project (The Malaria Atlas Project) have developed a global map of distances to the nearest cities. In essence, it is an isochronous cartographic work: a map that, like those so wonderful of the 19th century, measures travel times. The results are what we can more or less imagine: Europe and America are very well connected. The others not so much.
Let's think about the Central African Republic. The country's inhabitants are routinely affected by outbreaks of malaria or by diseases and disasters of all kinds. How easy is it to access the benefits of living in crowds in a big city, with basic health services? Well not much. Only in the vicinity of Bangui it takes less than an hour to reach an urban center. Further away, time is shooting up.
Something similar happens in Mali. Traveling just 80 kilometers between Bamako and one of the nearby towns implies spending more than two and three hours by car. African rural areas are still very far from their capitals and urban centers: the precarious infrastructure of the continent makes it very difficult to travel quickly and comfortably between peasant villages, which, in emergency situations, is a huge problem.
What happens in Europe? Quite the opposite. Places like Benelux or Germany are hardly more than an hour's drive from any urban center. The normal thing, in fact, is that the distance is counted in minutes (or it is not counted, as in the case of the Netherlands, where the urbanization rate is well above 90%). In Spain and Portugal, only very remote mountainous areas (or the Algarve) are more than two hours away from a city.
What happens in Latin America? In areas near the Amazon, something similar to inland Africa: accessibility is nothing short of a pipe dream. But even in highly developed countries like Argentina or Uruguay there are still large portions of land far removed from urban centers: it happens throughout Patagonia, in the Andes and in the humid interior of Uruguay. Times are short in the highlands, but in many highlands of Bolivia or Peru the problem persists.
In Mexico, only very jungle places such as the Yucatan peninsula or the northern and interior deserts are very far (more than three or four hours) from the large urban centers. Something similar happens in the United States: once the midwest, there are large empty spaces where infrastructures (and people) are conspicuous by their absence, lengthening travel times. In contrast, more than half a continent (in the east) is a stone's throw from any city.
And in Asia, India and China represent a notable exception: the vast development of the Indian subcontinent and the number of humans living there has caused cities to proliferate dramatically in recent decades. The result is a country where, despite its shortcomings, almost all its inhabitants are less than an hour's drive from an urban center. The same is true in China (with the exception of the inner deserts and Tibet).
As it explains Daniel weiss, the leader of the research team that has carried out the project, in Global Research, the map wants to serve as an informative tool so that authorities and humanitarian organizations know the terrain they face. In general, Weiss warns of the segregated spaces that bad infrastructures generate: it is in rich countries where people are closest to cities, and in less developed ones, it is the upper classes who live near urban centers.
In other words, there is an evident housing and geographic component to poverty. And the map shows it. "Cities are ge
They are useful for concentrating activities and people in space, and acting as engines of development thanks to the collaborative potential they offer (…) Despite the fact that technological advances can reduce the burden of living in remote places, people continue to demonstrate their belief in the value of cities moving there. "
And hence the relevance, in many countries, of reducing the times shown on the map.