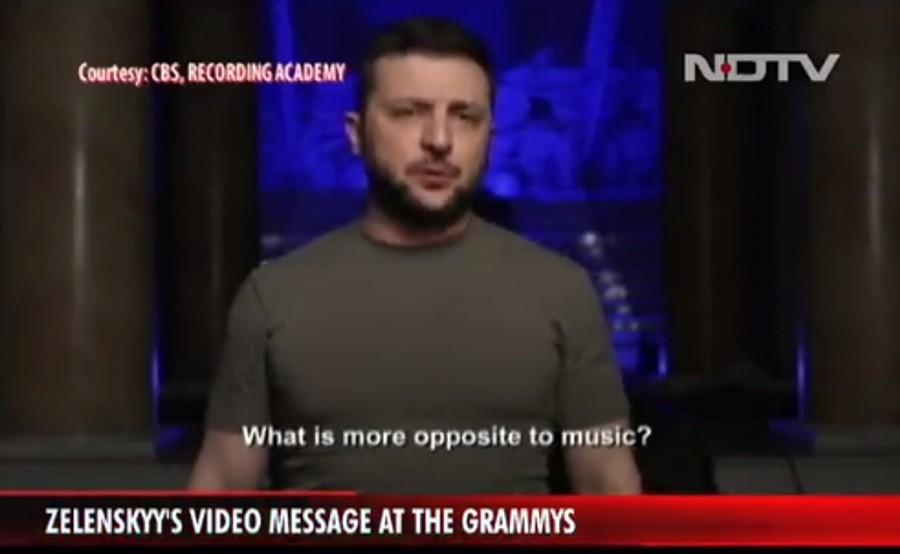 President of Ukraine Volodymyr Zelensky appeared at the award ceremony at the 64th Grammy Awards 2022.
It was through a recorded speech that he sought to stage the armed conflict in Ukraine and the invasion of Russian troops. He was seen by millions of people, taking advantage of the high ratings of the event.
Zelensky shot the short 24 to 48 hours before delivery in a bunker in kyiv, Variety reported.
Among the most salient phrases of Zelensky stood out: "Our musicians wear bulletproof vests, they don't wear tuxedos."
He also said: "War. What is more opposite of music? The silence of the ruined cities and the murdered people. Our children draw rockets in a tailspin, not shooting stars. More than 400 children were injured and 153 died, and we will never see them draw. Our parents are happy to wake up in the morning in the bomb shelters, but alive. Our loved ones do not know if we will ever be together again. War does not let us choose who survives and who remains in eternal silence.
Before the 2022 Grammys ceremony, it was unclear whether Zelensky would appear live or in a previously recorded video.
Ukraine's president wanted to appear at the Oscars, but couldn't
The original idea was for Zelensky to make an appearance at the Oscars a week earlier.
This was brought up by the co-host of that event, Amy Schumer, during an interview on "The Drew Barrymore Show."
Schumer said that he asked the producers of the Oscars to involve Zelensky, but there was no positive response.
At the 2022 Grammys, Zelensky also said, "Our musicians wear bulletproof vests instead of tuxedos. They sing to the wounded in hospitals. Even for those who can't hear them. But the music will break through anyway."
President Volodymyr Zelensky of Ukraine addressed the Grammy Awards in a video, giving an emotional plea for support in his country's war against Russia. "What is more opposite of music?" Zelensky said. "The silence of the cities in ruins and of the murdered people". pic.twitter.com/CeRViu5HhO

– Walter Meléndez 🇺🇦🇵🇪 (@amigoperu76) April 4, 2022
And he continued: "We defend our freedom. Live. To love. In our land we are fighting Russia that brings a horrible silence with its bombs. Fill the silence with your music. fill it today. Tell our story. Tell the truth about the war on your social networks and TV. But don't be silent."
Read more:
Will Smith's hit on Chris Rock was part of the Grammys
Internet users discuss inflation in chocolate prices
Out of fear, Russian artists protest with clay dolls