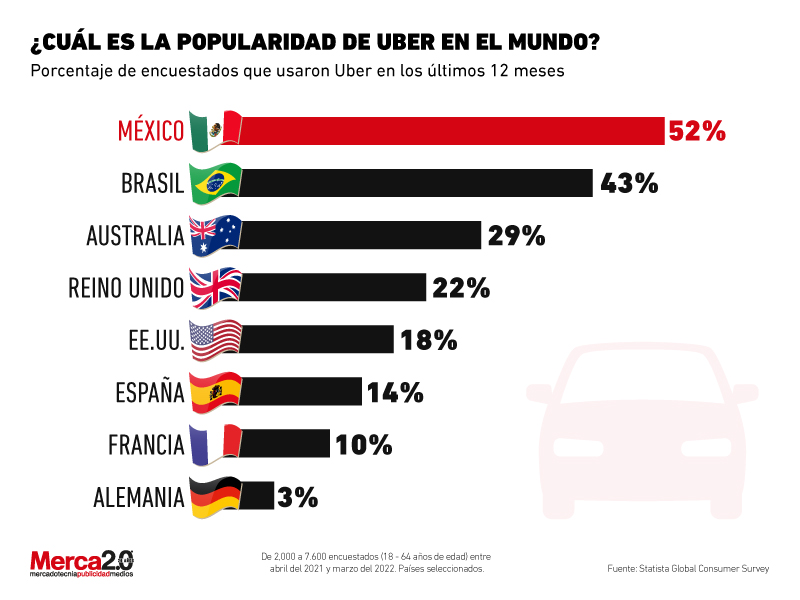 Uber's popularity continues to grow since its arrival on the market in 2009considered, today, the leading mobility platform at a time in history when there is greater mobility throughout the world.
This, of course, is no secret, because, according to data from the consulting firm The Competitive Intelligence Unit (The CIU), the mobility market in Mexico continues to be led by Uberfollowed by Cabify and DiDi, while Easy Taxi and Beat closed the clamp.
Now, the fact that the company based in San Francisco, California, not now, but even before the pandemic, already registered a greater preference on the part of users.
In January 2020, shortly before the arrival of the pandemic, Uber led the market with 80 percent user preferencewhile Cabify had 14 percent and, further back, DiDi with 4 percent.
Today, as expected, there is a broader offer on the market, with platforms that, despite not having the same acceptance as Uber, offer consumers the ability to experiment and choose.
On the other hand, this last week has not been the best for the platform, as The Guardian newspaper published in its pages "The Uber Files" ("The Uber files"), a scandal of global overtones in which figures from international politics have even been involved, such as Emmanuel Macron, President of France.
A total of 120,000 files, which were leaked to various media outlets and the International Consortium of Investigative Journalists, reveal that Uber "broke laws, misled police, exploited violence against drivers, and lobbied governments while going from startup to global competitor between 2013 and 2017".
How popular is Uber in the market today?
After the most recent scandal of the American company, everything indicates that its popularity and roots in the market have not changed much.
According to information from the Global Consumer Survey, a survey conducted by the Statista statistics platform, to date, Mexico is the main market for Uber, where more than 50 percent of those surveyed They responded that, in the last few months, they have used the app.
Below Mexico, although by very little, is Brazil, with 43 percent, according to the data in the graph above.
The fact that the United States, the company's headquarters, stands out in fifth position, with 18 percent of the respondents' acceptance.