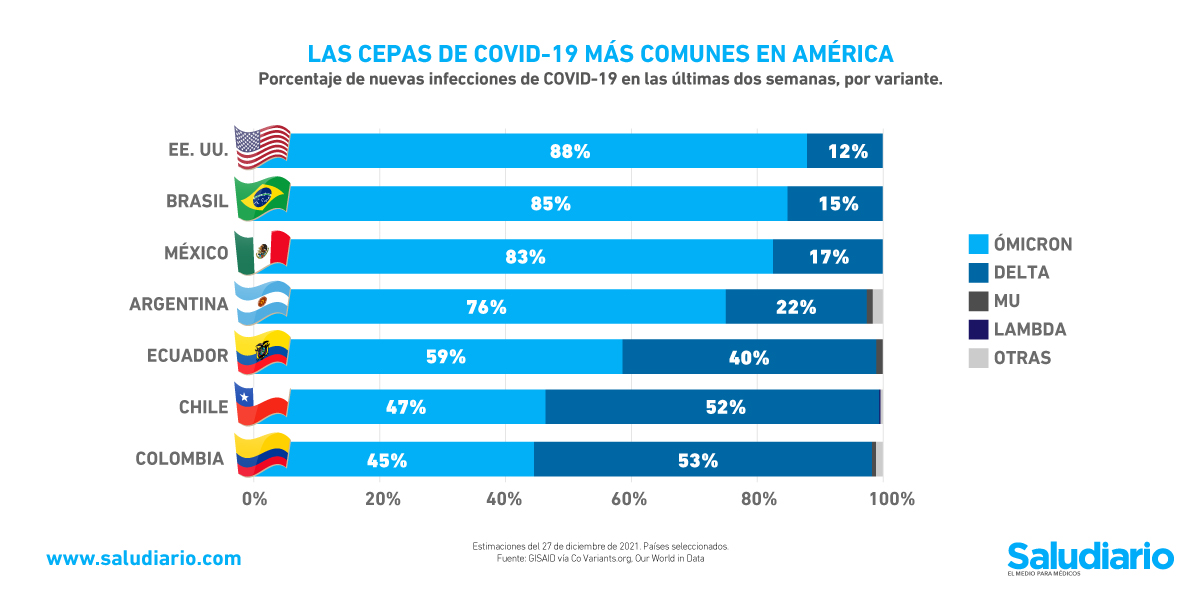 Since the appearance of the new SARS-CoV-2 virus at the end of 2019, nothing has been the same. According to the World Health Organization (WHO) there are 331 million infected people and more are added every day. But although important advances have been achieved, such as the development of a vaccine, the problem has not yet been overcome. Especially because as a result of the emergence of the Omicron Variant there has been a rebound in America and the rest of the planet.
What is a variant?
The simplest definition is that it is a set of mutations that make a virus different from the original. In addition, to be considered within this category, it must cause an impact on public health: greater transmissibility, changes in the immune response, and others.
In that sense, there are many dangers that can cause and even already cause these mutations. In the first instance, they make already available immunizations less effective. While the most dangerous thing is that they also make the pathogen more infectious and in some cases even more deadly.
Which are the most dangerous?
To answer this question, the WHO has a list made up of the Concern variants. It is made up of Alpha, Beta, Gamma, Delta and Omicron mutations. What they all have in common is that they have been shown to be more infectious and transmissible. For the same reason they are considered the most dangerous today.
Now, the most important fact that must be taken into account is that the Omicron Variant was only discovered for the first time on November 26, 2021. It was in South Africa that the first cases were identified and since then it has spread very quickly. for the rest of the world. It only took a few weeks for it to become dominant in Europe and now the same has happened in America.
Based on the statistics of Our World in Data, this variant is already the one that predominates in a large part of the American continent. In the United States, almost nine out of ten cases of Covid-19 detected in the last two weeks correspond to the Omicron Variant.
With respect to Mexico and Argentina, this proportion amounts to about 80 percent of the new cases. While in Colombia and Chile it still does not reach half of the most recent infections, with a little more than 50 percent corresponding to the delta variant.
Something that is striking is the way in which the Delta Variation, which was the most common before, has begun to lose strength against the Omicron. Now it has become the second most frequent in America.
While other options like Mu and Lambda are even more scarce. Laboratory samples have identified minimal cases in recent weeks and only in nations like Argentina and Colombia does it maintain a slight presence.