Non-alcoholic beer has been around for a long time. stopped being a niche drink of which you could even be ashamed to ask for it. It's not that we've become a country of teetotalers at all, but brands have seen that there's a lucrative market in the sector 0% or zero. It's only a matter of time before the hop water ended up also exploding in Spain.
He hop water or hopped water, hop water In English, it is a refreshing drink that has emerged in recent years in the US market, mainly as a result of the rise of the world of craft beers and soft drinks that target younger consumers fleeing from big brands. Its big claim is, of course, the noveltybut also his association with the beer world, his more independent character and his claims healthy.
What exactly is hopped water?
It must be admitted that, although in our language it does not sound so good, its translation is quite explicit in terms of describing what this drink is. In its most basic form it is simply a mixture of water and hops.
We already know that hops are the fundamental ingredient in the elaboration of any type of beer. The plant, from the family of Cannabaceae, like marijuana, provides the characteristic flavor that defines beers; depending on their variety and how these flowers are processed, they are obtained different shadeswhich influence the entire brewing process, adding the addition of malts, yeasts, fermentation, etc.
Hop water starts from Carbonated waterwith gas, to which is added hop, usually by infusion using natural hops. Depending on the manufacturer, the production process may be slightly different, since there are various ways to add gas to the water, and it could also be done with extracts.
Other ingredients that can carry the hop water are yeast, sugar or sweeteners, plus other aromas that allow you to play with the varieties of flavor. Once you have the base drink, it is a blank canvas to play with recipes that may have more or less appeal among consumers.
Where does this new trend come from?
In the Anglo-Saxon market, especially in the United States, the hop waters either seltzer waters they have taken off in recent years, growing even more in the wake of the pandemic. It is difficult to point to a single origin factor, although there are two very clear trends that have contributed to its popularity: craft beers IPAs and the healthiest drinks.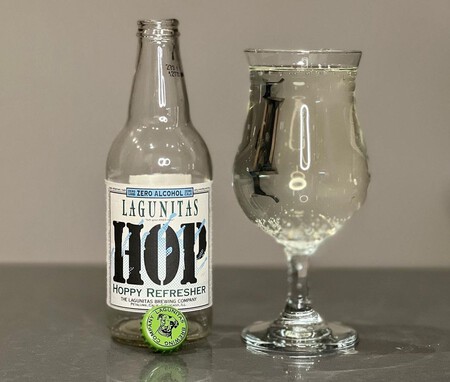 We already saw him point out a few years ago with the phenomenon White Clawthe refreshing alcoholic beverage with fewer calories than beer and with a "younger" flavor, but now another trend points directly to 0% alcohol. It is a trend that has spread even to spirits such as gin.
Hopped water is the alternative for those who enjoy precisely the hop flavor that brings so much character to IPAs, but without the intensity or bitterness of beer.
Some country media point to the brand Lagunitas Brewing Company as the pioneer of this phenomenon, when she launched her first hop water advertising it as a "soda IPA-inspired that has zero alcohol, zero carbohydrates and zero calories". It was the perfect claim for the public of the moment.
How is it different from non-alcoholic beer?
Despite the fact that this drink is based on the pull of beer as a claim, it has little to do with the drink of the town. They only share in common the presence of hops, which, let's remember, is a flower. While this is responsible for those bitter profiles of the beer, the hoppy water offers a much more drinkable soft, fresh, light And pleasant.
It's also carbonated, but does not have alcohol -except for exceptional varieties that arise and so indicate- and, as an added advantage, is gluten free, since it does not need any cereal in its preparation. And, although it already depends on each manufacturer and everything it deems convenient to add to its formula, it is a soft drink. sugarfreealthough sweeteners are more common in moderate amounts, stevia being more common.
Remember that beers "without" are divided into without alcoholwhose alcohol content must be less than 1%, and 0.0in which case the amount is usually practically negligible.
What does hop water taste like?
The intense flavors are not exactly the forte of the hop waters, and that is not its objective either. Each manufacturer and each variety will offer different nuances, depending on the type of hops, the infusion and the possible added aromas, but in general they are drinks very freshlight, easy to drink when the heat is on and they are served very cold.
They quench thirst better than typical soft drinks since they don't cloy, but they don't have that bitter background of beer that many people turn away from. They usually provide notes floral, fruity or herbaceousCitric notes and tropical fruits are liked more among the brands. Some of the most popular flavors in America include lime, hibiscus, yuzu, grapefruit, mango, cherry, or ginger.
And they open another line of business, which reconnects with the alcoholic world, cocktails, as they point out in Cerveza Kraken. In combined with and without alcoholhopped water is beginning to play a role when it comes to creating new drinks or fresher variations on classic recipes.
reset | Self-cultivation kit | Hop
Photos | Kraken – HOP WTR – Lagunitas
In DAP | Bottle or can? This is the best container for beer, according to science
In DAP | Lager beer: the history of the beer style that conquered the world