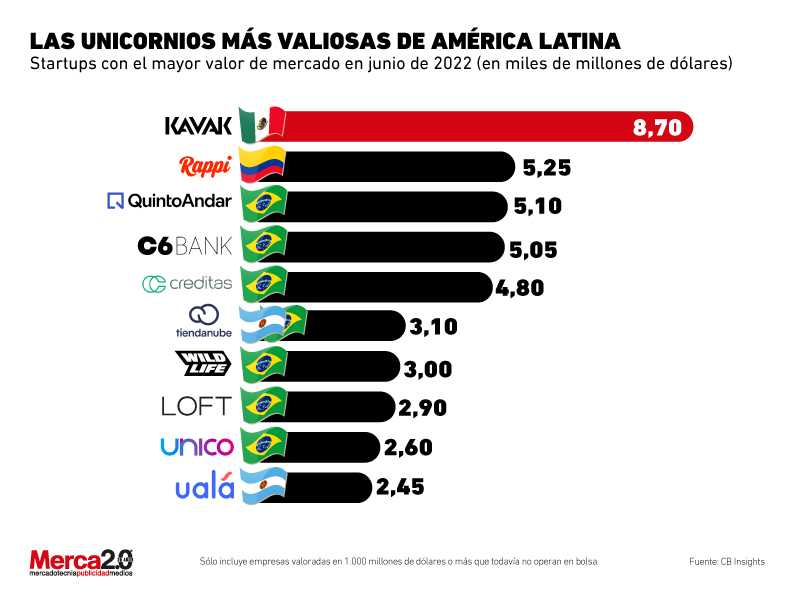 we show you which are the most valuable unicorn companies in Latin Americawhere the Mexican Kavak is leading the list.
For many years, the market has been mainly dominated by large companies, which we could see managed to develop in the retail industry; however, the digital sector has done its job and forced the population to change their consumption habits in order to find new digital solutions, thus creating the birth of unicorn companies that acquire their income through technological solutions and offers that have managed to be well received by the population, and even gave rise to what we know today as unicorn companies.
It is called a unicorn company to those organizations that managed to exceed the valuation of one billion dollars without having a presence in the stock market in its initial stage.in part thanks to its strong potential and innovative vision (mainly pointing towards the technological market) that manages to attract strong investors, in addition to the fact that these should not exceed more than 10 years in the market, a reality that, although they are few the brands that have managed to proclaim themselves with that title, it is more and more frequent to find them.
To take into account the magnitude of these, it would be worth looking at the ranking of the 20 largest unicorn companies in the world, performed by Statista Estimates, in which until April 2021, we can find brands such as Roblox with 29 billion dollars, data bricks with 28 billion dollars, Nubank with 25 billion dollars and Epic Games with 17 billion dollars, among other types that found in technology and electronic commerce a strong opportunity to position themselves in the eyes of digital consumers.
Of course, these brands belong, for the most part, to the American, Asian or European market, but Latin American talent has also shown that they have what it takes to position themselves in the sector.
CB Insights shows in its ranking on the best valued startups in the world that thirty companies of Latin American origin have proven to be sufficiently disruptive to position themselves as unicorns, among them, Kavak with the online purchase and sale of automobiles, registering 8.7 billion dollars (being a little short of reaching the value of "decacorn") , rappi with him delivery of food and a value of 5 thousand 25 million dollars and QuintoAndar with 5 thousand 100 million dollars, among other recognized platforms such as C6Bank, Creditas, Tiendanube, etc.
These companies, although they are dedicated to the world of buying and selling (or similar action) in the digital world, it is also worth emphasizing a particular element that they share, the platforms are available for use not only on any device that allow connection to the internet such as computers, but are present in smartphonesthus positioning them before millions of people in the market.
be present at the smartphones of the population is shown to be a considerably present factor at the moment of reaching the status of unicorn company, taking into account that, according to estimates of newzoo, in 2021 there were approximately 3.9 billion smartphone users worldwide and what part of the startup The most important companies in Latin America offer their digital services through these channels.
Part of the success of unicorn companies is due to the fact that they offer the purchase and sale of products in the digital world, but this would not be possible without the presence of smartphones.
Now read:
The dream of millennials. How to work in unicorn companies?
Insider, dabbles in unicorn status and plans to invest in Mexico; CNN Plus is about to launch
Paolo Cornero is appointed new President of CONAR Mexico; "Kavak City", the new strategy of the unicorn in Brazil