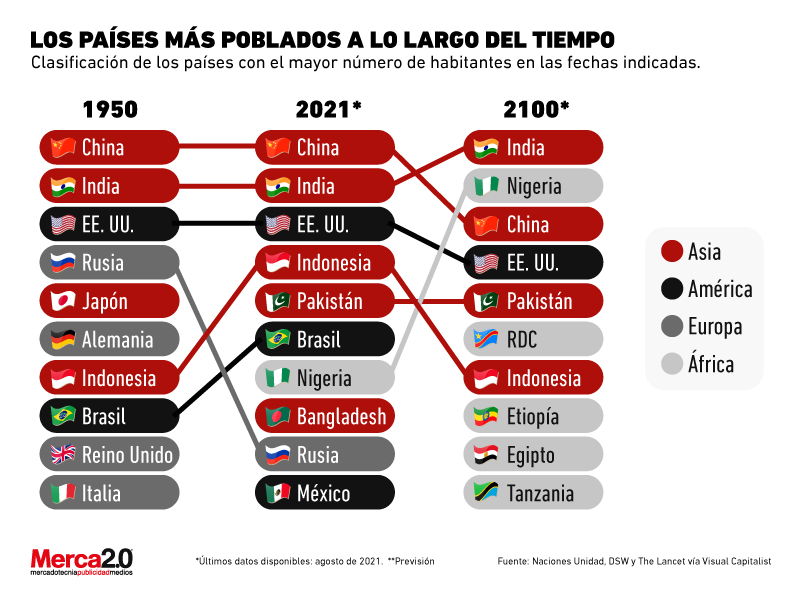 We have been reading and hearing about global overpopulation for years, with China, India and the United States being the most populous countries in the world today.
In fact, the United Nations predicts that the population will continue to grow throughout the 21st century until reaching the figure of 11 billion people by the year 2100.
This figure contrasts with the study published in 2020 by the Institute for Health Metrics and Evaluation (IHME), which predicted a population of 8.8 billion in 2100, a difference of just over two billion.
As the graph posted above shows, which is based on data from the United Nations, DSW and The Lancet via Visual Capitalist, the next few decades will be one of great changes in terms of world demography.
By the year 2100, five of the world's most populous countries are expected to be on the African continent, with Nigera in second place with an estimated population of 791 million, followed by the Democratic Republic of the Congo (6th with 246 million). ).
Among the most striking data is the fact that China, which is currently the most populous country in the world, will experience a sharp decline in its demographics over the coming decades.
Currently, China has a population of just over 1.4 billion inhabitants, while by 2100 it is estimated that its population will be 732 million, almost half, which has to do with the effects of the policies of birth control that have been in place in Beijing since the late 1970s.
Similarly, another important fact to note is that India will be, by the end of the century, the most populous country in the world, expecting it to reach the number of 1.90 million inhabitants in 2021.