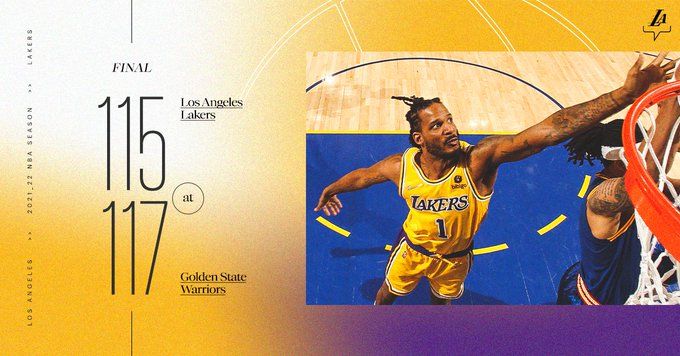 Klay Thompson had 16 of his 33 points in the fourth quarter to sentence Los Angeles Lakerswho, despite their very worthy game against the Golden State Warriors, are still involved in a serious crisis and were unable to celebrate the historic night of Lebron James (117-115)
"King James" became the leading scorer in NBA historyadding games in the regular season and playoffs, by beating Kareem Abdul-Jabbar (44,149 points).
With the 26 points he had against the Warriors (in addition to 15 rebounds and 8 assists), LeBron has 44,157 points, but is still in third place (behind Kareem Abdul-Jabbar and Karl Malone) on the all-time regular season scoring list, which is what the NBA uses for its official ranking.
In any case, LeBron He shone again at 37 years old and with 19 seasons behind him in a real great game between Warriors and Lakers in which he could have forced extra time if he had scored the three free throws that he was given with 2.3 seconds to go.
After missing the first one, he had to shoot to miss the last one, but the Warriors They tied the rebound.
Next to a spectacular Klay Thompson stood out Stephen Curry (24 points, 5 rebounds and 8 assists), Andrew Wiggins (19 points and 5 rebounds) and Jonathan Kuminga (18 points and 9 rebounds).
In front of them, these Lakers full of doubts and weaknesses performed at a high level and left with their heads held high.
Russell Westbrook had a very complete game (19 points, 7 rebounds and 5 assists), Talen Horton-Tucker seems increasingly confident (17 points and 7 rebounds) and Austin Reaves was all heart especially on defense (13 points).
The details were fundamental in such a sharp and exciting duel and there the Lakers stumbled from the free throw line (22 of 33 against 25 of 34 of their rivals).
The Lakers respond
The Lakers' plan at the start consisted of look for LeBron James in the post as a reference point.
Instead, the Warriors played a more agile and dynamic basketball and the cuts of an energetic Jonathan Kuminga did a lot of damage (15-11 with 6.34 left).
LeBron had 8 points in the first quarter and had the support of Talen Horton-Tucker from the benchbut a silly foul by Anthony Davis gave Jordan Poole three free throws to close the first quarter in a bad way (32-26).
Klay Thompson began to sharpen the aim and the Warriors threatened to break the game with a 7-0 run (39-26 with 10.16 for the break).
Steve Kerr's men licked their lips before a Lakers defense that was falling apart, but two triples by LeBron and Horton-Tucker stopped the local push (48-38 with 7.03 to play).
At that moment, Anthony Davis and Russell Westbrook, too timid at the start, resurfaced to reinvigorate the attack of some Lakers who reacted with pride before the break (65-62).
The game at intermission was full of secondary protagonists like Kuminga or Horton-Tucker, but the top scorers were the same as always: LeBron (18 points on 7-of-12 shooting) and Curry (17 points on perfect 7-of-7 shooting).
Wrecker Thompson
The forces were balanced in a very even third quarter in which LeBron chose to focus on assisting rather than scoring against the Warriors zone defense.
The perseverance and effort of those in purple and gold was rewarded as a triple by Horton-Tucker finally gave them the advantage in the match (87-88 with 2.16 to go).
But nevertheless, Andrew Wiggins and Jordan Poole conspired for their team to reach the last set ahead although with a lot to fight for (95-94).
The fantastic sacrifice of Austin Reaves, on the offensive rebound and with a block on Thompson, marked the way for the Lakers to certify the comeback (98-103 with 6.52 to play).
But unfortunately for the Lakers, Thompson combusted and brought out his most devastating version.
The shooting guard ended up scoring 16 points in that quarter (6 of 10 shooting, 3 of 4 triples) that ruined the Lakers' attempts to dominate the scoreboard over and over again.
Curry's only 2 points in that quarter proved providential with a layup with 36 seconds remaining. which put the Warriors 3 points ahead (117-114) and LeBron's errors on free throws condemned the Lakers.