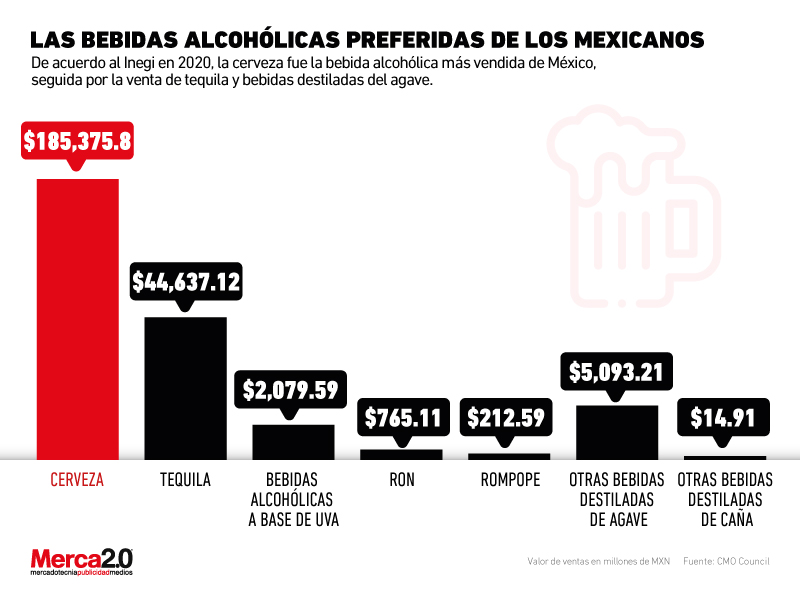 We show you some of the favorite alcoholic beverages of mexicans, according to their number of registered sales in 2020.
The sale of alcoholic beverages had a notorious evolution in the world market since its authorization, thus giving way to countless companies that managed to position themselves in the international consumer and register multimillion-dollar revenues. Although, according to a conclusion on the investigation carried out in 193 countries by the University of Pittsburgh and data from the World Health Organization (WHO) show that countries with a cold climate are the ones that consume the most alcohol in the world, nowadays the intake of these drinks is quite common, regardless of the climate in which it is enjoyed.
Companies engaged in production and sale of alcoholic beverages around the world they manage to position themselves as the most important in their respective countries, as is the case of Mexico.
A ranking of Statistical about the most valuable Mexican brands in 2021 by brand value shows that those companies that target this industry have managed to position themselves as the most important in the country, since Crown is leading in first place with 5.82 billion dollars, followed by Pemex in second place with 5.55 billion dollars, Claro in third place with 4.66 billion dollars, Victory in fourth with 4.04 billion dollars and Model in fifth with 3.37 billion dollars.
According to the monthly survey of the manufacturing industry (EMIM) shown by the inegi and Statista where they show the value of sales of alcoholic beverages produced in Mexico During 2020 by type of beverage, beer predominates among the favorites of Mexicans, registering 185,375.8 million Mexican pesos, in second place is tequila with 44,637.12 million pesos, other distilled agave beverages in third with 5,093 .21 million pesos and alcoholic beverages made from grapes in fourth with 2,079.59 million pesos, among others such as rum, eggnog and other cane distillates.
The Importance of beer in the Mexican consumer is notorious, which is why the companies that develop in this industry are constantly showing themselves carrying out different strategies to improve their perception before the population, with both creative and sustainable alternatives.
An example of this was shown to us by Grupo Modelo, who realized the environmental impact generated by their beer packaging and sought a healthier alternative that would help reduce 335 tons of garbage in waste from their packaging annually, thanks to a new packaging design. with CanCollar® ECO technology, which is in a pilot program to be implemented in all the brand's beverages.
Similarly, the beer advertising has become more creative over the years, as even companies opt for small and clever interactive strategies at their points of sale to stay present in the mind of the consumer, as a consumer who opened a store discovered a while ago. refrigerator in a Mega store and the Champions League anthem began to play.
The alcoholic beverage industry is of vital importance in the Mexican economy, where thousands of jobs are created around the consumption of these products.