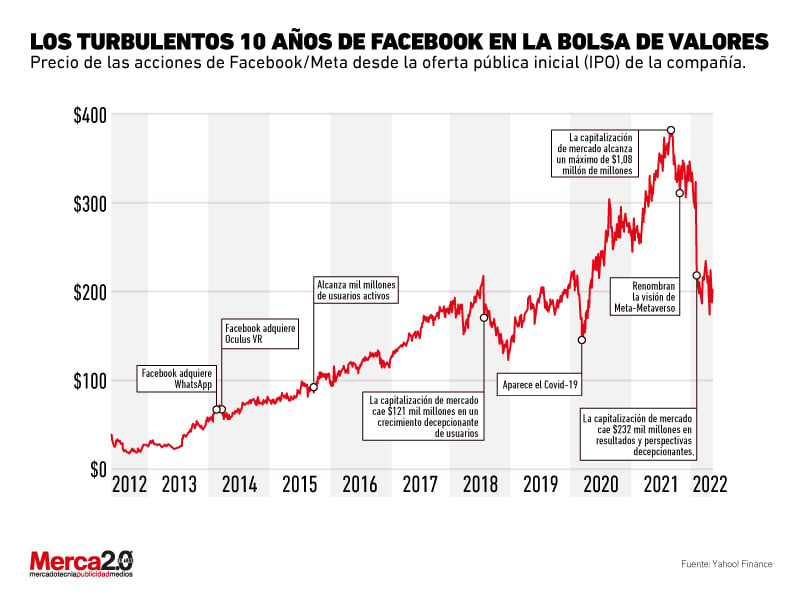 Facebook proclaims itself as one of the most important companies in the world, but its time in the stock markets has not looked very favorable in recent times.
Technological evolution had an indisputable impact on the preferences and consumption habits of the world population, which spends a considerable part of their days connected to the digital world in its different aspects, where social networks have taken on an important role in their daily lives. .
According to the Digital 2022 study carried out in a joint effort by We Are Social and Hootsuite, there are currently more than 4.95 billion users connected to the Internet worldwide, that is, 62.5 percent of the world's population. you are already connected to the World Wide Web; Taking this into account, it is also shown that More than 58 percent of the world's population is already present on social mediawhere users remain browsing for more than 2 hours and 27 minutes.
Currently, social networks are used for different purposes, such as entertainment, education, leisure, information and even to promote commerce, where some of these platforms have proven to be proclaimed as favorites.
A study by Statista on the social networks with the largest number of active users worldwide As of January 2022, it shows that Facebook was the platform with the largest number of active users by attaching 2 thousand 910 million of these, YouTube was placed second with 2 thousand 562 million, WhatsApp third with 2 thousand million, fourth Instagram with 1.478 million, among other well-known networks such as TikTok, Snapchat, Telegram, Twitter, etc.
Facebook is proclaimed as the most important social network in the world Currently (and for many years), for which this "business" has been able to expand in different aspects, constantly expanding its income through different channels. Likewise, according to a study by Brand Finance, Facebook is in the seventh place of the companies with the highest brand value worldwide only being surpassed by Apple, Amazon, Google, Microsoft, Walmart and Samsung.
This has been achieved thanks to the fact that it has managed to show itself as a pioneer in the technological field, as it has been highlighted with its most recent efforts in Meta and the Metaverse, where different companies continue to introduce themselves with their respective marketing efforts through some creative initiatives, such as the sale of virtual clothing and even digital offices.
Although Facebook was shown as an important competitor within the stock marketsince its last results presented in Meta Platforms at the beginning of the year, it was shown that they led to a slightly slower growth compared to 2021 and not entirely pleasant, since the company registered an 8 percent lower profit, a fact that it also caused various investors to sell shares, causing the organization to lose approximately 20 percent of its value, putting the company in a declining value that it had never witnessed.
Although the success of the brand is indisputable, it will have to implement a new solution to return to its previous figures in the stock market.
Now read:
Users defend employee "breaks suitcases" at the airport
"I want to live that dream"; showcase IBM offices and attract candidates
Chart of the Day: The Most Common Cyber ​​Crimes