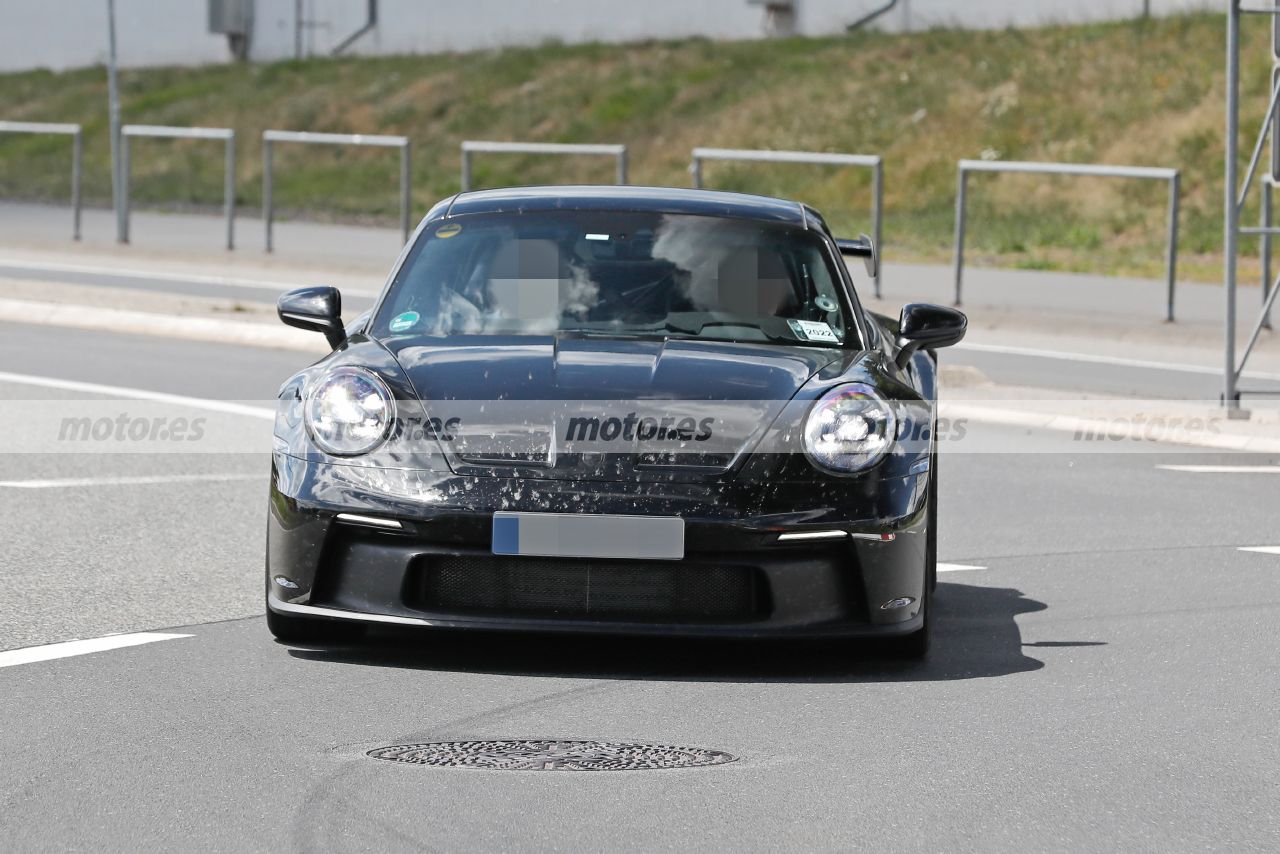 Little by little, all the variants of the Porsche 911 Facelift dressed in camouflage are appearing. This time, the 911 GT3 2024 has made an appearance in some spy photos after facing a couple of laps at the Nürburgring circuit to test the first adjustments made.
The prototypes of the different variants of the Porsche 911 return to the test stages. The firm is implementing a facelift that will arrive in the middle of next year and that will be extended to all options, even if they are recently presented. And although he new Porsche 911 GT3RS is about to be revealed, which we have recently seen practically naked, the test units of the 911 GT3 Facelift.
Despite the fact that the new generation of this sports variant of the 911 has barely been on the market for a year and a half, the long process that it will last about a year it will make it possible to lengthen the arrival on the market of the partial renewal. The news spy photos They show a prototype in a very early phase of its tests, since the front is identical to the model currently on sale, but not the rear. Porsche has taken care of camouflage the rear very well, with special attention to the corners of the bumper.
2024 Porsche 911 GT3 Facelift Spy Photos
The section between the drivers is covered in black duct tape, as we've seen on other 911 Facelift units, while the bumper also features a vinyl sheet to hide the new shapes. It can even be seen that the reflectors have changed their position, now higher instead of being closer to the diffuser. The camouflage is much more noticeable at this bottom, as well as at the ends, which is an indication that Porsche has redesigned the thin vertical gills, giving the impression that the recessed section of the bumper above the license plate has been flushed.
Spy photos do not allow to take a look inside in more detail. Both on the track and in the access to the Nürburgring complex you can see the usual fabric on the dashboard, but the new digital display in the instrument cluster It will be one of the great novelties in this very special model, also taking advantage of the new infotainment system, improvements to the chassis, electronic controls and driving dynamics in general.
The Porsche 992.2 GT3 will be presented in the second half of 2023 putting on for sale mid 2024. Under the rear hood no big changes are expected. The 4.0-liter boxer six-cylinder engine without supercharging will remain, although the 510 CV yes that can increase in a ten extra, a figure that depends on what the new 911 GT3 RS finally yields, a detail that we will know in the coming days. What will not change either will be the transmission, six-speed manual, optional seven without surcharge, or seven-speed PDK dual-clutch automatic.