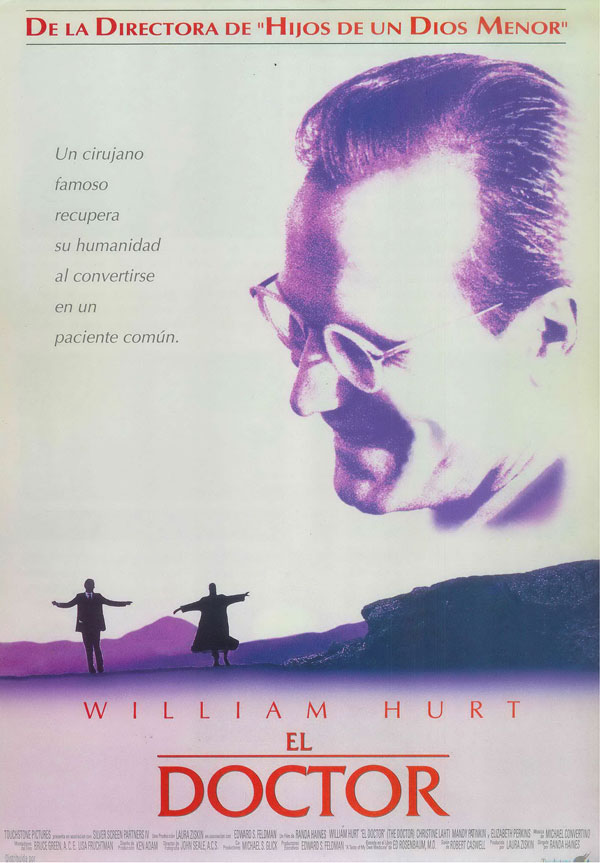 On this Saturday and the beginning of the month we recommend a moving movie, that whether or not you dedicate yourself to the health industry, you will surely enjoy. This is The Doctor (1991).
This film stars William Hurt as Jack MacKee, a doctor experiencing a transformation in his outlook on life, disease and human relations. Directed by Randa Haines, film and television director and producer. Her work is based on a version of Dr. Edward Rosenbaum's 1988 book: A Taste Of My Own Medicine.
What's the story about?
The story tells how the Dr. MacKee lives in his own hospital, as a common patient, the same inadequate treatment that he gave to his patients. This doctor is a prestigious surgeon cardiovascular disease that is quite insensitive towards the suffering of patients, until he suffers a laryngeal tumor and experiences firsthand the importance of empathy and communication in the doctor-patient relationship.
with the disease, Discover what you didn't learn at university or at work: all doctors end up being patients, and just as they treat, they are teaching their residents how they want to be treated when they are sick.
When Dr. MacKee returns to work, after getting his illness under control. The first thing it does is force its residents to be hospitalized for 72 hours as patients:
'So you can learn what was never explained to me.'
Human life has an absolute and inviolable value. It is a huge responsibility for health professionalswhich generates a continuous reflection on the correct use of knowledge to heal and not to harm.
In conclusion, we ask you the following questions:
Do you think the value of empathy

ia is something necessary in the profession

on m

edic? Do you think that




is something

usual in the current community of m

edics?

what

do you think you can make the empath

I was in the m

edic? and in e

he patient?

until what

é point

have to

we were going to let

and the patient chose what

and want?
Leave us your answers in the comments
Related Notes: