One more Friday we put on the tube and the diving goggles to search the depths of the internet for the best offers for PC Gaming in our hunting bargains. If you need to renew your PC, laptop or accessories, you have come to the right place.
Headphones and microphones
Redragon H510 Zeus-X RGB by €61.55. In the family of headphones there is not much to scratch, but at least we have found offers like these gaming headphones with 7.1 surround sound that start at 71.09 euros.
Redragon H510 Zeus-X RGB USB Gaming Headset – Virtual 7.1 Surround Sound – 53mm Audio Drivers – RGB Gamer Headphones for PC/PS4/NS
Plantronics Rig 700Hd Series Gaming Headset by €110.30. Also beware of these Plantronics that drop from 129.99 euros to offer us ultralight headphones with game/chat balance control.
laptops
Acer Nitro 5 AN515-58 by €849. In the round of laptops we come across this Acer with a generous drop from 1,049 euros. In its guts you'll find a 15.6-inch Full HD LED screen, an Intel Core i7-12700H, 16 GB RAM, 512 GB SSD, and the NVIDIA GeForce GTX 3050 to take Dying Light 2 up to 52 fps in Ultra.
Acer Nitro 5 AN515-58 – Gaming Laptop 15.6″ Full HD LED, Gaming Laptop (Intel Core i7-12700H, 16 GB RAM, 512 GB SSD, NVIDIA GeForce GTX 3050, UEFI Shell), Laptop Black
Desktop computers and components
GEFORCE RTX 2060 12GB XLR8 by €357.47. Going down from 947 euros we find this edition of the RTX 2060, the Gaming Uprising Epic-X RGB Dual Fan Edition. Ideal for playing Resident Evil 8 on Ultra at around 60fps.
PNY GEFORCE RTX 2060 12GB XLR8 Gaming Uprising Epic-X RGB Dual Fan Edition, Black
MSI mag Codex 5 12TG-1210IT by €1,785.55. Turn to desktops starting with this MSI that comes from costing 3,172 euros and that mounts an Intel Core i5-12400F, 32GB RAM, 1000GB M.2 SSD and 1000GB HDD, with Windows 11 Home and the NVIDIA GeForce RTX 3060 Ti Ventus 2X 8G V1 LHR, RGB Mystic Light. You will be able to play Battlefield 2042 on High at 78fps.
Millenium SORAKA PC by €1,168.56. The friends of Millenium leave us this PC at a reduced price, falling from 1,623 euros. Inside it houses an AMD Ryzen 5 5600G, 16GB RAM, 480GB SSD + 1TB HDD, Windows 10 and the Nvidia RTX 3060-12GB RAM. To be able to move beasts like Forza Horizon 5 on Ultra at around 63fps.
ASUS ROG Strix NVIDIA GeForce RTX 3080 by €1,367.56. If you are looking to renew your graphics, this edition of the 3080 drops from 1,719 euros to allow us to take games like Days Gone up to 84 fps in Ultra and at 1440p.
MSI GeForce RTX 3080 Gaming Z Trio 12G LHR by €998.34. Going down from 1,424 euros we come across this other version of the 3080 that will allow us to take Red Dead Redemption 2 up to 155 fps on High.
Noua Diamond C9 by €69.26. This 0.5 mm PC Gaming case drops from 139 euros, with two USB 3.0/2.0 ports, RGB fan, LED strip and tempered glass side panel.
Talius Chronos ATX Gaming Case by €204.81. If you are looking for something even more powerful to renew your PC case, this option that comes from costing 279.85 euros is a festival of RGB colors thanks to its nine included fans.
Enermax STARRYKNIGHT SK30 Gaming PC E-ATX by €132.08. We close the PC section with this other box, probably the most elegant of all the ones shown. Falling from 147.75 euros, it offers us a mesh front design and four RGB fans that are distributed between the front and the rear.
Accessories
Elyte Gaming Mouse by €32.22. Turn to the range of accessories, which has such interesting things as this mouse with 12 programmable buttons, up to 6,000 dpi and weight adjustment that starts at 59.90 euros.
Elyte Gaming Mouse – 12 Programmable Buttons, up to 6000 DPIs and Weight Adjustment
Talius Banshee Keyboard by €35.42. In keyboards there is quite a lot of chicha, but among our selected ones is this one that will delight those who marry futuristic designs. Programmable keys, backlight, three different profiles and its own customization software for a price that comes from 44.95 euros.
Razer Huntsman Elite by €151.51. A classic of our offers returns, before for 183 euros, thanks to its Razer optomechanical keys, RGB backlighting, digital dial and ergonomic wrist rest.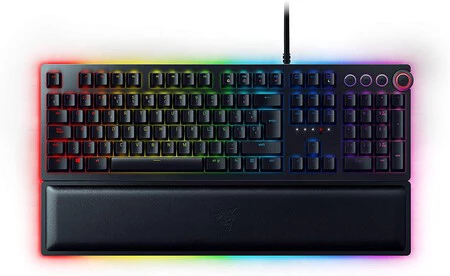 Sharkoon Gaming Keyboard by €74.32. For those who are fans of fine designs and metal surfaces, beware of this mechanical keyboard that comes from costing 88.77 euros. Of course, it will be necessary to reconfigure some keys because it is the German version.
Logitech G 613 keyboard and mouse bundle by €206.08. If you are looking for a wireless keyboard and mouse, Logitech offers us a mechanical keyboard with Romer-G switches and the 604 Lightspeed mouse with 15 programmable buttons for less than its usual 219.60 euros.
Monitors and TVs
AOC Monitor Gaming C24G2AE/BK by €293.64. The final stretch is starred in offers on monitors and televisions like this one, which also comes with a complete pack with a 24-inch curved monitor at 165 Hz, mouse, headphones, keyboard and mousepad for a price that starts at 314 euros.
AOC Monitor Gaming C24G2AE/BK- 24″ Curved 1500R, Full HD, 165Hz, 1Ms, VA, FreeSync Premium, 1920×1080, 250 CD/m, D-Sub + Gaming Mouse + Headphones + Keyboard + Mouse Pad
Lenovo Y25g-30 by €482.30. Beware of this 24.5-inch gaming monitor with Full HD resolution that came to 689 euros a few days ago. 360Hz, 1 ms response, Nvidia g-Sync Reflex and USB C connections.
BenQ MOBIUZ EX3415R by €767.06. For those looking for an ultra-wide curved monitor, beware of this one that drops from 999 euros to offer us a 34-inch IPS 2K panel at 144Hz and 1ms response.
Samsung TV Crystal UHD 2022 50BU8000 by €464.25. The range of televisions is headed by Samsung with offers such as this 50-inch Smart TV from 2022, 4K UHD resolution, HDR10 + and Crystal UHD processor that comes from moving around 526 euros.
Samsung TV QLED 4K 2022 43Q60B by €561.75. The final firework falls from 634.99 euros to offer us a 43-inch Smart TV with 4K resolution, QLED 4K Lite processor, Quantum HDR10 +, Multi View and a panoramic game mode.
More offers?
If after all this our Friday section falls short, you can be up to date and at all times informed of the main offers in the Hunting Bargains of Xataka, Engadget Mobile, Xataka Android, Espinof Y applesphereour other colleagues Buydiction and also in this flipboard magazine.
Note: some of the links in this article are affiliate links and may benefit VidaExtra.