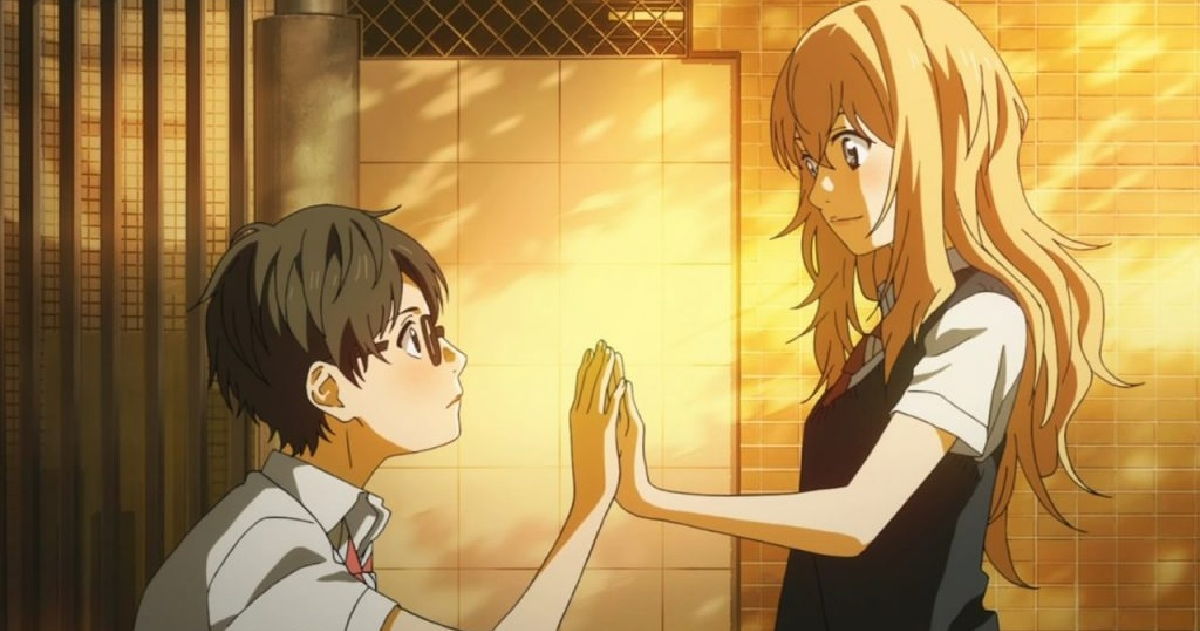 Some series such as Nana, Lovely Complex or Your Lie in April stand out here.
The japanese series they are very successful also in the West and there is a great variety of anime to watch online. Especially now with streaming platforms like Netflix or Amazon Video it is possible to follow current anime at the same time it is broadcast in Japan. Either way, you can find the Top 90 Recommended Anime By Genre to watch action, adventure or science fiction series. Also of romance, so next we delve into the best romantic and love anime that you can see online.
In this regard, we should talk about platforms like Crunchyroll that have a large catalog of series available from this and other genres. The Romance It is a very recurring theme in anime, especially teenage love. The protagonists of many series are secondary students and very strong bonds are created between them. That yes, this type of anime have the shojo category (young girl) in a traditional way, since it is considered that sentimental topics are more followed by girls.
In the following list there are many anime where the main theme is love and some as popular as Nana or Toradora. Although on many occasions the protagonists are girls, there are also male characters very charismatic. Behind every romance, there is a story that will hook you from start to finish. so you can watch all these series in one go almost without realizing it because they have few chapters.
Top 10 best romantic and love anime
Here are the 10 best romantic and love anime that you can see right now. The platforms where the chapters can be seen are also included, although not all of them are available. Recently some have disappeared from the catalogs of Netflix or Crunchyroll.
Your Lie in April
romance and music are the two components of this anime series, based on the manga Shigatsu wa Kimi no Uso. The story follows a young pianist named Kosei Arima which is a true miracle. However, his talent is cut short by the tragic and sudden death of his mother from illness. Kosei have a mental breakdown in the middle of a piano recital that forces him to withdraw. He loses the illusion for music until he meets Kaori Miyazonoa very virtuoso fourteen-year-old violinist who reflects her free spirit.
Toradora!
The anime adaptation of the manga it only has 25 episodes, so it looks very fast. The anime's title derives from the names of the protagonists, Taiga (synonymous with Tora) Aisaka and Ryuji (synonymous with doragon) Takasu. The latter begins his second year of high school with many complexes, but finds good friends in class. He is in love with Minori Kushieda, but if best friend Taiga has a very negative attitude towards Ryuji. However, the plot will take a twist and Taiga will try to help the young to attract Minori's attention.
lullaby
Two women of the same name move to Tokyo to fulfill your dreams. Nana Osaki seeks fame as she plays in a rock band, while Nana Komatsu wants to find love. your personal problems they will test their friendship throughout the series and on many occasions they will be his main support. in tokyo they live in the same apartment and Nana Komatsu's relationship with her band's bass player will make her friend feel very uncomfortable you will find love in another music group called Black Stones.
Nodame Cantabile
Up to 4 different television series were made, although the most popular is the anime. The plot focuses on two musicians with a great future, Megumi 'Nodame' Noda and Shinichi Chiaki, who enter the university. Shiniki wants to become a conductor and Nodame is a piano student with a very eccentric behavior, since he prefers to play by ear instead of following a score. When they meet, Nodame falls in love and both can start a relationship that complements them and make them grow personally.
Kimi Ni Todoke
The manga won the award for the best Shojo in 2008 and now you can watch the anime in full. Sawako Kurinuma is a 15-year-old student who is called Sadako by her classmates because of her resemblance to the character from The Ring. She is even rumored to be able to see ghosts and curse people, which makes her being feared at school. Everything changes when one of the most popular guys starts talking to her, which allows you to make new friends and meet many people. A stronger feeling arises between the two, despite the difficulties.
My Little Monster
It is the story about the relationship between a girl named Shizuku Mizutani and a boy named Haru Yoshida. They are very different, as Shizuku is only interested in studying, while Haru rarely attends school. When she is forced to bring homework to Haru's house, they both start a relationship. Together they discover that she is not as cold and he is not as wild a boy as he seems, but a gentler young man.
lovely complex
Lovely Complex is composed for 24 episodes and follows the story of Risa Koizumi, taller than any girl. On the other side is also Atsushi Ootani, shorter than any boy. They have a hilarious love-hate relationship that the whole school knows about, but they also have common interests. At some point, Risa realizes that her feelings for Ootani they're changing. She worries because she doesn't know if he will see her only as a friend or if it is possible love relationship among them.
Pray Monogatari!!
Also known as My Love Story!! and is about a tall, muscular high school student who he doesn't have much luck with women. All the girls he likes fall in love with his best friend, Makoto Sunakawa, because he is a more handsome and charming blonde guy. One day, Takeo Goda saves Rinko Yamato, a shy girl who sees the young man with different eyes. They both fall in love and start a beautiful love story.
Clannad
Based on the novel of the same name, it is centered on the story of Tomoya Okazaki, a high school student disillusioned with life until he meets an older girl named Nagisa Furukawa. are altogether 24 episodes that can be seen in one go and where you can see the evolution of the relationship between young. On the one hand, Tomoya has a distant relationship with her father and Nagisa had to repeat the year. due to illness. Together they will learn to overcome their problems and recover the illusion.
Say I Love You
This romance manga got an anime adaptation in 2012. It has only 13 episodes and an OVA, plus a live-action movie. The story tells of the quiet life that Mei Tachibana leads who has spent all of her high school years without making friends nor have a boyfriend. This is because in his childhood he discovered that his friends were very toxic, so he turned him into a suspicious girl and disappointed. One of her most popular guys takes an interest in her, though it will take some time earn their trust.
Ao Haru Ride
It is considered as one of the best shoujo series 2014, according to experts, and achieved a lot of popularity among teenagers. Especially since they could feel very identified with the protagonist named Futaba Yoshioka. She is a highschool student 16-year-old girl who wants to fit in with her friends, but can't stop feeling frustrated. One day she reunited with his first love that he had moved to Nagasaki and discovers that he has changed a lot. Kou is now cold and distant. She later knows the reasons why she is like this and when she helps him, she falls in love with him again.
These are the top romance anime what can you see. Some have been available on platforms like Amazon Prime Video, Netflix and Crunchyroll, but in some regions they are no longer. If you like consoles and games, you can also see what are the best series about video games to watch on Netflix.
Related topics: lists
Sign up for Disney + for 8.99 euros and without permanence Subscribe to Disney+!