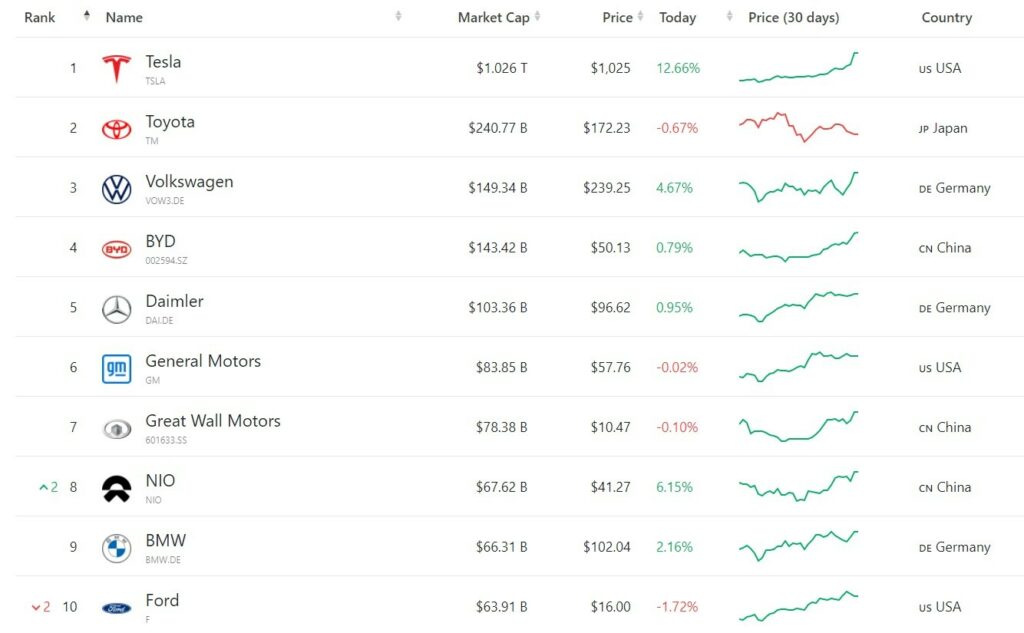 On Monday, Hertz announced the purchase of 100,000 cars from Tesla as part of its strategy to become the car rental company with the largest fleet of electric cars on the market in North America; which boosted the market value of Elon Musk's company.
Thus, Hertz said through a statement that the purchase of the cars from Tesla has become the largest order in the history of the electric vehicle company and will be completed by the end of 2022. The purchase is estimated at $ 4.4 billion. of dollars
Tesla's market value exceeded a trillion dollars, catching up with giants like Apple and Microsoft and thus reaching its all-time high.
The best quarter in the history of Tesla
For the third quarter of 2019, the company did not register an exaggerated value in the stock market. It is for the third quarter of 2019 that its value began to rise with the presentation of Cybertruck and from there it remained volatile, until now.
Tesla's stock market value has risen 143% in one year, fueled by high demand for electric cars and good prospects from investors, who believe that the market will soon leave the polluting era of fossil fuels behind.
Currently, the historical figure of Tesla is so high that only by putting together the market value of the 10 leading vehicle manufacturers in the world, we would arrive at it.
Behind Tesla is Japan's Toyota, worth $ 240 billion, followed by Volkswagen with $ 150 billion, BYD with $ 144 billion, and Daimler with $ 104 billion.
With a revenue increase of 57% and a profit margin of 12%, Tesla has joined the so-called "Trillion Dolar Club." Some of those who belong to this select club are; Amazon, Microsoft, Apple, the oil company Saudi Aramco, among others.
In this way, the company has achieved an operating profit of $ 2 billion dollars, despite the crisis in the market due to the shortage of microchips.
The celebration of Elon Musk, the richest man in the world
Elon Musk, CEO of Tesla Motors, celebrated this historic event with his more than 61 million followers on Twitter.
In this post he writes: "Wild $ T1mes!" (Wild times), putting a 1 and the T of Trillion that is equivalent to the trillion dollars that they reached.
Thanks to this event, Musk's fortune is now $ 288.6 billion; which makes him the richest person in the world.
This jump in Musk's fortune is the biggest one-day gain in the history of the Bloomberg Billionaires Index, how not to be happy?