We are used to new versions of Telegram being loaded with news, but before these news reach all users, they are tested before in the beta version. Telegram Beta 7.9.0 for Android is no exception.
Interesting news can already be tested in Telegram 7.9.0, such as control over video playback, power share the screen in video calls between two people and other changes. Let's see what they are.
Video playback speed
Telegram has been allowing you to speed up the playback of audio clips for quite some time, but there was no option for videos. This arrives in Telegram Beta, where you can play the videos of a chat at a faster or slower speed.
To use this feature, you must first start playing a video and then use the ⋮ menu to tap on the Speed ​​menu (Speed). The Telegram beta has five speeds to choose from, including normal: very slow, slow, normal, fast and very fast.
Telegram recently launched its hypervitamin group video calls, in which it was also possible to share the screen with the rest of the attendees. But nevertheless, normal, personal video calls to person, they still did not include the sharing function.
This changes in the beta of Telegram, although the way of sharing the screen is a bit special. You must first initiate a call, then stop video, then turn it back on and you will see that a selector appears between front camera, rear camera and phone screen. It doesn't seem to work at all in beta yet.
Floating video clips
A small change related to video clips, those that are sent by switching to camera mode by tapping once on the microphone icon and then recording. If you start playing a video clip and scroll the screen, playback will continue in a floating window.
Delete a month of history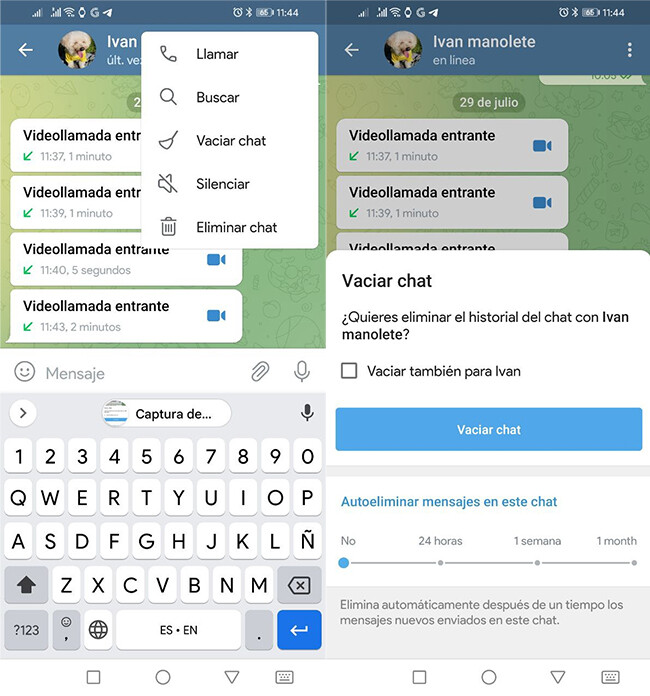 Another small change, in this case related to the self-deletion of Telegram messages. In the past you had only two time intervals for messages to be deleted: 24 hours or a week. In the beta there is a third option: one month. The way to access is the same as always: from a chat, press ⋮ and then touch Empty chat.
These news are now available in Telegram 7.9.0 beta for Android, which you can download in APK format from here. The beta version of Telegram is installed separately from the normal one and both can coexist and work separately.
Via | Android Police