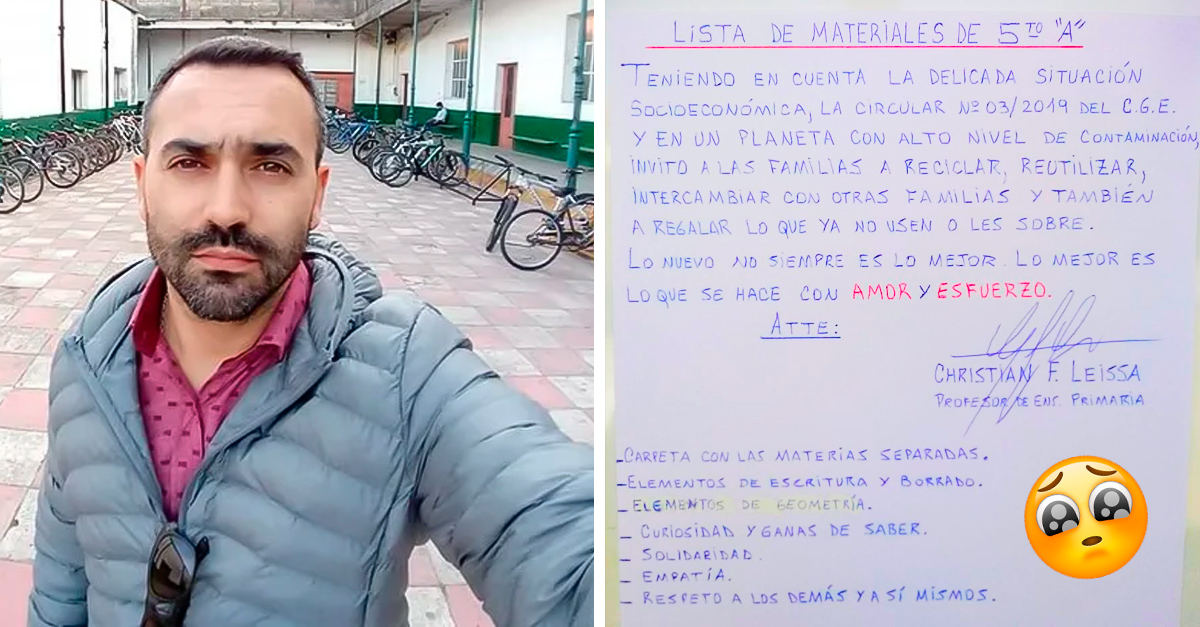 Since the pandemic reached the world, people's economy has been severely affected, so saving every peso is essential for everyone. Christian Leissa, a teacher at the primary school in Gualeguychú, in Argentina, knows this very well.
Leissa wanted to be a little empathetic with the parents of her students. For this reason, he made a list of school materials that was short and with affordable prices, in this way everyone could save a little and their economy would not be so affected.
Part of your job as a teacher is to help your students learn different lessons, but it should also be a foundation and help for their development.
Aware of the situation we are going through, Leissa drew up a very special list of school materials, since most of those she was requesting to teach her classes were not expensive at all, on the contrary, they had to be recycled, she even offered parents the alternative to make a barter between them so that they would not have to make more expenses.
Leissa was emphatic in saying that before attending classes with expensive or new materials, her students should come with a desire to learn and to develop different values ​​such as empathy, respect and solidarity.
In addition, with this great idea, the professor is not only helping the economy of parents, he is also promoting the culture of recycling to combat pollution in the world, which, without a doubt, is something that should be applied in all parts.
The list of materials was shared on Leissa's social networks so that maybe other teachers can take the example and help a little. Because of this, he has received hundreds of messages acknowledging his action.
These are the true teachers, those who teach values, those who are empathic with others and, especially, those who have the opportunity to help those who need it most. With this type of action is that we believe again that the good ones are always more.