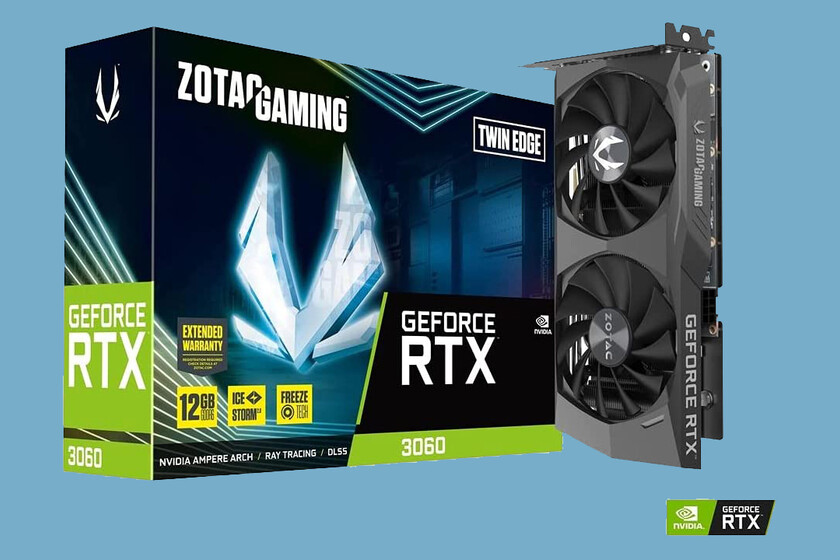 The graphics card is one of the most important components when it comes to assembling our Gaming PC, if not the most. Depending on the power it offers us, we will have the possibility to play with one or another graphic configuration, as well as at a higher or lower resolution. And although in recent years it has been difficult to get hold of one of them, due to stock problems and overprices, it seems that things are already stabilizing.
ZOTAC Gaming GEFORCE RTX 3060 Twin Edge OC 8GB GDDR6 Graphics Card
If we are looking to renew our old graphics card, or build a new Gaming PC, we can now get this NVIDIA GeForce RTX 3080 from Zotac for 419.89 euros on Amazon, just a couple of weeks before Prime Day begins. This translates into a direct discount of more than 50 euros with respect to its recommended sale price.
The model we are talking about is the ZOTAC Gaming GeForce RTX 3060 Twin Edge OC 12GB, a graphics card that will be perfect for playing any game on the market at Full HD resolution with ultra graphics and high refresh rates. In fact, this model has a small serial overclock, so we can also use it to enjoy games at 1440p without any problem. Likewise, we can take advantage of technologies such as ray tracing and DLSS.
This graphics card has 12 GB of GDDR6 VRAM memory, which will be more than enough for those titles that require a high graphic load. In addition, this will guarantee a long product life. Finally, in the connectivity section, it has an 8-pin input, and will have three DisplayPort 1.4 outputs and an HDMI 2.1 input.
More offers
If you become Amazon Prime, you have a 30-day free trial (after 36 euros per year) to enjoy fast free shipping, priority accessory to offers, services like Prime Video, Prime Music and unlimited photo storage. Also, if you are a student, becoming a Prime Student costs half and you have a 90-day trial. You can also try services like Kindle Unlimited or Audible for free for 30 days.