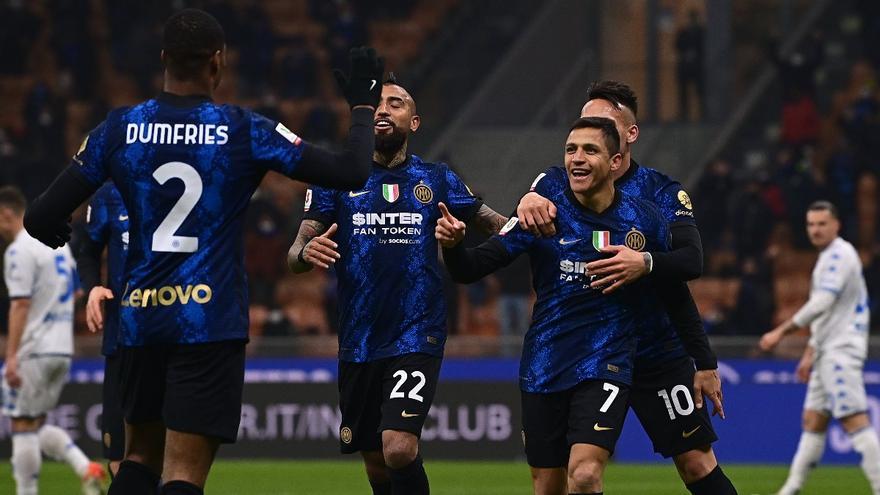 Agony at the Giuseppe Meazza. Inter struggled through to the quarterfinals of the Italian Coppa. They won, they came back in the second half, they didn't tie until the 90th minute and had to resort to extra time to seal their ticket.
PMS
Inter
Radu; D'Ambrosio, Ranocchia, Dimarco; Dumfries, Vidal (Barella 65′), Vecino (Çalhanoglu 65′), Gagliardini (Dzeko 77′), Darmian (Perisic 65′); Lautaro (Sensi 94′), Correa (Alexis 13′).
Empoly
Furlan; Fiamozzi (Stojanovic 71′), Romagnoli, Viti, Marchizza (Ismajli 85′); Zurkowski (Bajrami 46′), Stulac, Bandinelli (Henderson 46′); Asllani (Fazzini 97′); Pinamonti (Ricci 46′), Cutrone.
goals
1-0 M.13 Alexis; 1-1 M.61 Bajrami; 1-2 Radu (pp); 2-2 M.90 Ranocchia; 3-2 M.104 Sensi.
Referee
Juan Luca Sacchi. TA: Neighbor (54′) / Romagnoli (77′)
That it would not be an easy game, Inter understood after two minutes, when the Argentine Joaquín Correa retired in tears due to a muscle injury. Tucu, who had an opportunity to shine as a starter, will have to undergo tests to understand the extent of an injury to the biceps femoris in his left leg.
He was replaced by the Chilean Alexis Sánchez, who last week signed the goal that gave the Super Cup to Inter and who this Wednesday scored the goal of the momentary 1-0 that seemed to be able to put the clash downhill.
But Empoli, who this year were able to beat Juventus and Napoli away in Serie A, played good football and managed to turn the score around thanks to the Albanian Nedim Bajrami and an own goal from Romanian goalkeeper Ionut Radu.
The Tuscan team savored the feat against the current Italian champion, but an acrobatic goal by Andrea Ranocchia, a veteran central defender, forced the 2-2 and the extra time, in which Stefano Sensi appeared a few minutes after jumping onto the field with the goal of the final 3-2.
In the quarterfinals, Inter will face the winner of Rome-Lecce. If the Roman team advances, there would be a reunion with the Portuguese coach José Mourinho, who won everything at the head of the Milanese in 2010.