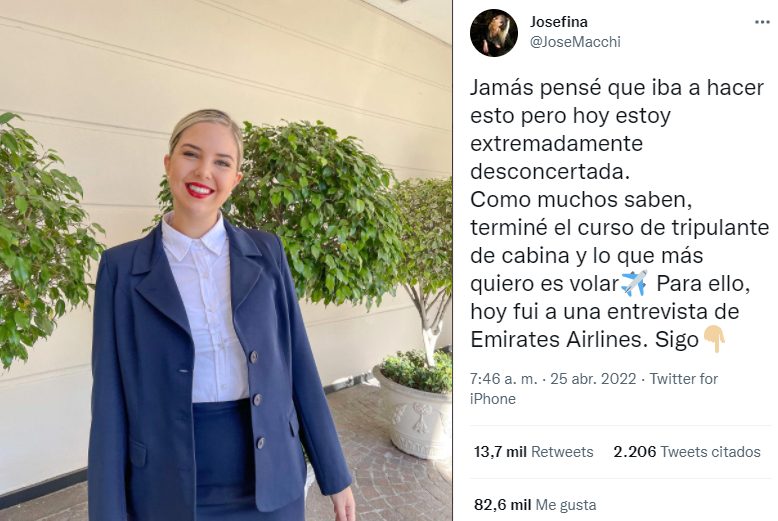 Discrimination in job interviews is one of the problems faced by human resources experts.
In April, a woman tried to be a stewardess for an airline in Argentina and, she said, was rejected for "being overweight."
Two months later, and thanks to perseverance and persistence, he fulfilled his goal: to work for an airline. Great point, also, for the brand that hired her. The history.
Last April, a young Argentine woman participated in a job interview to start working for an international airline: Emirates Airlines.
It was not selected. However, her surprise was great when she learned the reasons why she could not advance in the selection process: her weight.
Josefina Macchi, the candidate for the stewardess position, told the story on social networks and the experience went viral. This is how we reflect it in Merca2.0.
Now, a couple of months later, the young woman got a job as a stewardess in another airline and, as happened before, he exposed it on the networks.
"Last day of training flights and I got this photo with my dream come true. Cabin crew, now yes. Thank you for all the support, "she said on her Twitter account after being hired by the Argentine low cost airline FlyBondi.
In dialogue with the Argentine media, the brand new flight attendant said she was "very happy", since "beyond having found a job" she was able to comply with "all the processes together with my colleagues".
Said the selection process "was very fair", unlike what had happened in Emirates Airlines, when it was rejected.
Last day of training flights and I took this photo with MY DREAM FULFILLED.
Cabin Crew NOW YES✈️
Thank you for supporting me 🥹💛 pic.twitter.com/qEbB9d02HA

– Josephine (@JoseMacchi) June 27, 2022
Stewardess rejected for her weight
In April, Macchi said that he met all the requirements, but he was not allowed to advance in the selection process because, according to what the recruiter told him, he needs to lose weight. It was not English or studies, the cause was his physical condition.
"Honestly, you need to lose weight," the new FlyBondi flight attendant told her at Emirates.
In addition, the young woman reported that the recruiter asked her not to comment on that demand with other people because "she speaks ill of the company."
Josefina made the decision to make it public on Twitter to warn of this reality of discrimination in the company's personnel selection processes.
There were hundreds of comments on Macchi's Twitter thread when he recounted the bad experience. Many encouraged her not to lose heart and to keep trying despite what had happened.
Others, with different criteria, told him: "Some airlines can change their selection criteria at any time, they ask you to be very agile and in good physical condition to be able to assist passengers in cases of air emergencies, being overweight makes movement difficult, Maybe that's the reason."
I never thought I would do this but today I am extremely baffled.
As many of you know, I finished the cabin crew course and what I want most is to fly✈️ For this, today I went to an Emirates Airlines interview. I continue 👇🏼 pic.twitter.com/1ISbvL0R7y

– Josephine (@JoseMacchi) April 25, 2022
Advertise with intelligence
For the brand (FlyBondi) hiring Josefina was great publicity. The young woman said that the contract "does not have a term" and that she already has the itineraries for next month's work. "I have 45 hours of flight per month. Three days off in a row and others in which I do not work, but I have to be on call in case there is any sick leave, "ahe added.
"In this company they told me that neither age nor body are relevant to being able to start working as a cabin crew, so I feel very happy," she said.
Now read:
"Honestly, you need to lose weight," they told her at the airline and did not hire her
Granny fulfills her dream and returns to fly as a flight attendant with Delta Air Lines
Volaris fulfills a girl's dream and makes her a flight attendant on her birthday