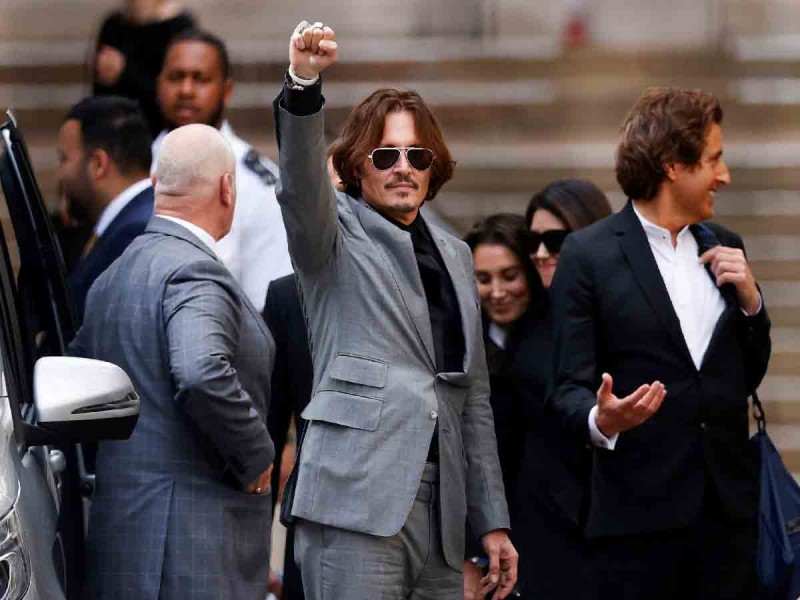 In the trial both Johnny Depp and Amber Heard have presented their testimonies on several days.

Depp's team of lawyers and PR is in a constant fight to prove that the actress is lying.

The Pirates of the Caribbean actor asks to be granted 50 million dollars.
The eyes have turned around the world before the trial of Hollywood actors Johnny Depp and Aamber Heard and where this Friday May 27 could come to an end and have a verdict. This legal battle is a civil process, not a criminal one, and began with a defamation lawsuit filed by the protagonist of Pirates of the Caribbean, who alleges that his ex-wife falsely accused him of domestic abuse, completely damaging his image and reputation.
Image and reputation is one of the most important factors for a company, brand or public figure. which is why it is taken care of down to the smallest details by a public relations team since any negative information or strategy can lead to collapsing these two terms.
Public image is the shared perception of a person or institution by its target groups. In view of that definition for an artist the image is very important for the success of his career, that is why they use it daily a large number of marketing strategies to position your name in the collective, especially today in social networks.
But this does not arise if there is no good reputation, which according to RP specialists emphasize that if we talk about reputation, we must start from the fact that the role of this industry in reputation management is to take advantage of RP means and techniques to improve the image in the eyes of others. Given that, a natural part of brand image management includes being aware of your reputation.
Can Johnny Depp's reputation and image be restored?
The trial, which is being held in the state of Virginia in the United States and which has kept the world on the lookout, is now close to its final outcome, and everything indicates that the actor Johnny Depp could win the legal battle for defamation and thus be able to fix the image that his ex-wife and protagonist of Aquaman, Amber Heard damaged by her complaint against domestic abuse.
Let us remember that in the trial both Johnny Depp and Amber Heard have presented their testimonies on several days about the alleged abuse they suffered when they were married. This trial has marked the world by the amount of testimonies and evidence that come to light every day where the version of the actress is further denied and that is vitalized thanks to the media power of social networks.
It is important to mention that this whole fight started when Heard wrote an article about it for a magazine, where he talked about "the mistreatment, violence and drug abuse of the Pirates of the Caribbean actor, who was "canceled" by Disney following these accusations.
What Heard mentioned in this article was responsible for the fall of the reputation and image of the 58-year-old actor, for which he sued the newspaper The Sun for defamation, due to being called a "wife beater".
Legal experts point out that lawsuits for defamation is a resource that a citizen uses to clean his reputation and protect his dignity after someone made false expressions about him.
That is why Depp's team is in a constant fight to prove that the actress is lying. The actor's attorneys state in the lawsuit document that their client was implicated by the 36-year-old Heard's expressions.
In that sense, Depp tries to prove that Heard's statements caused him economic damage after completely destroying his image and for this reason he asks to be granted 50 million dollars. "Depp's reputation and career was devastated after Heard's first accusations in 2016," mentions the actor's claim in the document presented at trial,
What his RP team is not likely to be looking for and many experts assure that if Depp wins this trial he may have a new opportunity to return to the Pirates of the Caribbean saga with his role as Captain Jack Sparrow, as it can also mean that the actor can receive more opportunities and projects.
But what has been shown these days is the support that has emerged for the actor on social networks around the world where people and even public figures are convinced that he was treated unfairly because of false testimonies.
Now read:
Woman refuses to take Corona: government uses Mexican brand in new campaign
Elektra's Hot Sale wins publicity from Ricardo Salinas with TV of 8 thousand pesos
Soriana hires refugees and users applaud inclusion